Lean how to make chena fry or chena mezhukkupuratti, Kerala style recipe for yam fry.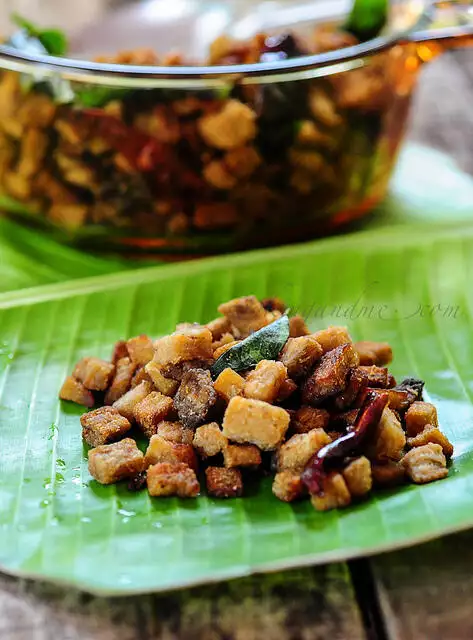 Elephant Yam (Chena or Senai Kizhangu) is one of my absolute favourite vegetables. Amma makes this senai kizhangu varuval (chena mezhukkupuratti in Malayalam) quite regularly especially when I am at home and now my mom-in-law too makes it a point to make it each time we visit them too. Her version is a bit different which I will share soon.
When I was taking the pictures at home in Kottayam (which explains the great light and the real banana leaf in the picture!), amma insisted that I highlight the health benefits of Yam, especially for women, so here goes:
– Elephant yam is naturally high in fibre content and our diet needs to be high in fibre for easier bowel movement
– It is high in Omega 3 Fatty acids which helps reduce bad cholesterol in the body and improves good cholesterol levels
– Consuming elephant yam, especially in women, increases estrogen levels which aids in maintaining the hormonal balance and also with PMS
– Yam is a cooling food so ideal if consumed in summer. Roasting or frying it helps reduce the adverse effects of eating a food that's too cooling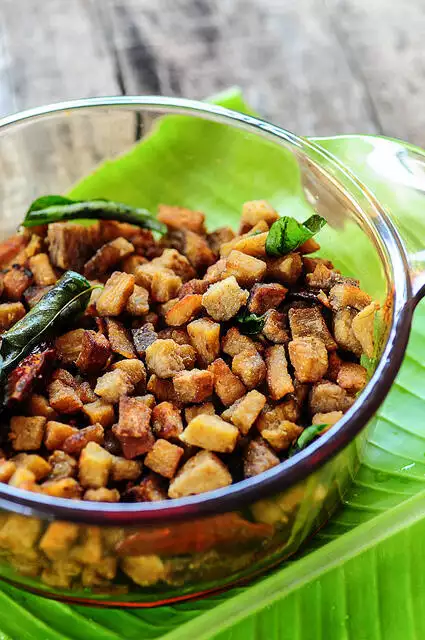 There's a couple more benefits like minerals and all but let's get on with learning how to make yam fry, shall we?
You may also like:
Pavakkai fry recipe
Koorka mezhukkupuratti
Kerala beans curry
Kovakka fry
Yam Fry Recipe | Chena Mezhukkupuratti
Preparation time: 5 minutes
Cooking time: 25 minutes
Serves 4
Recipe source: Amma
Ingredients for Yam Fry:
3 cups of Elephant yam, cut into small cubes
5-6 dry red chillies
2 strands of curry leaves
1 tsp of salt (adjust to taste)
1-2 cups of oil
How to make Yam Fry:
1. Boil the cubed yam pieces in salted water until the pieces are cooked yet firm. Don't let them get to a mush. This will take about 5 mins. Make sure you add enough salt at this stage since it's hard to adjust salt once the yam is frying. Drain and set aside.
2. Heat oil in a pan (there should be enough to cover the yam pieces so the amount of oil depends on the size of your kadai or pan).
3. Add the semi-cooked yam and fry until golden brown. When the yam is almost done, add the chillies torn into halves and the curry leaves.
4. Draining the yam from the oil will be a bit time consuming since they are small pieces so you can do what my mom does. She fries all the yam in one batch and once done, leaves the pan on a slanted surface and pushes the yam away from the oil and lets it collect over a period of time. Once done, gently transfer the yam from one side into another bowl.
This is a really easy recipe for yam fry that uses no masala or flavour except for the curry leaves. The yam has a beautiful flavour of its own and that will come out when roasted.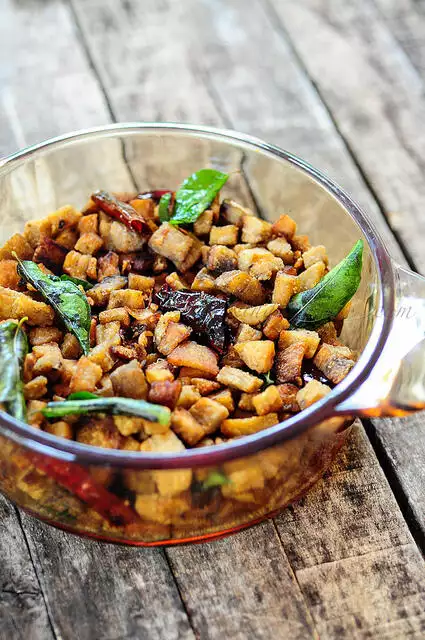 I love chena fry with moru kachiyathu or thakkali kuzhambu – pretty much any coconut-based gravies will taste great with it.