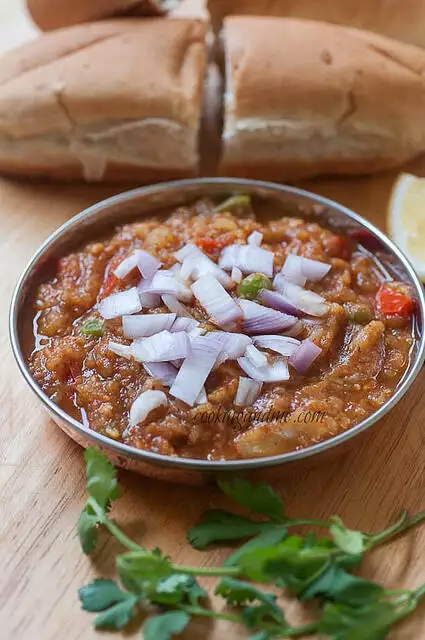 Pav Bhaji Recipe: Pav Bhaji is a popular street food in India. Pav refers to the super soft equivalent of Indian dinner rolls and bhaji is the mashed and spiced vegetable side that goes with Pav.
One of the first few recipes that I perfected immediately after marriage is this amazing Pav Bhaji recipe. I have made it countless times since then, always volunteering to bring Pav Bhaji to potlucks and often making it for guests. The reason is simple – everyone loves a good Pav Bhaji and it's incredibly easy to make in larger quantities. A little vegetables go a long way and if you have a good Pav Bhaji Masala in hand, you are good to go. I even make Pav at home if I have time to plan ahead.
Although I have tasted Pav Bhaji many times during our annual visits to Salem during Onam Holidays, I first noticed it during a trip to Eat Street in Hyderabad. The pav was buttery and hot and the Bhaji was piping hot. I loved the minced raw onions they garnished the Bhaji with and with a squeeze of fresh lemon on top before eating, it was truly blissful. Since then, I refuse to eat Pav Bhaji any other way. While on the topic of street food, I promise you will find this easy vada pav recipe a winner!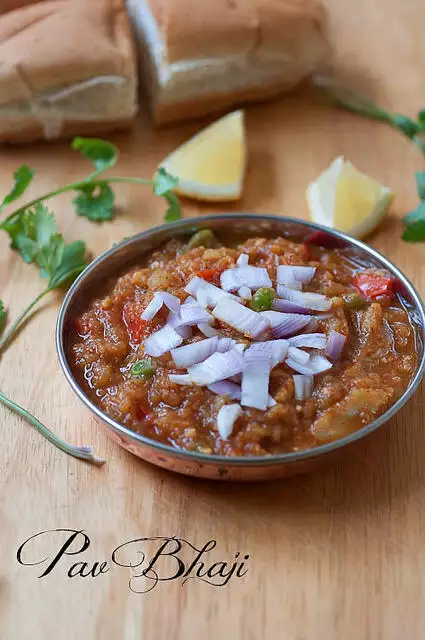 It's not easy to get good Pav in Singapore and I often substitute small dinner rolls, burger buns, and even halved hotdog buns for Pav. As long as you butter and toast it properly, it doesn't matter too much. Ok I lie, it actually does matter but unless you want to make your own Pav for Pav Bhaji, go with the substitutes and make it work.
Also, for the bhaji, you can use your own proportions of heat vs masala vs vegetables. I sometimes add a carrot to the potato and cauliflower when pressure cooking it. It lends some sweetness and anyway cooks up really mushy so you can't even make it out. I also add some green chillies if I have fresh ones in hand and reduce the amount of chilli powder. If you want a deep red Pav Bhaji, add Kashmiri Chilli Powder or Resham Patti Chillies, which I recently discovered in a store in Bombay. They are fiery red and quite strong, so use sparingly.
If you love Indian chaat recipes, then also check out how to make ragda, ragda pattice recipe, and this Mumbai vada pav recipe.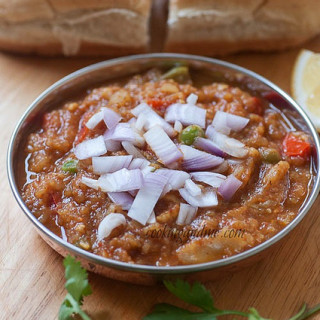 Pav Bhaji Recipe
Pav Bhaji is a popular and delicious street food in India. Made with a mish mash of vegetables cooked in spices, it's served with soft pav buns toasted in butter
Ingredients
250

gm of cauliflower

1

large potato

1

small capsicum / bell pepper

1

tsp

of minced garlic

1

tsp

of minced ginger

2

cups

of tomato puree

1/4

cup

of green peas

1

tsp

of red chilli powder

I use Kashmiri Chilli Powder

1/2

tsp

of turmeric powder

2

tbsp

of pav bhaji masala

adjust to taste

1

tbsp

of oil

2-3

tbsp

of butter

1

onion

chopped fine, to serve

1

small bunch of coriander leaves

for garnish

6

lemon or lime wedges

to serve
Instructions
Pressure cook the cauliflower and potato until completely tender (3 whistles)

Mash well with the water used to cook it. Set aside

Heat the oil and add chopped capsicum. Cook for 2-3 mins until it begins to soften

Add the ginger and garlic. Saute for a few seconds

Add chilli powder and turmeric powder. Fry for 5 seconds and add the mashed vegetables

Mix well and add tomato puree along with 1 cup water

Bring to boil and add pav bhaji masala and peas

Cook covered for 10-15 mins

Open and cook further until the desired consistency is reached

Add salt and butter. Mix well, and remove from fire

When ready to serve, butter the pav generously and toast until golden on a griddle or tawa

Add chopped onions and coriander leaves on the bhaji. Squeeze lime juice and eat immediately
Step by Step Pictures to Make Pav Bhaji:
1. Pressure cook the cauliflower and potato until tender (with some water)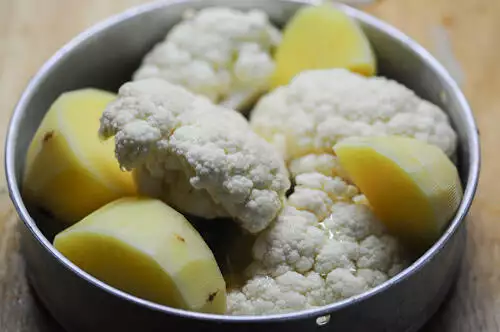 2. Mash well and set aside
2. Heat oil and add capsicum. I used red this time but usually use green. Fry lightly until soft.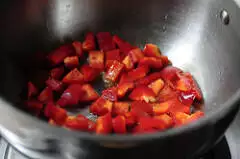 3. Add ginger and garlic and saute for a few seconds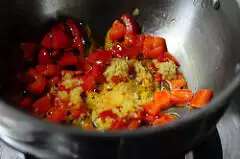 4. Then add chilli poder and turmeric, fry for 5 seconds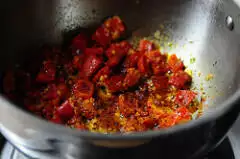 … and add the mashed vegetables. Mix well.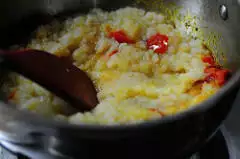 5. Add tomato puree and bring to boil. I sometimes use diluted tomato paste, pureed fresh tomatoes, or canned tomato puree/sauce. All of them work very well.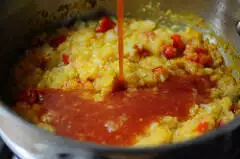 6. When tomato sauce cooks, it makes a god-awful mess so I prefer to let it cook closed. So as soon as the mixture boils, add pav bhaji masala and peas along with about 1 cup water.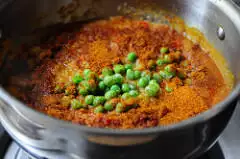 Keep covered and cook for about 15 mins.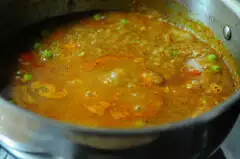 7. Add butter and salt and mix well.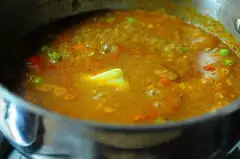 Check consistency and add more water if required and boil further.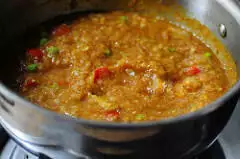 Attain Pav Bhaji Recipe nirvana!
Recipe adapted from One Hot Stove
For Pav Bhaji Recipe in Hindi, Urdu, Marathi, Tamil, Telugu, Kannada, Malay, etc, please use the Google Translate button in the sidebar.