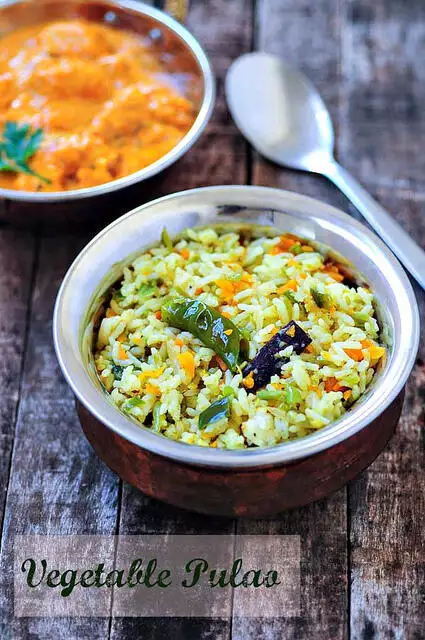 Vegetable pulao recipe: there are many different ways to make and customise a simple vegetable pulao recipe and I have tried my own variations over the years too. A pulao should be simple, flavourful, have a good amount of vegetables (that's why it's called a vegetable pulao after all!), and also have a subtle hint of spices. And no matter what, I do not like to bite into whole pieces of cloves and cardamom when eating pulao or biryani. So I either pound them well before adding or remove them once the pulao is cooked. Painstaking, but worth it.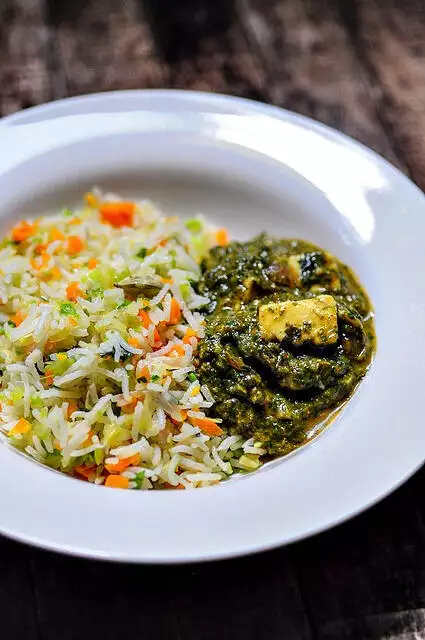 Pin
When I made Palak Paneer the other day to share the recipe here, I made my go-to easy Veg Pulav to pair with it. I didn't intend to share the recipe of the pulao here but a lot of you commented, emailed, and asked me on the FB page what that rice dish is and how to make it. This is the main rice dish I make when I spend some extra time making a side dish for pulao like Lauki Kofta Curry or Paneer Butter Masala or Soya Chunks Masala.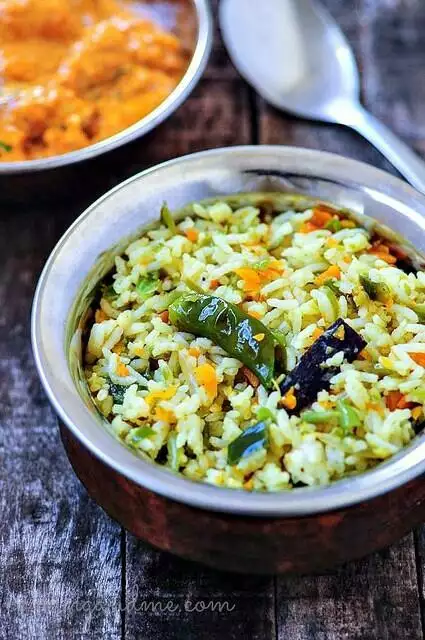 Pin
I feel like two things are important for this pulao recipe. One, you need to get the right consistency for the rice. Here's how I cook rice for pulao. Two, the spices need to be the right amount and this differs from taste bud to taste bud. If you prefer your pulao very light, add lesser amount of spices that I have mentioned below in the ingredients.
I love adding green chillies to vegetable pulao since it gives a nice flavour but you can substitute with red chilli powder in a pinch, literally! Also, here's a pressure cooker vegetable pulao recipe if you'd like to make it in one pot.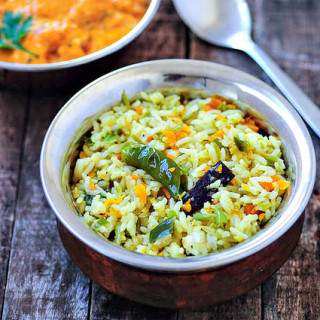 Vegetable Pulao Recipe
Vegetable pulao is a great main to serve guests when planning an Indian menu. Rice is cooked with spices and vegetables to create a lovely flavourful dish to complement your spicy side dishes.
Ingredients
2

cups

of cooked rice

1

carrot

10-12

beans

1

capsicum / bell pepper

3-4

green chillies

slit

1

large onion

1

piece

of cinnamon

3-4

green cardamom

lightly crushed

3-4

cloves

1/2

tsp

of cumin seeds

1

tsp

of minced garlic

2-3

tsp

of salt

A small bunch of coriander leaves / cilantro

for garnish

2

tbsp

of ghee or oil
Instructions
Slice the onions long and shred the carrot, beans, and capsicum

Cook the rice for pulao and set aside

Heat the ghee or oil in a wide pan and add the sliced onions

When the onions begin to brown, add the cinnamon, cloves, and cardamom

Stir fry until the onions turn a darker shade of brown

Add the minced garlic and fry for another few seconds

Add the shredded vegetables and green chillies and mix well with salt

Cook on a low flame, covered, until the vegetables are soft

Mix in the rice and garnish with chopped coriander leaves

Turn off flame and keep partially covered until ready to serve
Step by Step Pictures for Making Vegetable Pulao:
1. Cook rice and set aside. Slice the onions and shred the vegetables fine
2. Heat ghee or oil in a pan and add the onions and cumin seeds.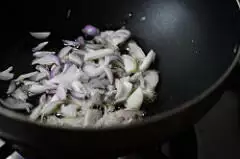 3. When they are slightly browned, add the cinnamon, cloves, and crushed cardamom. Stir and fry for another few seconds until fragrant and the onions turn a darker brown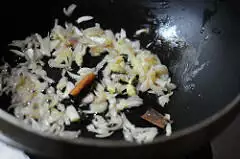 4. Add the minced garlic and fry for a few more seconds.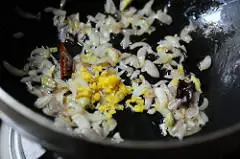 5. Throw in the shredded vegetables, chillies and salt. Mix well, lower flame, and cook covered for about 5 mins until the vegetables are soft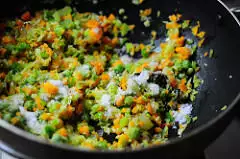 6. Gently mix in the cooked rice.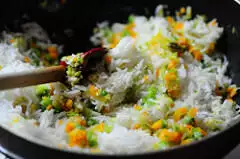 7. Garnish with coriander leaves and keep partially covered for the flavours to mingle until ready to serve.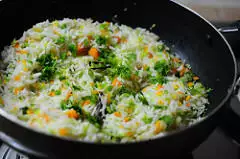 Serve veg pulao with any Paneer Recipe like Paneer Butter Masala, Palak Paneer, or Kadai Paneer. You can also serve it with a simple Dal Tadka or Soya Chunks Curry.
Notes:
Store leftover pulao in an airtight container in the refrigerator for up to two days. To re-heat, either microwave with some sprinkled water or in a pan over a slow flame
If you prefer large chunks of crunchy vegetables in your veg pulao, you can chop them larger. Just cook longer until they are done
I remove the whole spices before serving because we hate biting into whole spices in rice
You can throw in a bay leaf with the other spices if you wish
You can make vegetable pulao in a pressure cooker or rice cooker. I prefer this method to make mixed rice because I feel more in control. I also prefer the rice grains very separated which is hard to achieve in a pressure cooker (in my experience). My rice cooker does a good job though so will update veg pulao made in rice cooker soon
I do most of the fine chopping in an electric chopper which works like a charm for mincing and shredding
For Vegetable Pulao recipe in Hindi, Tamil, Telugu, Malayalam, Urdu etc please use the Google Translate button on the top right of this website.