When I saw a lovely
Avocado Egg Salad Sandwich recipe
in Pinterest, I immediately pinned it to my Bookmarked Recipes board. Sandwiches are not mom-approved dinners for an Indian, I know. Or maybe it is for some of you but in my home, bread was bought when someone was sick, that someone mostly being my mom who doesn't want to cook or wants to serve some toast in the morning instead of the usual fare. Even during my school days, my tiffin box barely had sandwiches in them. It was usually
idlis
or mini dosas or
maggi noodles with vegetables
or even
ghee-roasted bananas
.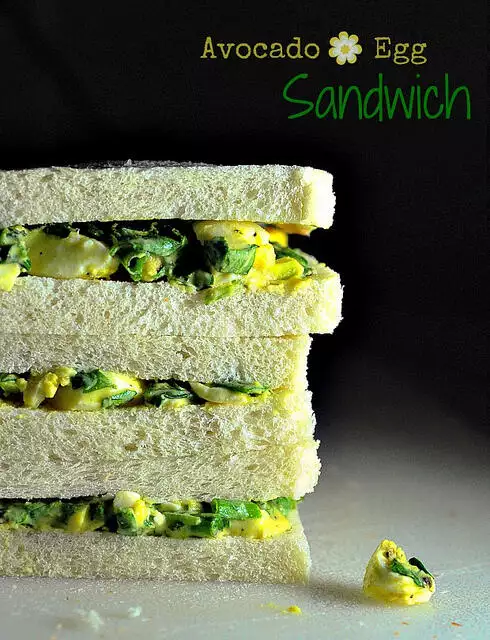 I, on the other hand, buy bread when I am lazy. And make sandwiches for dinner when I am super lazy. TH loves them though and I find them passable for dinner so it's sort of a win-somewhat win situation.
I generally make pretty standard mint chutney sandwiches or guacamole sandwiches but decided to kick it up a notch and try these Avocado Egg Salad Sandwiches. They were delicious, not to mention so flexible and customisable with pretty much whatever you have in hand.
You may also want to check out this Watercress Dal Recipe.
Avocado Egg Salad Sandwich | Egg Sandwich Recipe
Preparation time: 10 minutes
Cooking time: 5 minutes
Makes 4 large sandwiches (serves 2)
Recipe inspired by: Honey What's Cooking
Ingredients:
3 eggs, hard boiled
A small bunch of fresh watercress leaves (or salad spinach)
2-3 stalks of fresh coriander leaves (cilantro)
2-3 stalks of spring onions (or chives or scallions)
1 ripe avocado
A few drops of lemon or lime juice
2 tbsp of any salad dressing or mayonnaise
1 tsp of black pepper powder
1/4 tsp of salt (adjust to taste)
8 slices of bread, edges trimmed
2 tsp of mustard (or butter)
How to make Avocado Egg Salad Sandwich:
1. Wash the watercress leaves well and chop them fine. It's easy to find watercress in Singapore so I used that. if you can't, then use rocket leaves, fresh baby spinach, or any salad green you prefer.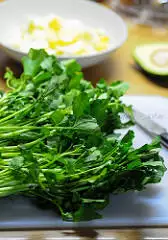 2. Crumble the boiled eggs with a fork.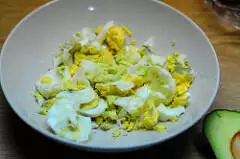 3. Add the avocado flesh, chopped watercress, coriander, spring onions, salt, and pepper. Mix well.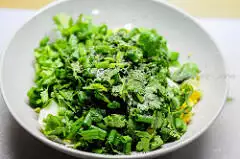 4. Add the mayo or salad dressing. I used caesar salad dressing.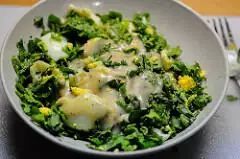 5. Mix well again, adjust salad dressing or mayo to taste. You can even omit them if you like.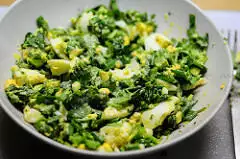 6. Add lemon juice to taste and mix again.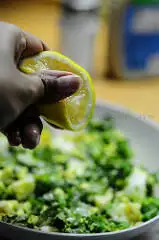 7. Trim the ends off your bread slices and add spread mustard on one side. This is optional, I happened to have some lying around and used it.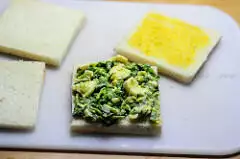 Assemble it, and done! We enjoyed this easy egg sandwich for dinner and ended the meal with a glass of milk each.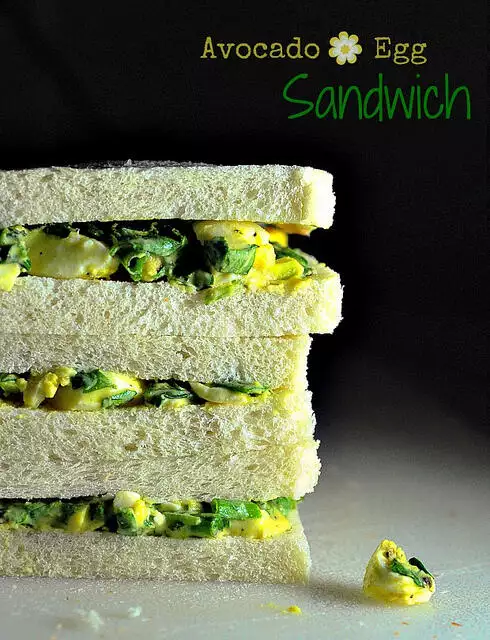 Do you have a favourite egg sandwich recipe you'd like to share? Leave a comment!