The
restaurant-style Paneer Butter Masala
(which has "inspired" a lot of people, actually) is one of the most popular
paneer recipes
in this site. While I have made it countless times mostly for guests, the addition of cream, which truly makes the recipe restaurant-style, does add some unwanted calories from fat too.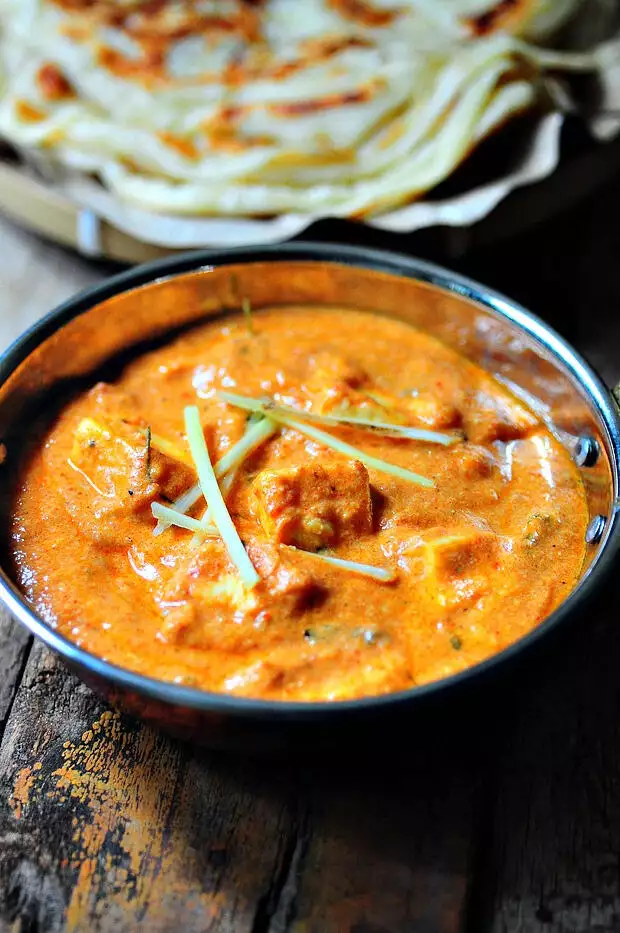 I didn't let that bother me too much, because this is Paneer Butter Masala and some dishes are meant to be eaten without thinking of calories. Then I came across this Nita Mehta book in the library called 101 Microwave Recipes and found a Paneer Makhani recipe in that! I took a picture of the recipe page on my phone, came home, and promptly made it.
Now, before I go any further, I must say that I don't care much for cooking in the microwave. I like cooking with fire, turning it up or simmering it down and stirring and frying and tapping the ladle against the wok, etc. All that is an essential part of cooking for me.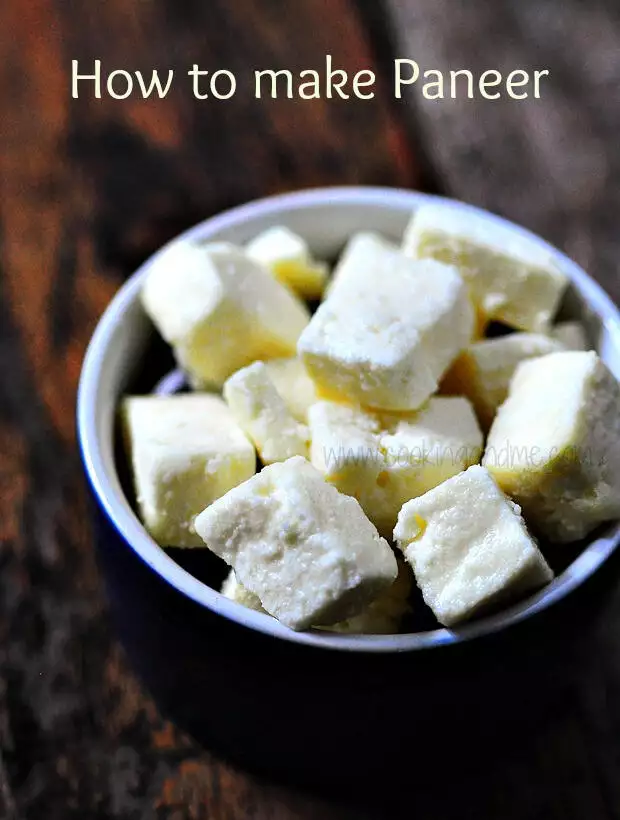 When you cook in the microwave, how does it go? You put something in a (microwaveable, of course) pan, put inside microwave, shut it, turn the knob and wait. Then you take it out, stir, and repeat the above steps. What a boring way to cook.
Now the million dollar question is why did I make this Paneer Butter Masala in the microwave then? Simply because I wanted to give the Microwave a shot and also because I'd been meaning to try these white melon seeds (mogaz) that I brought back from Delhi. They are used primarily to thicken gravies and really gives dishes a restaurant-style feel without the added calories.
Ok, I've talked a LOT. It's time to check out how to make Paneer Makhani.
Paneer Makhani (Paneer Butter Masala) made in a Microwave
Preparation time: 2 minutes
Cooking time: 25 minutes
Serves 2 as a side dish for roti or nan
Ingredients for Paneer Makhani:
1 cup of cubed paneer (check out how to make paneer at home)
1 large tomato, cut into small pieces
1″ piece of ginger, chopped roughly
1 tsp of butter or ghee
1 tsp of oil
A pinch of green cardamom powder
3/4 tsp of red chilli powder (I used Kashmiri Chilli powder), adjust to taste
1 tsp of salt
1/2 tsp of sugar
1 tsp of garam masala
1 tsp of tomato ketchup or sauce
1 tbsp of white melon seeds (magaz) or 10 cashewnuts, soaked in warm water
A generous pinch of kasuri methi (dry fenugreek leaves)
1/2 cup of milk
How to Make Paneer Makhani:
1. Soak the magaz (white melon seeds) or cashewnuts, or even a mix of the two in some warm water.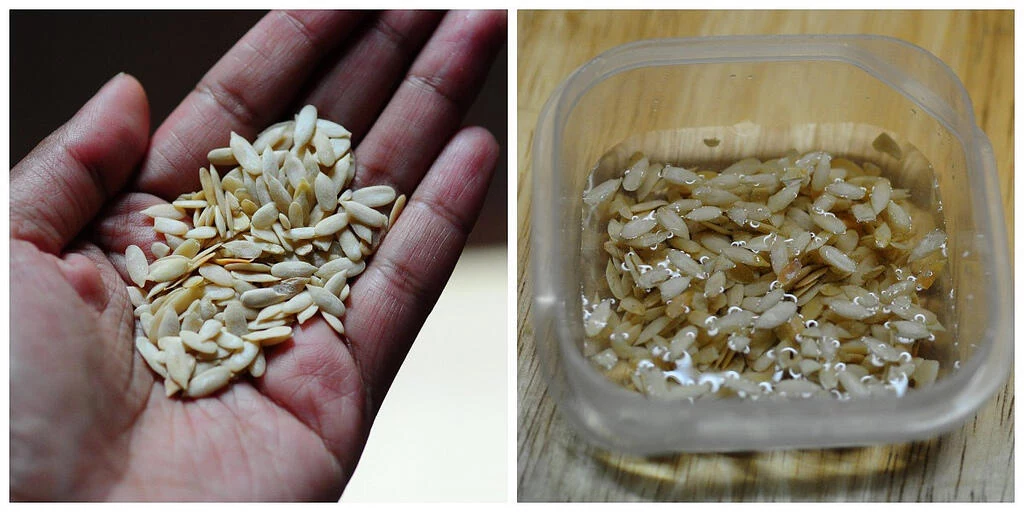 2. Place the chopped tomatoes and ginger in a microwave-safe bowl along with 1/4 cup water. I don't use plastic in the microwave, only glass, so I used this Pyrex container that works great. Microwave on medium-high heat for 5 mins, stirring it after every 2 mins. My MW is a very basic one and it only has two knobs. Use your judgement on what setting to use in yours. Ideally, heat should be medium-high. After 5mins, the tomates will be mushy and the ginger will be soft. Transfer to a plate and once cool, puree to a smooth paste.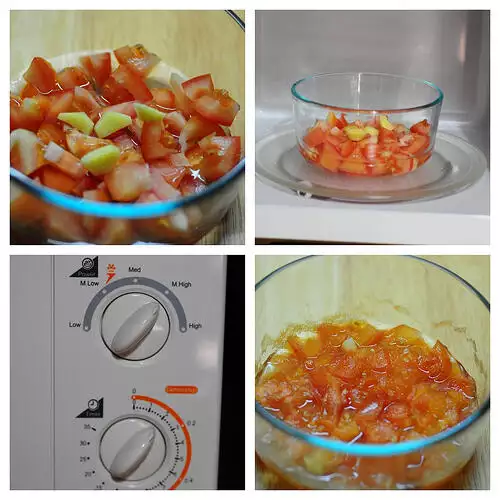 3. In the same bowl. heat the ghee + oil for 1 min. Add the salt, sugar, chilli powder, garam masala, and cardamom powder. Mix well. To this, add the tomato puree and ketchup or sauce. Mix well again.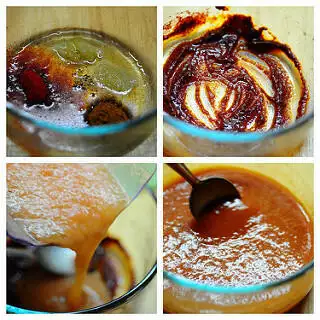 4. Return to the microwave and cook for 8 mins, mixing after every 2-min interval. At this point, it will start smelling like tomato soup and I was really tempted to add some pepper powder and call it a day but trust me on this and trudge onwards to the Paneer Makhani. Really, trust me.
So while the tomato mixture is cooking, grind the soaked magaz (or cashew nuts) to a smooth paste using some water. Add this to the cooked tomato along with the kasuri methi.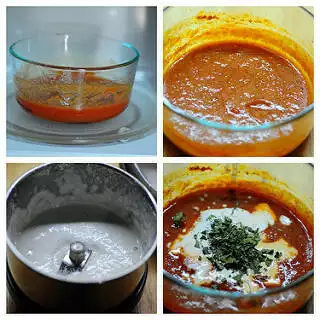 5. Mix well and return to the microwave and cook for 5 mins, stirring after every 2 mins. The mixture will turn quite thick and smell delicious, and not like tomato soup anymore.
Add the paneer cubes (no frying of paneer, etc, needed) and enough milk until your desired thickness is reached. I kept it relatively thick so only added about 1/4 cup of milk.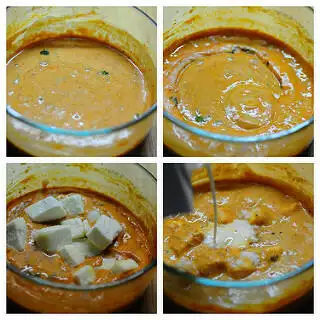 6. Microwave again for 3-4 mins. I closed the bowl this time because the tomato mixture splatters and it's painful to clean it up later. Make sure the lid is microwave safe too.

That's it we are done! Check for salt levels and add more if required. The Paneer Makhani gravy does get a bit thicker on keeping so add more milk than you think is necessary.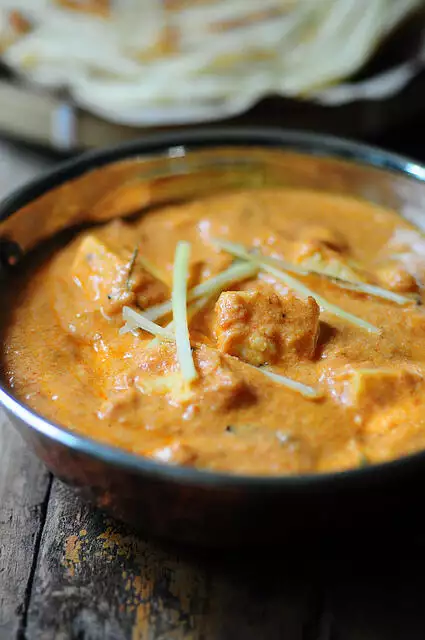 I used homemade paneer so the pieces were super soft and moist and we totally enjoyed a no-so-indulgent Paneer Makhani for lunch yesterday with some Kerala Parotta. My first venture into making Indian dishes in a microwave is thus deemed a success 🙂