This Vazhakka pulissery is probably not an authentic Kerala Pulissery recipe for a couple of reasons. In the traditional pulissery recipes, I don't see the addition of coriander seeds. Also, the vegetable or fruit of choice is usually ripe mangoes,
ethappazham
, or raw mangoes for a sweet and sour pulissery. In this pulissery recipe, Seetha aunty, a relative of ours in Singapore, has used vazhakka (raw bananas) and winter melon (poosanikkai).
We go over to her place now and then for dinner and this pulissery was one made as an accompaniment to adai. It was a gorgeous combination and I loved it so much that she packed up the remaining pulissery and I brought it home with me!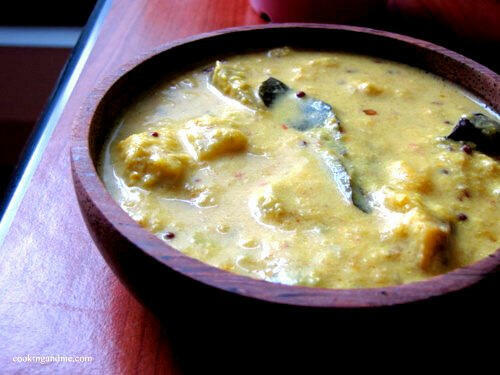 Pin
Vazhakka Pulissery Recipe
Serves: 2 to 4
Ingredients:
1 cup cubed vazhakka / raw banana
(You can use ripe mango or green mango according to your preference of wanting sour pulissery or sweet and sour pulissery.)
1/2 cup cubed winter melon / pooshanikkai
1/2 cup grated coconut
2 green chillies
1 cup thick curd / yogurt
1 tsp coriander seeds / malli / dhania
1/4 tsp mustard seeds / kaduku
1/4 tsp fengureek seed / menthayam / uluva
A few curry leaves
2 dry red chillies
1/2 tsp grated jaggery(optional)
How to Make:
1. Cook the banana and the winter melon in a pan with little water, salt and turmeric.
2. Meanwhile, grind the coconut, green chillies and coriander seeds with 2 tablespoons of curd to a fine paste.
Add this to the cooked vegetables and let it come to boil. Cook on low fire for 3-5 mins.
3. Add the rest of the curd beaten with a spoon. Turn off when the mixture is just reaching boiling point.
4. For tempering, heat 2 tsp oil in a pan. Add the mustard seeds, fengureek seeds, red chillies and curry leaves. When the mustard seeds start to pop, add to the gravy. Adding jaggery enhances the taste so do add it if you have some in hand.
Huge thanks to Seetha aunty for the lovely dinner and for this fantastic pulissery recipe.