Aloo Chana Masala
made in a pressure cooker – This is a one-pot, or rather, one-pressure-cooker side dish that can be put together in a jiffy. Its a weeknight dish for me and the nights I make any kind of side dish using just the pressure cooker, my entire cooking gets done in less than 30 mins.
The only preparation you need to do in advance is to wash and soak the chickpeas either overnight or before you leave for work so that its all soaked and ready when you get back and need to make dinner.
Confession: on some nights, I get lazy on the way back in the train and drag TH to have dinner outside. On those nights, I come back, drain the soaked chickpeas and stick it in the fridge. It can be stored like that for a week until you are ready to make what you want with it.
Go ahead, I promise the chickpeas won't feel bad or anything.
If you like chana recipes, check out this Kerala kadala curry recipe, Chana Masala for poori, or this gorgeous Punjabi chole masala.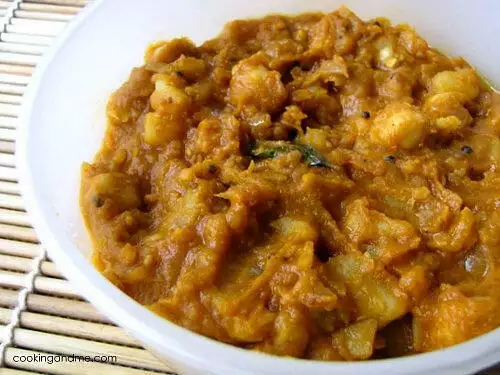 Aloo Chana Masala
Serves 2
Ingredients:
1 cup soaked chickpeas
1 large potato, cubed
1 onion, sliced
1 tomato, sliced
1 tsp tomato paste (optional but gives depth to the gravy)
1 tsp ginger garlic paste
1/2 tsp jeera / cumin
1 tsp coriander powder / dhania powder / malli podi
1 tsp garam masala
1 tsp red chilli powder
A pinch of turmeric powder
A pinch of amchoor / dry mango powder (optional)
2 tsp oil
1/4 tsp mustard seeds
A few curry leaves
Salt to taste
Instructions:
1. Heat oil in a pressure cooker pan and add the mustard seeds and curry leaves. When the seeds pop, add the jeera and sliced onions. Fry until transparent.
2. Next add all the powders – red chilli powder, coriander, turmeric, garam masala and amchoor if using, and fry for 30 seconds.
3. Top it off with the ginger garlic paste and fry for another 30 seconds. Then add the chopped tomatoes and stir around until well combined.
4. Throw in the cubed potatoes, chickpeas, about 1.5 cups water and some salt and pressure cook for 3-4 whistles. The idea is to cook it until the potatoes are mushy and the chickpeas are cooked well. Open up the pan and if you find that the curry is too watery (which shouldn't be the case normally), boil it for a while until the curry is thick enough. Check salt and remove from fire.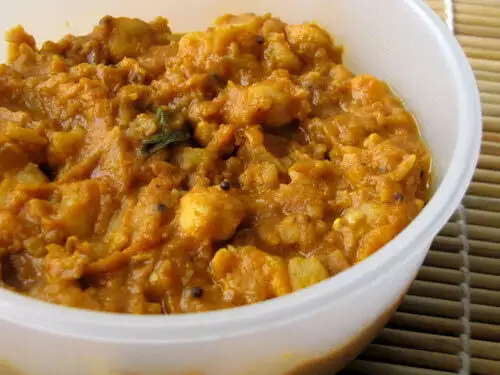 Serve hot with rotis. Goes well with pulao and even plain rice.