Learn how to make Kadai Paneer, an Indian restaurant style paneer (cottage cheese) recipe that's a popular accompaniment to tawa nan or jeera rice. It is easy to make Kadai Paneer at home provided you have the ingredients ready in hand.
I really want to start this post by explaining what a kadai is (an Indian wok, btw) and what paneer is (erm.. Indian cottage cheese) but since I am just not in the mood, let's get on quickly to the recipe, shall we?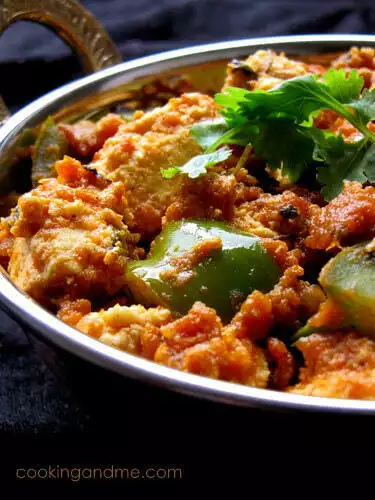 Kadai Paneer
I made Kadai Paneer with fresh homemade paneer which is why it looks very crumbly in the pics. But oh boy! It tasted so good!
I thought and thought but I still have no clue why I have never made kadai paneer before in my life. Seriously!

Kadai Paneer Recipe
Serves 2 – 4
Ingredients:
2 cups paneer, cubed
Half a capsicum / green bell pepper, cubed
1 large onion
2 green chillies
3-4 pods of garlic, crushed
1″ piece of ginger, crushed (or 1tsp ginger garlic paste)
1 tomato, pureed
1 tbsp tomato paste (or another pureed tomato)
A generous pinch of kasuri methi / dried fenugreek leaves
1 tsp red chilli powder
A pinch of turmeric powder
1/2 tsp jeera / cumin seeds
1 tsp coriander powder / dhania powder / malli podi (I add a little more than this)
2 tsp oil
Salt to taste
Chopped coriander leaves to garnish
How to make Kadai Paneer:
1. Grind the onion along with the green chillies. Heat oil and fry this paste for 2-3 mins.
2. Then add the chilli powder, turmeric, jeera, coriander powder and crushed ginger and garlic (or ginger garlic paste) and mix well, frying for another minute.
3. To this, add the tomato paste..
4. .. and pureed tomato. Fry for 4-5 minutes until the mixture comes together and the oil begins to separate.
5. Next add the capsicum..
6. .. and kasoori methi, with some salt. Fry for 2-3 mins, until the bell pepper is cooked but still crunchy.
7. Finally add the cubed paneer and mix gently until well combined. Simmer for 2 mins and remove from fire.
I didn't fry the paneer in advance or do the whole dipping in water, squeezing and draining routine because I am very happy adding it as is at the end of this particular dish.
Garnish with coriander leaves and serve hot with rotis/chapatis.