Yes, I totally made this recipe up. There's no such thing as a
Cauliflower Biriyani
. No, you are right, cauliflower does get added on to
vegetable biriyani
occasionally there's no biriyani that's exclusively dedicated to cauliflower.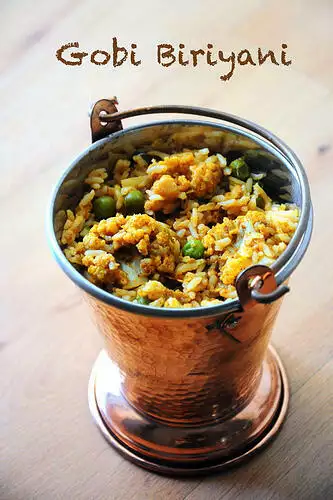 I am also going to say this up front before you read through the whole recipe and get disappointed. You need Biryani Masala to make this recipe. Its not one of those grind-your-spices-fresh type of recipe because that would make this a non super quick dish, and today we are all about super quick.
Its also a prerequisite to like cauliflower inorder to enjoy this dish.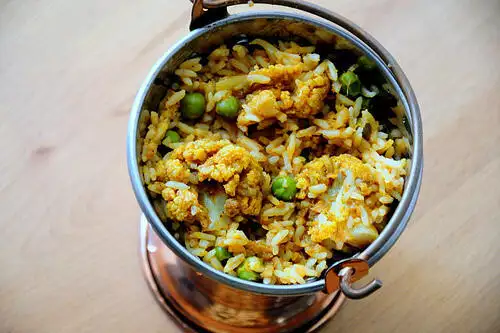 Gobi Biryani / Cauliflower Biryani Recipe
Serves 3
Ingredients:
1.5 cups basmati rice (or any long-grained rice)
1 large onion + 2 green chillies, ground to a paste
1 large tomato, pureed
A handful of green peas (fresh or frozen)
1 medium sized cauliflower, washed and cut into florets (around 4 cups)
1 tbsp ghee (or oil)
Fresh chopped coriander leaves for garnish (optional)
The Masala
1/2 tsp jeera / cumin
1 tsp dhania / coriander powder
A pinch of turmeric
1 tsp ginger garlic paste
1 heaping tbsp of biryani masala

Salt to taste
How to make Gobi Biryani:
1. Cook the basmati rice in 5 cups of boiling, slightly salted water until cooked but still firm. Set aside.
2. Heat the ghee in a pan and add the onion-green chilly paste. You can also slice the onions and chillies and add it that way but I felt like grinding it so I did. Fry the onion paste for about 2 mins. It will start losing moisture and get thicker.
3. At this stage, add all the masala ingredients in the order given. Fry well for about a minute till it starts smelling gooood.
4. Add the tomato puree, peas and cut cauliflower florets. Give it a good mix and cook closed on low fire until the cauliflower is cooked soft, yet retains its shape (about 5-7 mins). You can sprinkle some water if you feel the mixture is getting too dry.
5. Once done, check salt and then mix in the cooked rice gently until well combined. Garnish with chopped coriander leaves and serve with any raita and papad.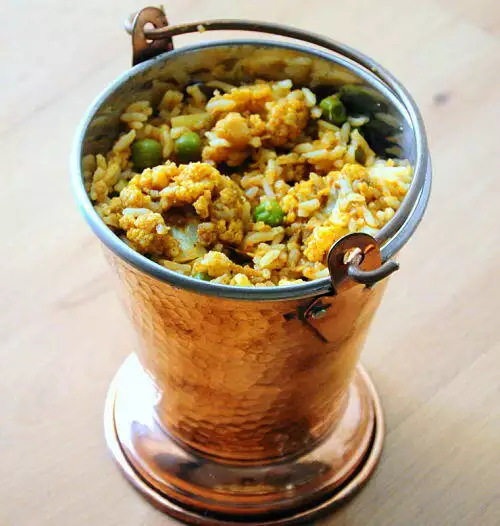 The preparation time for this biriyani is significantly less because you are not pounding any masala last minute. Depending on what biriyani masala you use, you will get a distinct flavour each time – I love that variety!