I never really gave carrot cakes much thought until I came to Singapore. Cedele bakery in Singapore kind of opened my eyes to them with their really good carrot cakes with tons of walnuts in them. For the longest time, I really believed that they had the best carrot cake in Singapore!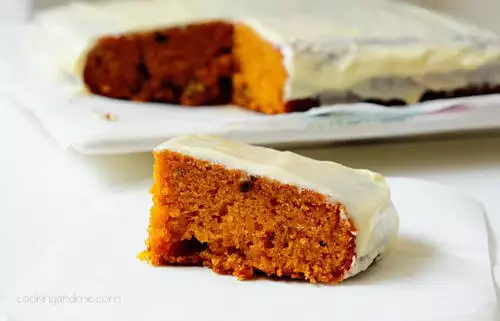 Until one day I saw this box in our office pantry labeled "Sample for Google Employees". Inside was an 8″ carrot cake with cream cheese frosting that was still cold from the fridge. I took half a slice, brought it back to my desk and forgot about it for the next couple of hours. Big mistake!
Eventually, when I did end up taking a bite, it was a virtual explosion of taste and texture in my mouth. That is hands down the best carrot cake I have ever tasted! If you are in Singapore and you wouldn't mind a carrot cake changing your life forever, order one from Calendar's.
Anyway, all this carrot cake overload made me want to bake my own and I was aiming for a moist, dense, yet soft one like they baked at Calendar's. The following recipe worked great!By the way, you may also be interested in this great
banana cake with cream cheese frosting
that I love. Or maybe a
chocolate fudge cake
?
Moist Carrot Cake Recipe a la Calendar's Carrot Cake Recipe
Ingredients
1 cup all purpose flour / maida
1 tsp baking powder
1 tsp baking soda
1 tsp ground cinnamon (not optional)
1/4 teaspoon salt
1/4 teaspoon ground allspice (optional but really adds flavour)
2 eggs
1/2 cup + 2 tbsp vegetable oil (I used veg oil with carotene which explains the deep orange colour of my carrot cake)
1/2 cup sugar
2/3 cup brown sugar
1/4 cup milk or buttermilk (I used milk)
1.5 cups peeled, shredded carrots
1/2 cup coarsely chopped walnuts
How to make Moist Carrot Cake:
1. Preheat oven to 350F / 180C
2. Butter and flour a cake pan of choice. I used my 8″ square baking pan.
2. In a medium bowl, sift together the flour, baking soda, cinnamon, salt and allspice. Set aside.
3. In a large bowl or using your stand-mixer, whisk the eggs, oil, both sugars and milk (or buttermilk) until blended. Stir the flour mixture into the egg mixture just until combined. Fold in carrots and walnuts.
4. Transfer to your greased and floured baking tin. Bake about 40 minutes or until a toothpick inserted in center comes out clean. Let it cool in the pan for 15 minutes, then invert onto a rack and let cook completely.
Cream Cheese Frosting
I always use my own eye-balled measurement for frosting. Most of the frosting recipes I come across have too much sugar and since I don't ever pipe on icing to cakes (I prefer the slathering technique), I just follow what I want to put together frosting, tasting as I go.
Ingredients:
Half a block of Philadelphia Cream Cheese (about 125gm) – at room temperature
4 tbsp unsalted butter – at room temperature
1/2 to 3/4 cup icing sugar (taste as you go and stop when its sweet enough)
1 tsp vanilla extract
How I Made It:
In a large bowl, mix cream cheese and butter until smooth. Then add the sugar and vanilla and beat until blended. You can do this by hand or using an electric beater. Spread evenly over the cooled carrot cake and serve immediately. I prefer a thin layer but go with what your heart says!