Weekend breakfasts are mostly lazy affairs for which normall I make an omelette or scrambled eggs or have just toast with
kothamalli chutney
. But when Rajitha inspired us to think about a soy breakfast, I started thinking of what I could make and finally settled on some low sugar cookies. I had these warm cookies on a Sunday morning with a hot cup of chai.
Soy-Oats Sugar Cookies Recipe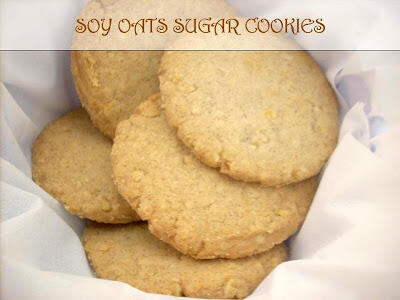 What I Used:
Makes 8-10 cookies
Soy flour – 1 cup
Maida – 1/3 cup
Oats – 1/4 cup
Butter at room temperature – 3/4 cup
Powdered sugar – 1/2 cup (this makes the cookies mildly sweet, so you can adjust according to your taste)
Cinnamon powder – one pinch (optional)
Salt – one pinch
How I Made It:
1. Sift the maida and soy flour with salt until its totally blended.
2. Mix the butter and sugar with cinnamon powderand then add the flour to form a loose dough. Then mix in the oats gently.
3. Roll out gently and cut with a cookie cutter in desired shapes. I don't have cookie cutters so I made small balls of the dough and flattened it on my palm.
4. Lay on a greased tray and bake in a pre-heated oven for 15-18 mins, until the edges are golden brown.
Enjoy with a hot cup of coffee/milk/tea.