I had been racking my brains to come up with a good recipe that focusses on garlic for Sunita's Think Spice event. This is one of my favourite spices and I almost went ahead and made my first pickled garlic. Well, note that I said almost. My laziness got the better of me, of course! So last weekend, I made something much simpler yet really tasty and filling. Tomato soup and garlic toast!
Tomato Soup Recipe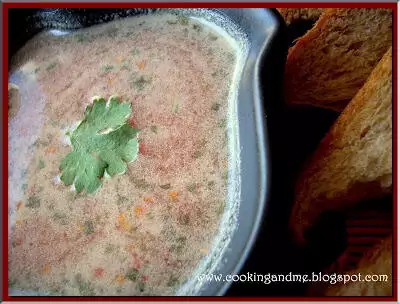 Ingredients:
Tomatoes – 4
Garlic, crushed – 4 cloves
White pepper – 2 tbsp
Basil leaves – 2 (I used dry basil leaves powder)
Salt – to taste
Sugar – one pinch
Butter – 1 tsp
Coriander leaves – for garnishing
How I Made It:
1. Puree the tomatoes with salt.
2. Heat a kadai and add the butter. When it has melted, add the garlic, pepper and basil leaves and stir well for 10 seconds.
3. Add the pureed tomatoes and cook for some time, partly covered. You can sieve the tomato puree if required, I just removed the skin of the tomato before pureeing, that way its easier.
4. Adjust salt and spice, garnish with chopped coriander leaves and serve hot.
This is a really simple recipe for tomato soup that I tried out on my own. Was pretty okay, but the frothing just wouldn't go off. Any suggestions on that, please pass it on.
Garlic Toast Recipe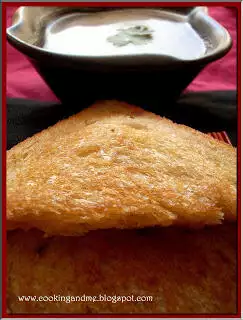 What I Used:
Wheat bread – 3 slices, halved (Use any bread of your choice, baguette being the ideal one)
Salted butter, at room temperature – 3 tbsp
Garlic – 6 cloves
How I Made It:
I am not a huge fan of garlic chunks in the toast so I blended the butter and garlic nicely before spreading on the bread and toasting till golden brown. It was out of this world!