Understandably, you all loved the
Chilli Paneer Recipe
I posted last week. Of course, frying up something and mixing it in a delicious spicy sauce should be up everyone's alley, no surprises there.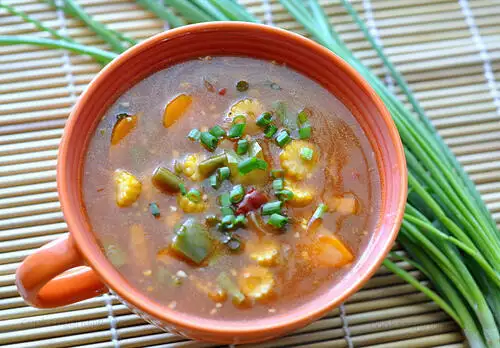 After moving into the new apartment, we had friends over and I decided on an Indo-Chinese menu. I was badly craving some and grabbed the opportunity to cook some up myself. I made the Chilli Paneer, Vegetable Fried Rice and Schezwan Vegetables for some gravy to go with the fried rice.
Schezwan Vegetables Recipe
Adapted from Sailus Food
Serves 4
Ingredients:
1 large onion, cubed into 1″ pieces roughly
1 carrot, cut into small, thin discs
8-10 french beans, cut into 1″ pieces
8 baby corns, each cut into 6 round discs
1 green capsicum, cut into 1″ pieces roughly
2 tbsps oil
2 tbsps finely chopped spring onion greens (for garnish, optional)
For The Sauce:
2 dry red chillis, halved
1/4 tsp red chilli pwd
1 tsp crushed garlic (about 6 small flakes)
1.5 tsp soya sauce
1 tsp brown sugar
1 tbsp tomato ketchup
2 tbsps tomato puree (or 1 tsp tomato paste)
1 tbsp cornflour
1 cup water
salt and pepper to taste
2 cups vegetable stock or water (I used vegetable stock)
How to Make Vegetable Schezwan Recipe:
1. Heat oil in a pan and add the onions. Cook until soft and transparent – about 3 mins.
2. Add the remaining vegetables with some salt and saute lightly for 3-4 mins.
3. Mix all the sauce ingredients together and add to the cooking vegetables. Let it simmer for 5 mins or until the vegetables are cooked, yet firm. If the gravy is getting too thick, add more water. Adjust salt and add pepper and spring onion greens – and its ready to serve!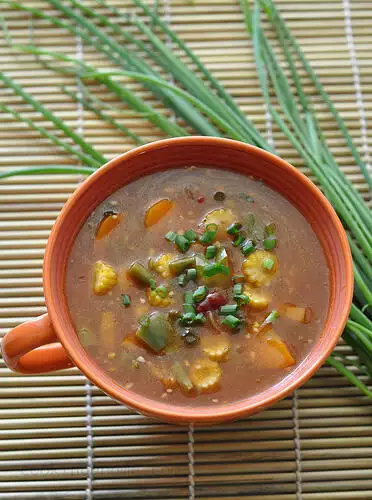 Vegetable Schezwan is one of those dishes where the preparation time is higher than the cooking time but the end result is very satisfying and can really help you get rid of your Indo-Chinese craving!