Kathirikai or brinjal recipes or pretty much any curry with kathirikai is popular in my house and we try to cook with brinjal at least once a week. I have tried quite a few variations of kathirikai curry but this particular one from Chandra Padmanabhan was an immediate hit, especially because of the yogurt in the gravy. The spice levels can be adjusted to your taste but serve warm with rice. This particular kathirikai curry tastes best when served fresh.
When it comes to recipes from Chandra Padmanabhan, I mostly follow them blindly, except to suit spice levels to our taste. This very interesting recipe from one of her books had me thinking though, and I adapted it by adding some curd in the end. Very tasty and very South Indian!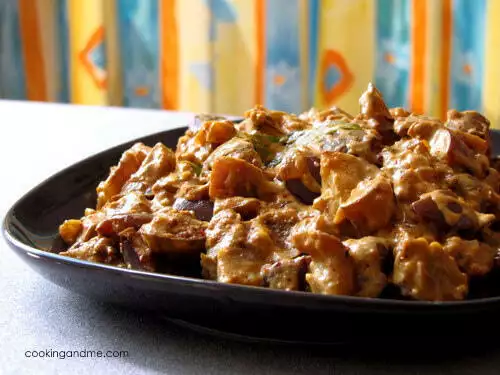 The ingredient list and method may look long but it's really a very easy recipe to make.
For more kathirikai recipes, check out:
Bagara Baingan
Ennai kathirikai kuzhambu
Kathirikai gotsu
Szechuan eggplant
Baingan ka salan


Kathirikkai Kariamudhu | Kathirikai Curry Recipe
Adapted from Chandra Padmanabhan's Simply South

Serves 4 as a side
Ingredients:
1 small marble-sized ball of tamarind
10-12 baby brinjals, cubed
1/2 tsp turmeric powder
2 tsp grated coconut
1/4 cup curd / yogurt (optional)
Salt to taste
For Spice Powder:
1.5 tbsp channa dal / husked Bengal gram / kadala paruppu
1.5 tbsp urad dal / husked black gram / ulutham paruppu
2 dry red chillies
3 tbsp coriander seeds (or use 1 tbsp coriander powder)
1/2″ stick cinnamon
1 clove
For Tempering:
2 tbsp oil
1 tsp mustard seeds
1 tsp urad dal
1 tsp channa dal
1 dry red chillies, torn into half
A few curry leaves
How to make Kathirikai Curry:
1. Soak tamarind in 1/4 cup water for 10 mins. Extract juice and discard pulp.
2. Lightly fry ingredients for spice powder in a dry skillet over low fire. Toss gently till dals are golden brown, take care not to burn them! Cool and grind to a fine powder.
3. Heat oil for tempering and the rest of the ingredients in given order. When the mustard seeds start popping, add the cubed brinjal pieces and saute for 2-3 mins. Then add tamarind juice, turmeric powder, and salt.
4. Sprinkle some water and cook closed over low heat for about 5-7 mins or until the brinjal is tender. Cook open for a minute until all the extra moisture is absorbed. Then add the grated coconut and the spice powder. Stir well to combine, adjust salt, and finally mix in the curd before removing from fire. (For authentic Kathirikkai Kariamudhu recipe, avoid the curd).
5. Serve hot with steamed rice or roti.