Since a lot of people are now moving to convection ovens and even upgrading their existing ovens (like I did), I am thinking of doing a few posts featuring their experiences.
Before doing the post on Types of Ovens – How to Choose an Oven, Aparna had reached out to me to talk a bit about her convection oven. Aparna blogs at Aps Kitchen and from her the cakes and cookies on her site (the last few baked in her new convection oven) you can see that she is using her new convection oven well.
Here's what she has to say about her new oven which is a Samsung CE1031L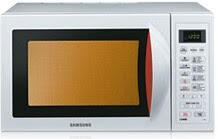 "Hello I am Aps from Aps Kitchen. When I was requested by Nags to write about my oven, I was happy indeed but never knew what exactly to write about. Anyway, here goes:
I am not an expert in baking yet but I would like to share some information about my oven.We had an electric oven before but as we shifted homes we had to buy a new one. I always wanted to bake goodies at home and I have tried out cakes but when it came to cookies, I always had some problem or the other so I was waiting for a convection oven.
After a long long thought process on which oven we should buy, when to buy it, and going through all those discussions and reviews from the Internet, we decided to go for the Samsung Convection 28ltr Model Number CE1031L. The first things we were looking for is time-saving in baking and an affordable price. This was the final choice as it had many features like Bio Ceramic Cavity which is scratch resistant which saves time and energy in cleaning, 6 variable power levels which helps in cooking different type of food items, auto deodorization and yes, after all Its Lovely…. :).
The first thing which i prepared in this oven is Wheat Nan Katai and believe me, it not only tasted good but crusty and cruchy. Waiting to try more of baking goodies.
There is the next model of this oven which is really good too. it has an extra feature of auto cleaning which is not there in my oven … and thts becoz i never found that one here… Now I can strongly recommend Samsung convection oven to any one. Its not only good but also affordable. I got to know more about this as I bake."
What? Samsung Convection Oven cum Microwave
Where? Siddesh Electronics, Mumbai, but widely available in most kitchen appliances stores.
Price: The Actual price was 11,200 INR and Apsgot a discount and paid 9550 INR. But the prices have gone down now and it costs INR 10,790.
Please leave comments if you have any questions for Aparna and if you already use a Samsung Convection Oven, do leave your thoughts.