Keerai Poriyal is an easy and healthy Sough Indian recipe with spinach (keerai in tamil and cheera in malayalam) with coconut. It's easy to preprare keerai poriyal if you have all the right ingredients in hand. Before one more person asks me for the recipe of this pic I featured in my
taking food pictures on Portrait mode
, I am going to post it.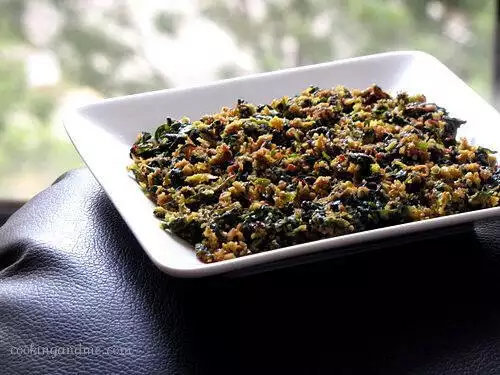 Cheera thoran or Keerai Poriyal is a very simple and nutritious recipe, perfect for a weeknight if you are looking for a side-dish for your dal chawal, or sambar rice, or even curd rice. I love spinach and considering the abundance of spinach and most other greens in Singapore, this is a real treat for us!
Cheera Thoran Recipe (Keerai Poriyal)
Serves 2 to 4
Ingredients:
5 cups tightly packed chopped spinach leaves (a bunch)
1 cup grated coconut
4 shallots (or half of an onion)
2-4 green chillies
A pinch of turmeric powder
1/2 tsp jeera
2 tsp oil (I always use coconut oil for thoran)
1/4 tsp mustard seeds
A few curry leaves (optional)
1 dry red chilly, torn into half
Salt to taste
How I Made It:
1. Clean and chop the spinach fine. Drain well and set aside.
2. Grind together – coconut, shallots, green chillies, jeera and turmeric. If you don't have a mixie, use a pestle and mortar to bring these ingredients together. If you don't have that, then just finely chop the shallots and green chillies and mix well with the rest.
3. Heat the oil in a pan and thrown in the mustard seeds. When they pop, add the curry leaves and the halved red chilly. Fry for 10 seconds and add the coconut mixture. Fry that for 30 seconds and add the chopped spinach with some salt.
4. The spinach will give out water so cook well until all the water evaporates and you have a dry dish (about 5-7 mins)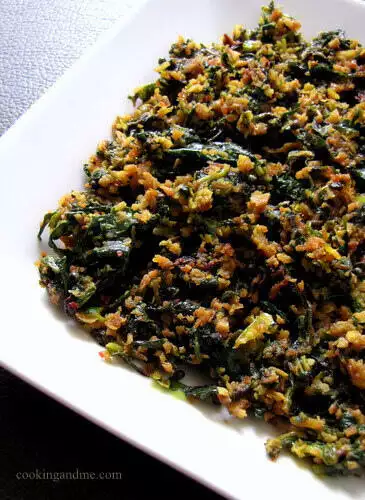 Serve keerai poriyal with rice and dal, rice and sambar or rice and moru curry.