Pancakes may seem like the easiest things to make but from experience, I can tell you that.. it's not! Sometimes, my pancake batter is too thick, or too egg-y, or too thin.. and then the pancakes are not perfect.
Considering that I dive into the pancakes tray whenever I have breakfast buffet in a hotel, AND considering I have this here food blog and stuff, it would be ridiculous if I didn't have a decent (and easy) pancake recipe to share.
I knew "this is it" when I saw this recipe on the site Cheesecake for all. And I was right. Sometimes you know these things you know.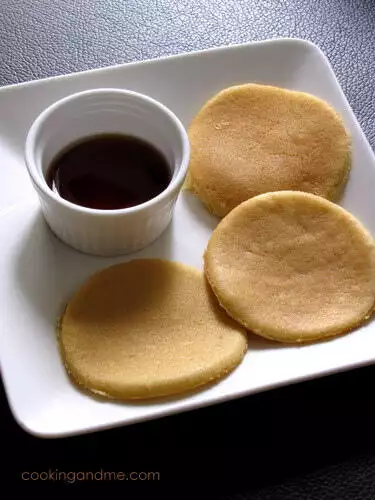 Basic Pancakes Recipe
Makes 12-14 mini pancakes


Ingredients:
1 cup all-purpose flour
1 tbsp white sugar
1 tsp baking powder
1/2 teaspoon baking soda
1/4 teaspoon salt
1 cup milk
1 egg
2 tablespoons oil + extra for greasing the tawa/griddle
How to make Basic Pancakes:
1. Beat together – egg, milk and oil.
2. In a separate bowl, combine- flour, sugar, baking powder, baking soda and salt. Make a well in the centre and pour in the egg mixture.
3. Beat lightly until smooth and lump-free.
4. Pour about 2 tbsp of batter on a hot and lightly oiled griddle and let it spread naturally. After a minute, flip to the other side. Both sides should be golden brown so adjust heat accordingly as you cook them.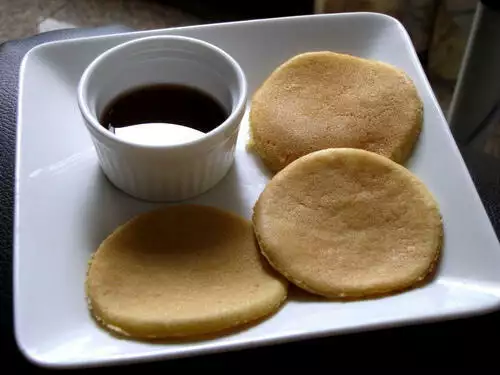 Serve pancakes warm with a dollop of butter or maple syrup or both.