Any South Indian worth their curd rice would love and relish
Sambar Vadai
. It's just wired into us and really, what's not to love about hot and crispy
Medhu Vadai
dunked into some piping hot
Sambar
? The combination is amazing and while I am not a fan of the soggy and soft
Restaurant-Style Sambar Vadai
, I would still pick it as one of the top choices for a South indian breakfast.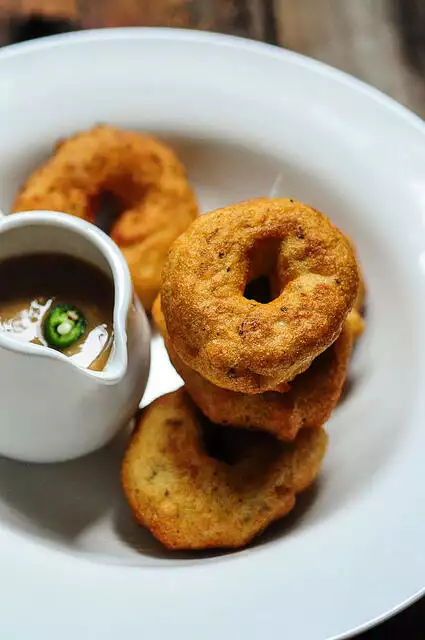 There really isn't a specific recipe for Sambar Vadai. If you know how to make Medhu Vadai and you have a good sambar recipe in hand, just use them both and dunk the vadai into the sambar before serving. That's really it.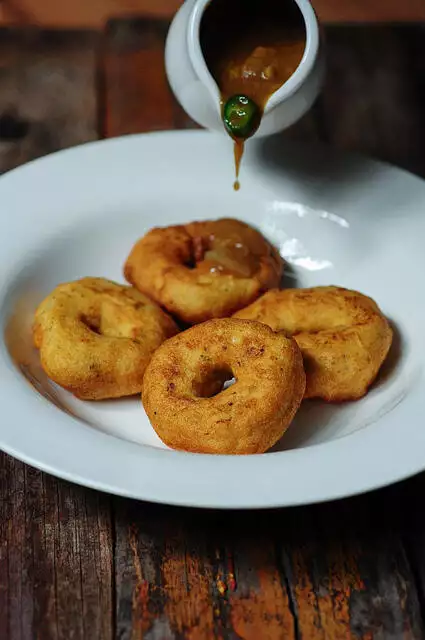 I made Sambar Vadai for breakfast one day (with leftover soaked urad dal from making idli batter) and had so much fun photographing it that I had to share the recipe with all the pics I took! So excuse the slight overdose of pictures in this post.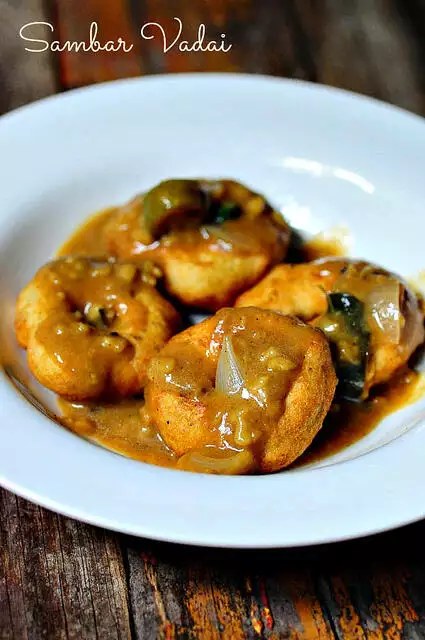 If you look past the fact that Medu Vada is fried, this is a no-carb Indian breakfast. Well, that's how I consoled myself anyway 😀
Just a note on the making of the Medhu Vadai. Over the years, I have stumbled and fallen quite a few times before I got near-perfect Medhu Vadais going in my kitchen. There's only one thing that matters while making the vadai and that is The Consistency Of The Batter. Nothing else will make or break your vadai and the sad part here is, it's tough to get it right without practice. At least, that's my experience but if any of you have a quick tip for getting the perfect Medhu Vadai batter, do share, I am all ears.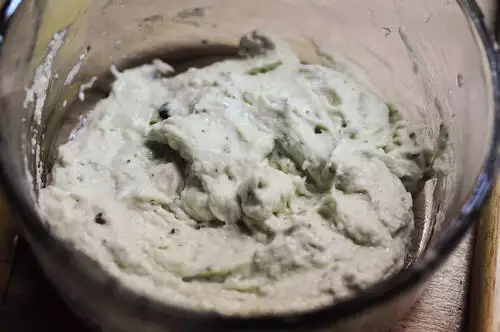 If your Medhu Vadai Batter is too thick: The vadai will shape up super nicely but they will be hard after frying.
If your Medhu Vadai Batter is too thin: The vadai will refuse to shape up like a donut and they also end up "drinking" too much oil resulting in mushy vadai.
If I had to pick, I'd go with mushy vadai I guess. Don't let any of this deter you though.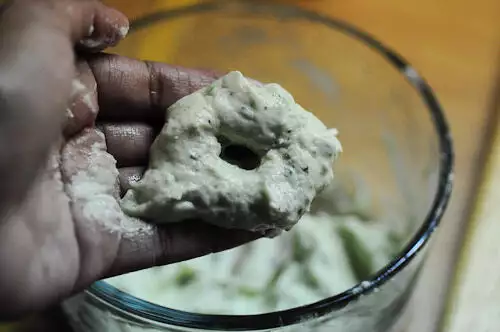 My Amma, even today, claims she can't shape medhu vadai and continues to drop blobs of batter into oil and makes ball-shaped vadai. None of us kids complained.
My K. Athamma is incapable of making a bad vadai. No matter how tired or rushed she is, her vadai is always perfect.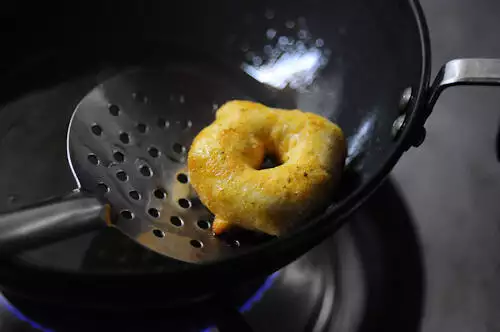 So there you go, don't take it personally. Getting perfectly Medhu Vadai is not for everyone but that shouldn't stop you from making and eating them.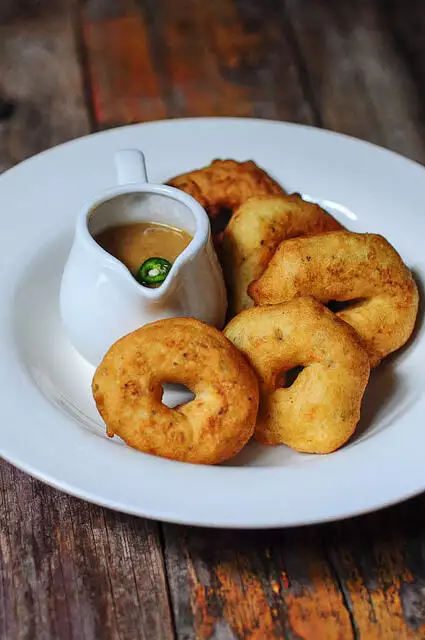 Sambar Vadai Recipe
Preparation time: 1 hour
Cooking time: 15 minutes
Makes 8-10 Medhu Vadai depending on size

Ingredients:
For the Medhu Vadai:
1 cup of whole, skinned, urad dal
2 of green chillies, chopped
2 tsp of whole, black pepper
10-12 of curry leaves, torn roughly
2 tsp of salt (adjust to taste)
1 tsp of minced ginger (optional)
4 cups of oil, to deep fry, depending on the size of your pan
To Make the Medhu Vadai:
– Soak the urad dal for at least 45 mins in enough water.
– Grind adding water by the teaspoon until you have a smooth, thick batter that falls off with reluctance as you drop it off a spoon.
– Mix the rest of the ingredients (except oil) with the batter.
– Heat oil until smoking point
– Shape the vadai using wet hands into a donut shape (read notes)
– Dunk into the hot oil. Take care not to over crowd the pan and also, regulate the heat to medium-low so that the insides of the vadai get cooked and the outside crisps up.
– Drain and set aside until you are done with making all the vadai.
When making Sambar for Sambar Vadai, I generally use one of two sambar recipes. Pick any one that you prefer:
Arachuvitta Sambar
Sambar with Fresh Sambar Powder (minus the vegetables)
Notes:
– Make the sambar first. That makes things easier.
– Some people find it easier to do shape Medu Vada with one hand: Place the batter in the middle of your palm and form the hole with thumb of the same hand. Or, use the index finger of the other hand to form the hole. Others find it easier to use greased banana leaves or cling wrap to shape the vadai and then use a spatula to dunk into the oil. I am a one-hand-medhu-vadai-shaper, but it did take quite a bit of practice.
– I would recommend adding the vadai to the sambar or sambar to the vadai (whichever you prefer) 5 mins before serving. However, if you prefer Restaurat-Style Sambar Vadai which is more spongy and soaked, then dunk them into a bowl of water as soon as they are out of the oil, let them soak for about 3 mins, and then take out, squeeze out the excess water and add to the sambar.
– I read somewhere that if you add a spoon of hot oil to the urad dal batter, the vadai doesn't get too oily. I forget to try it each time I make Medu Vada so if you have tried it, do let me know how that went.