Appam, Palappam, Aappam, Lace Hoppers
– whatever name you choose to call this famous Kerala breakfast dish, it doesn't change that the fact that it's one of the most amazing of man's creations in the food department. I realise I may be slightly biased here but
Kerala Appam
(or Aappam – we use a longer ã sound for it) is and always will hold a special place in my heart. Appam and
Kadala Curry
will forever remain a match made in heaven together with the sweetened fresh coconut milk that you pour over the
Palappam
before serving it.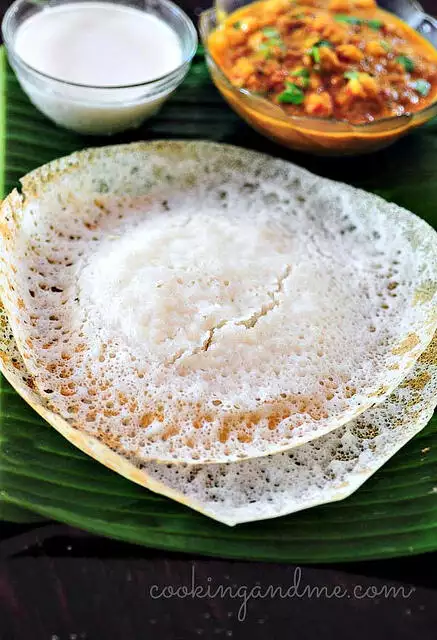 There are a few different method of preparing Kerala Appam. Using kallu or toddy is a popular method (and the resulting Appam is then called Kallappam) which is how amma used to make it during my childhood. The resulting appams were super soft and had this wonderful fermented flavour from the toddy.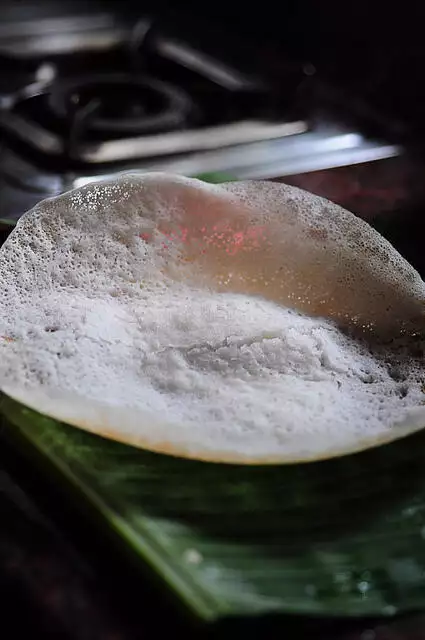 Then you can prepare Kerala appam with yeast. While yeast is a reasonably good substitute for toddy in the appam batter, it does give a different flavour to the appam and not really preferred by some, including us. I don't remember amma making appam batter with yeast ever, although she may have tried it a couple times to check how it is. To get toddy, she would generally need to give 8 rs. to our maid's alcoholic husband who would bring us back about 8oz of toddy from one of those dark and seedy toddy shops that are all over Kerala. Yeast is definitely easier to source I would imagine.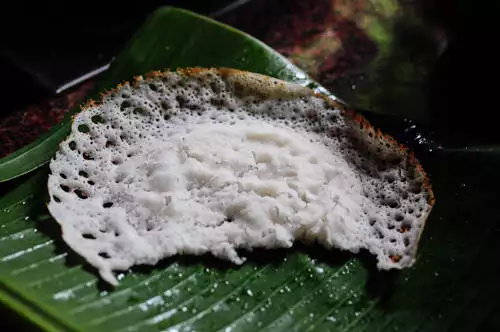 The recipe for Kerala Appam I am going to share today does not contain yeast. It does need overnight fermenting though so this is not an Instant Appam recipe. However, it will be well worth the effort, trust me. I got this Palappam recipe from Amma's current help, Suma, who makes it atleast once a month and says it's the easiest Kerala breakfast recipe ever!
Kerala Appam (Palappam) Recipe with No Yeast
Preparation time: 8 hours
Cooking time: 30 minutes
Makes ~15-20 Palappam
Recipe source: Suma
Ingredients:
500 gm of raw rice, pachari, pacharisi
1.5 cups of grated coconut
1 fistful of cooked rice
4 tbsp + 1 tbsp of sugar
1/2 tsp of baking soda (soda-bi-card)
1 cup of coconut milk, optional (how to make coconut milk at home)
How to make Kerala Appam Batter:
DAY ONE
1. Soak the raw rice for at least 4 hours. Add the grated coconut and cooked rice to this and grind to an almost-smooth batter. A slight grainy texture is fine. Add salt to taste and set aside.
2. The next step is called Kappi Kachunnathu in malayalam. This gloopy mixture we get is called the kappi and acts as the fermenting accelerator in the Appam Batter.
To make Kappi: Take 4 tbsp of the ground raw rice mixture and add 4 tbsp water. Cook on low heat with 1 tbsp sugar until the mixture resembles kanji or rice gruel. It should be a bit thick and gelatinous. Cool completely and add to the rest of the mixture. Mix well and keep covered at room temperature, overnight or at least for 8 hours.
DAY TWO
1. The batter prepared the previous day will be fermented and a bit bubbly. To this, add the soda powder + 4 tbsp sugar and mix well. Add enough water to make the consistency of the batter loose and easily pourable. You can also add coconut milk + water to dilute the batter, for enhanced taste.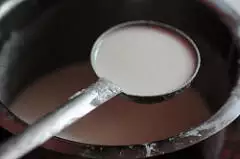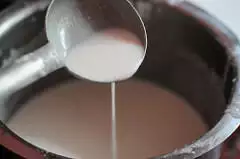 How to Make the Appams:
1. Heat an appam chatti or a kadai with a rounded base. Amma uses her large-ish non-stick pan since we are a big family and using the small appam chatti will get us nowhere in 2 hours with the miniature appams the appam chatti will churn out. You need a pan or kadai with a lid that fits comfortably without gaps. Pour about 1/2 cup batter (depending on the size of your kadai)…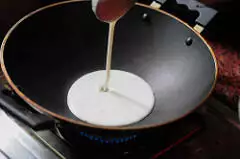 … and twirl it once or twice to coat the side of the kadai with the batter. If you twirl once, you get a lacier, crisper edge and if you twirl twice, you get a softer edge. Don't twirl more than twice.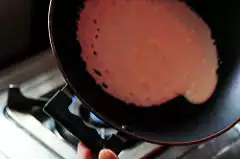 2. Close the kadai and cook for 3-4 mins.
3. You will see that the edges leave the sides of the pan and the centre is cooked soft. If the centre is a bit soggy and uncooked, cover again and cook further until done.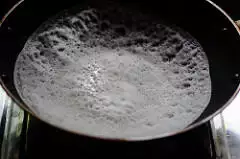 4. Once the appam is completely cooked, gently ease it into a plate. You shouldn't flip them.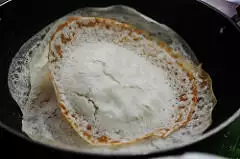 You can brown the edges a bit or take them out when they are uniformly white and lacy, the choice is yours.
Notes:
– If your palappam batter is too thick, the appam will not spread as you twirl the pan. Make sure you dilute the batter enough.
– If the appam sticks to the pan too much, you can grease the pan with some oil but usually this is not needed, especially if you are using a non-stick appam chatti. We have one in cast iron which needs a lot of love and seasoning all the time. Avoid buying it in iron if you are a sporadic appam maker.
– You can dilute the appam batter on day two with either water or coconut milk.
– When cooking the appam, keep flame on low and always cook closed. If the flame is too high, the centre will not cook and if the pan is not closed, the appam will dry out.
– You can use the same batter to make Vellayappam which is simpley appam that looks like oothappam, more uniformly thick than Palappam. To make Vellayappam, make sure the batter is not as dilute as for Palappam, it should be the consistency of dosa batter.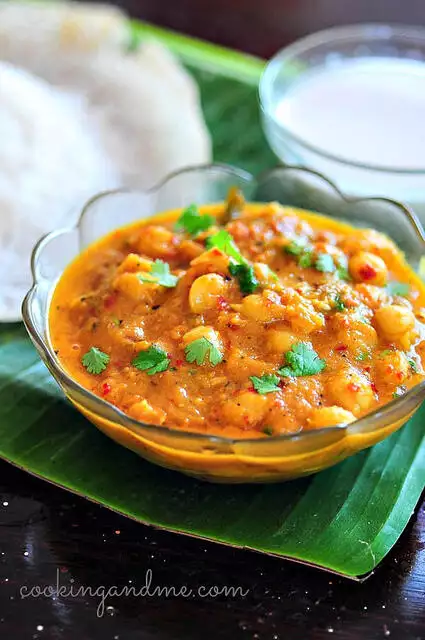 You must serve Appam with either Kerala Stew or Kadala Curry (Kerala Chickpeas Curry) and sweetened coconut milk. The Malabar Egg Curry or the Kerala Egg Roast are good options too. Anything else is non-negotiable. I will share the recipe for the Kadala Curry soon. Here's the recipe for chana masala you see in the picture above, served with appam and idiyappam, etc.