I like kootu in any form with pretty much any vegetable and while I naturally defer to
Chow Chow Kootu Recipe
with rasam or a kuzhambu when I want a typical South Indian meal for lunch. Pumpkin lends itself really well to making kootu too and we get really gorgeous yellow-orange pumpkins in Singapore which I decided to use in a kootu recently. This post originally showed up as a guest post in Sala's
Veggie Belly
but I wanted to share the step by step pictures of making pumpkin kootu so here goes.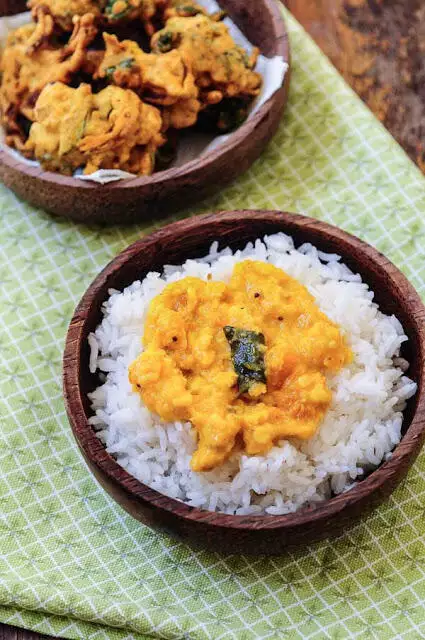 Generally, kootu tastes best with vegetables that lend a light sweetness to the entire dish, so vegetables and squashes like pumpkin and chow chow work perfectly for kootu. Pick your vegetable carefully for making kootu at home and you have an easy and tasty dish for lunch or dinner. Kootu also pairs great with roti or chapati and I love to make a looser gravy for serving with roti / chapati.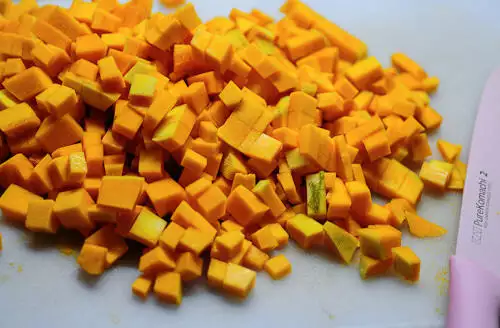 There's this small neigbourhood vegetable stall near our apartment where I buy last-minute vegetables from. The main reason why I don't do all my vegetable shopping there is because they are much more expensive than Little India or the nearby supermarket but they do lend a distinct advantage sometimes, and that is, you can buy smaller chunks of larger vegetables from them. Like a wedge or pumpkin, or a small piece of ginger snapped off from a gigantic piece, or one onion and one tomato because that's how much you actually need that week.
PUMPKIN KOOTU RECIPE
Preparation time: 10 minutes
Cooking time: 25 minutes
Serves 4
Recipe source: Mom-in-law
Ingredients:
3 cups of pumpkin, cut into small cubes
1 cup of yellow moong dal (I add more than normal, you can adjust per taste)
1/4 tsp of turmeric powder
A few of curry leaves
To Grind
1/2 cup of grated coconut
1/2 tsp of red chilli powder
1 tsp of cumin seeds
1 clove of garlic
2 shallots, optional but recommended
To Temper
2 tsp of oil
1/4 tsp of black mustard seeds
1/4 tsp of hing
How to Make Pumpkin Kootu:
1. Add the moong dal and pumkin to a wide pan along with the turmeric powder and salt. Close pan and simmer until the pumpkin is cooked and the dal is soft yet holds its shape – about 15 mins.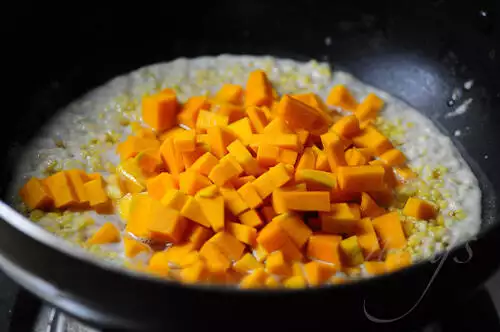 2. Grind together the ingredients listed under "to grind"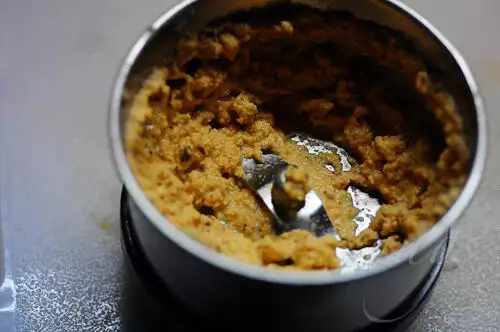 … and add to the pumkin dal mixture along with the curry leaves.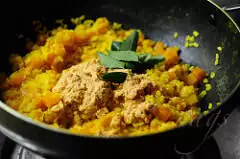 3. Mix well and simmer further until the raw smell leaves the coconut paste – about 3-4 mins. If there's not enough water in the kootu after cooking the dal and pumkin, you can add it along with the coconut mixture but don't add too much water at this stage.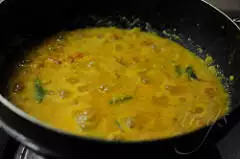 4. Heat oil in a small kadai and add mustard seeds.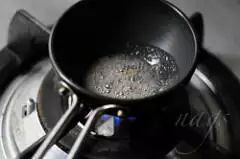 When they pop, add the hing and stir it before dunking into the kootu. Mix well and adjust salt if required.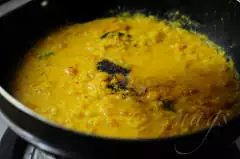 Serve hot with rice and rasam or kuzhambu. I served it with rice and methi pakoda along with a hot bowl of pepper rasam.