While this
Onion Tomato Chutney
gets made more often as a side dish for Idli or Dosa, I do like the simplicity of this Onion Chutney too. Removing tomatoes from a dish generally tends to make it more flat, in my opinion, but this
Vengaya Chutney
begs to differ. I have this weird notion that if we are having idli for breakfast, then there has to be some sort of chutney to go with it but if it's for dinner, then idli milagai podi is more than adequate. So all sorts of chutneys get made in my kitchen in the morning, for breakfast.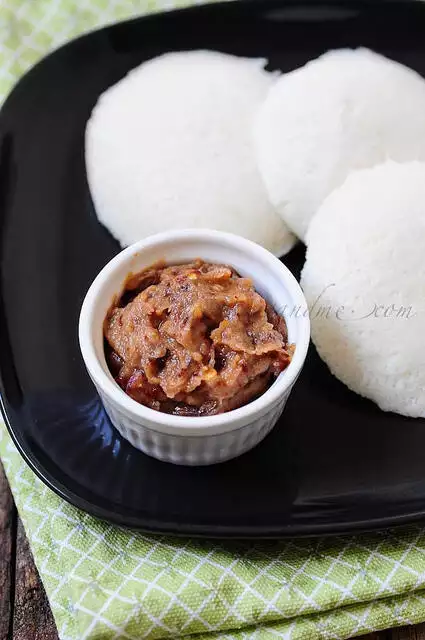 As much as I love coconut, especially in the form of Coconut Chutney, I buy it fresh from Little India about once a month and freeze it in small batches which does make thawing it quicker but not quick enough when I am really really hungry for breakfast and the only thing that stands between me and hot, steaming idlis is a stupid lump of frozen coconut.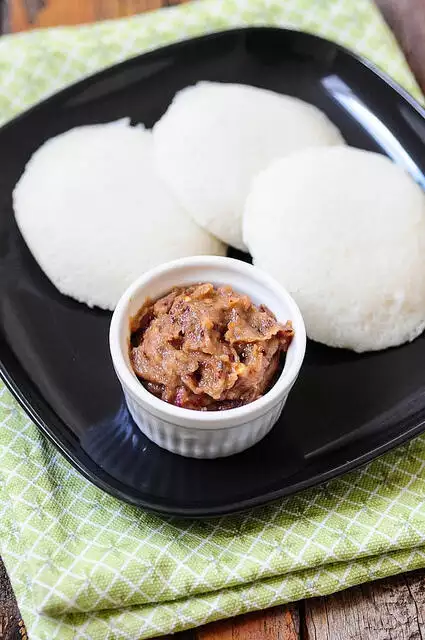 This Onion Chutney is handy for those days because it's a chutney recipe with no coconut and the onions get browned in less time than it needs for you to steam your idlis or make your dosa / uthappam.
Indian Onion Chutney Recipe | Vengaya Chutney Recipe
Preparation time: 4 minutes
Cooking time: 8 minutes
Makes 1/2 cup of chutney
Ingredients:
3 large onions, sliced thin
4-5 dry red chillies (adjust to taste)
1 pinch of hing (asafoetida or perungayam)
2 cloves of garlic, chopped
1 small piece of tamarind (optional, I rarely use this)
1 tsp of salt (adjust to taste)
1 tbsp of nallennai or Indian sesame oil (or any oil you prefer)
How to Make Vengaya Chutney:
1. Heat the oil and add the sliced onions. Sautè until it turns pink and transparent.
2. Add the red chillies, hing, and garlic, along with salt.
3. Continue to fry in medium heat until the onions turn golden brown.
4. Cool and grind to an almost-smooth chutney (add the tamarind, if using) without adding water
5. Serve chutney with idli or dosa
Step by Step Pictures for Making Onion Chutney:
1. Heat oil and fry the onions until pink.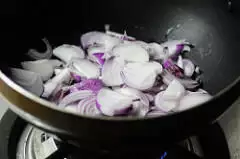 2. Add the chillies, garlic, hing, and salt.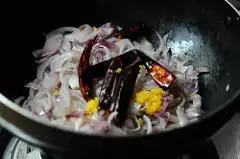 3. Fry until onions turn golden brown.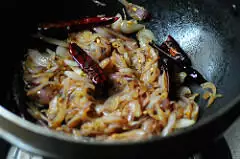 4. Cool to a temperature your mixie or blender can handle.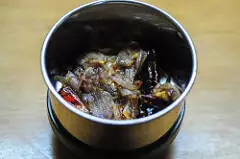 5. Grind (with the tamarind, if using) to a smooth chutney. Water not required.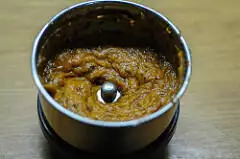 Serve with idli, dosa, uthappam, etc.
Notes:
– Replace the onions with shallots (chinna vengayam, ulli) for a different flavour and if you have the patience to peel them.
– You can add some water to the chutney if you want a looser consistency. You can also temper the chutney with some mustard seeds popped in some oil. I have not tried this. My complicate a simple thing?
I prefer Vengaya Chutney undiluted, untempered, and thick. It's delicious!