Learn how to make Paneer Jalfrezi, a popular restaurant-style paneer recipe that has some vegetables thrown in. Paneer Jalfrezi goes fabulously with nan or pulao and gives a nice protein kick to the meal, especially for vegetarians.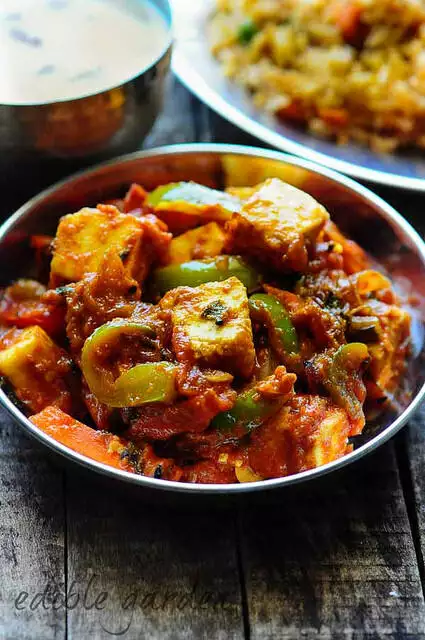 It's no secret that paneer is one of my absolute favourite things to cook and eat. TH, thankfully, is the same so I make paneer at home often and freeze it in cubes.
Freezing the paneer makes it easier to saute and cook without crumbling, and also, it's great to pull out on a busy day and make paneer burji, which is the easiest paneer recipe I can think of.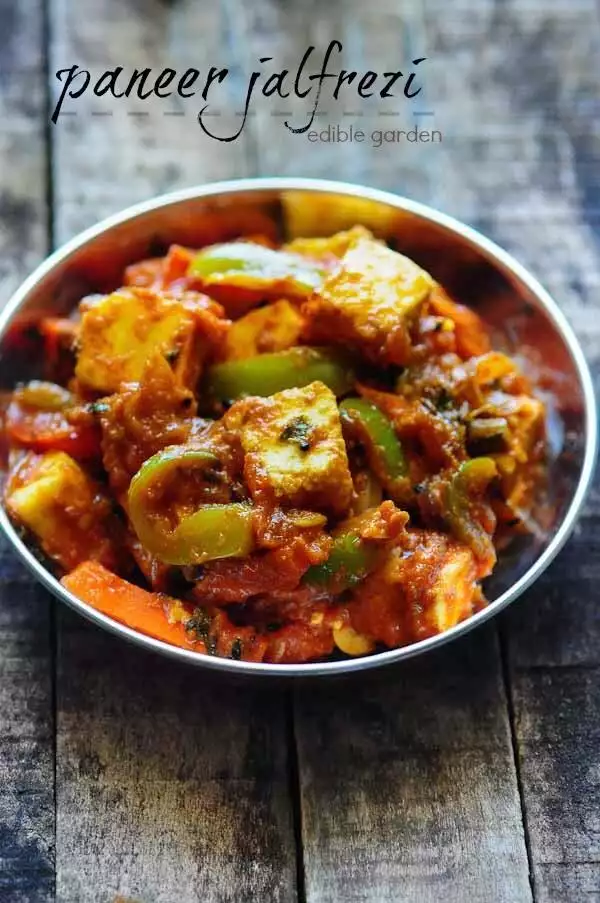 Vegetable jalfrezi is one of those dishes we order in North Indian restaurants to add some 'vegetables' and therefore nutrition to our meal.
We're obviously kidding ourselves since most of these places use cream as the base of the gravy but still, it's our vice and we 'indulge' with pride. A jalfrezi with paneer in it is hardly ever an option since we opt for paneer butter masala or TH's favourite palak paneer when we eat out.
However, there's lots to be said of the subtle gravy and tang in a jalfrezi. I especially loved this homemade version which came together way quicker than I had expected, and tasted so good with some simple vegetable pulao and cucumber raita.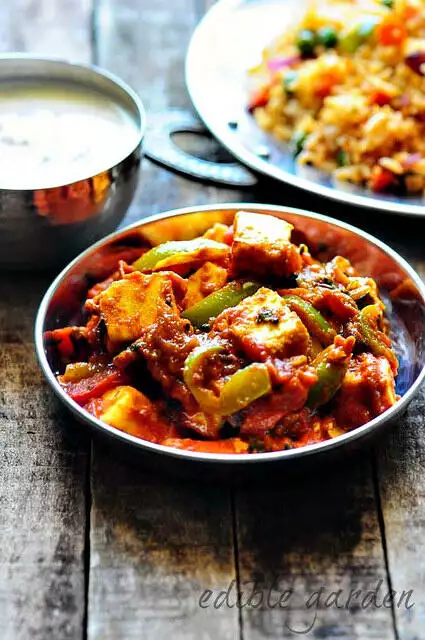 Paneer Jalfrezi is also an excellent filling if you want to make some paneer kathi rolls. Just warm up some wraps or chapatis, pile on some filling, roll up tightly, and serve warm.
Check out all Paneer Recipes in Edible Garden. I also make vegetable jalfrezi when I am out of paneer, equally healthy and tasty. These paneer bread rolls are especially popular so you may want to try them out!
PANEER JALFREZI RECIPE
Preparation time: 15 minutes
Cooking time: 20 minutes
Serves 3-4
Recipe loosely adapted from Sailu

INGREDIENTS:
1.5 cups of cubed paneer
1 tbsp of oil
1/2 tsp of nigells seeds (kalonji)
1/2 tsp of cumin seeds
1 cup of thinly sliced onions
1 tsp of freshly minced ginger
1 tsp of freshly minced garlic
3/4 tsp of red chilli powder (adjust to taste)
2 tsp of coriander powder
1/4 tsp of turmeric powder
1 cup of green capsicum, cut into long strips
1/2 cup of carrots, cut into long strips
1 cup of canned whole tomatoes, crushed (see notes)
1/2 cup of cubed ripe tomatoes
1 tsp of garam masala (I use Kitchen King Masala)
One large pinch of kasuri methi (fried fenugreek leaves)
INSTRUCTIONS:
1. Heat half the oil in a large pan and on low heat, lightly fry the paneer until golden brown on all sides. Drain and set aside.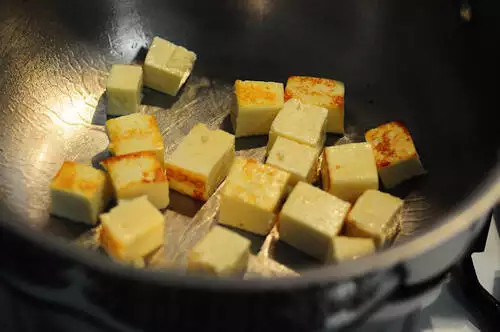 2. Add the remaining oil to the pan and add the cumin seeds and kalonji.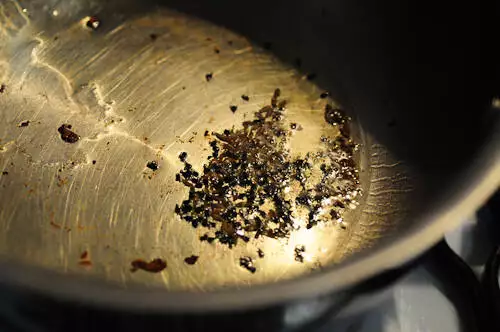 3. When the cumin seeds sizzle and turn a golden brown, add the sliced onions.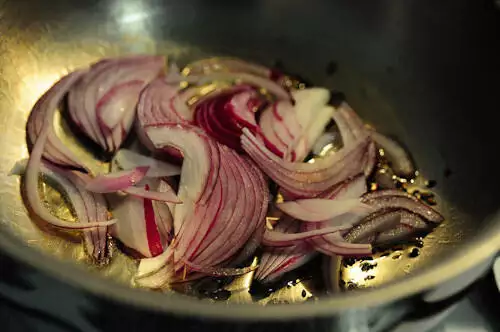 4. When the onions turn soft and translucent, add the ginger and garlic. Saute until fragrant, about 2 mins or so.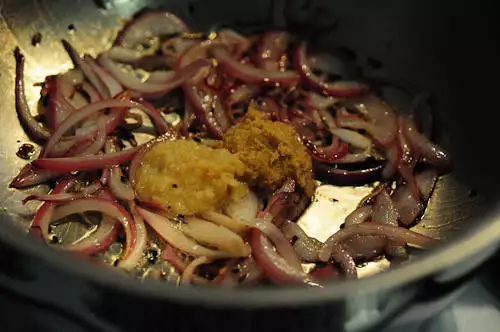 5. Add the chilli powder, coriander powder, and turmeric powder. Fry for 30 seconds, taking care not to burn the masala.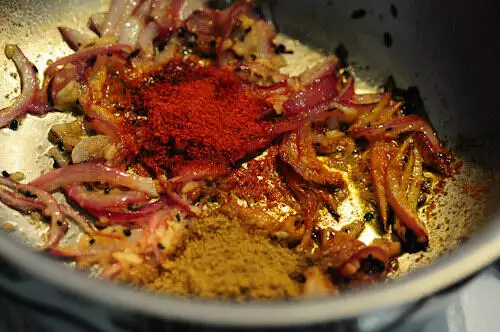 6. Add the crushed canned tomato, carrots, and capsicum. Mix well and top up with one more cup of water.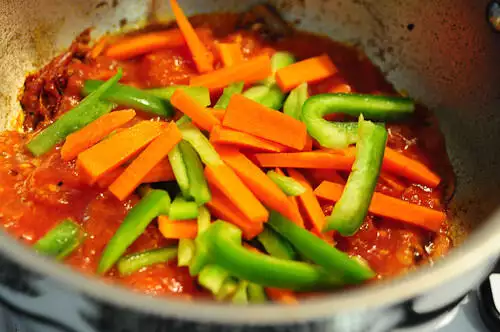 7. Bring to boil and cook covered for 3-5 mins until the carrots are cooked.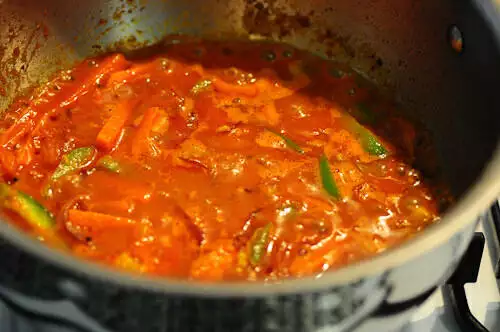 8. Add the paneer and cubed tomato, mix well, and simmer for another 3-4 mins. The gravy should be fairly thick by now. If too watery, cook a bit more until thickened.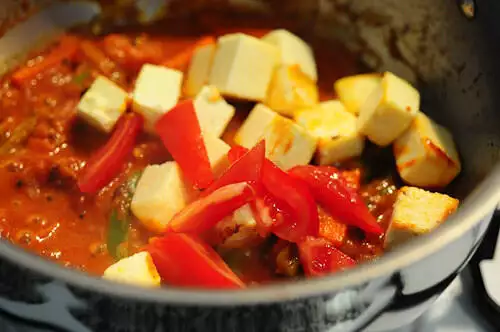 9. Finally, add the kasuri methi and garam masala. Mix again, add salt, and remove from flame.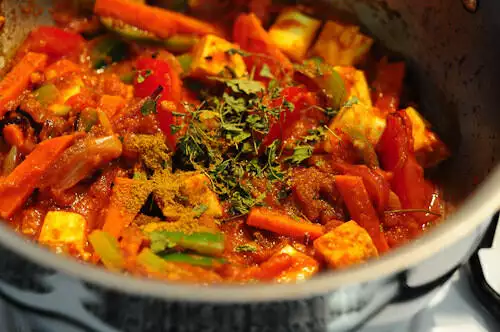 Serve paneer jalfrezi hot with chapatis, pulao, or rolled up with a wrap or roti.
Note – you can use fresh pureed tomatoes (about 2 cups) instead of canned tomatoes. The colour of the gravy may not be as deep as in the pictures above, so to offset that, just add 1 tbsp of tomato ketchup. Also, if you'd like to make vegetable jalfrezi, omit the paneer and add more vegetables like beans, baby corn, etc.
For Paneer Jalfrezi Recipe in Hindi, Marathi, Tamil, Telugu, Urdu, Kannada, etc, use the Google Translate button in the sidebar.