Learn how to make
Focaccia Caprese
, a type of focaccia bread that has fresh tomatoes and buffalo mozzarella topping. It's quite similar to the margarita pizza if you look at just the ingredients but a focaccia is baked differently than a traditional pizza and this version has a delicious herb oil that really makes the focaccia taste amazing.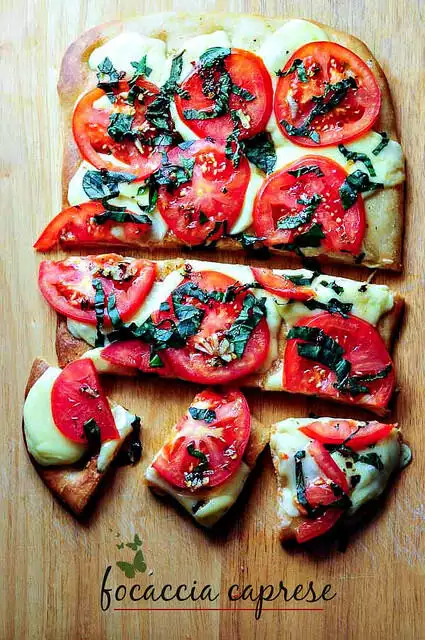 A traditional focaccia, which is also on my to-bake list, usually just has (lots of) olive oil, garlic, and herbs often kneaded into the dough before being baked into a flat bread. Today there are variations with different toppings that makes it almost similar to pizza. That's really nothing to complain about though, is it? Focaccia, however, is distinct in one way though and that's the oily crust that it bakes up into. Since olive oil is used very liberally, it develops a lovely crunchy crust on the bread and makes it taste amazing, especially with dips, or even on its own.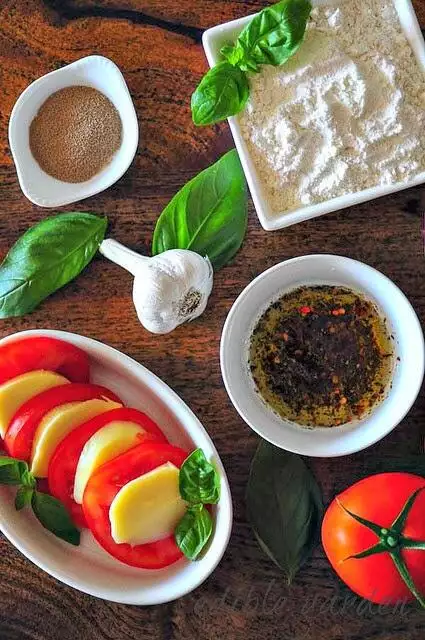 I went and bought a good 'ball' of buffalo mozzarella and a fresh pack of Italian basil to bake this Focaccia Caprese. Some gorgeous truss tomatoes sealed the deal and I knew this was going to be one amazing loaf of bread. We had it as a light meal at brunch time and it went perfectly with some sriracha sauce. Maybe this is a good time to mention that we eat sriracha sauce with pretty much anything.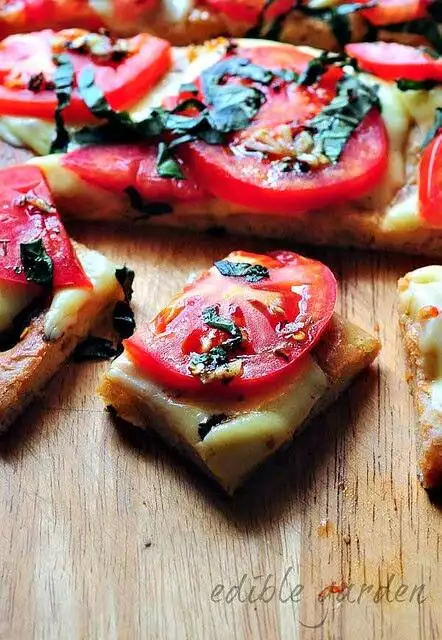 Anyway, I strongly urge you to bake this focaccia bread at the next given opportunity. It's pretty easy to put together as far as breads go and there's no pressure of creating a fluffy and airy loaf that rises well because this is a flat bread. The only thing I'd suggest is to eat it warm out of the oven, much like a pizza.
If you'd rather just make a pizza, then check out my 30-min pizza recipe. It's really really good. Or, browse all bread recipes in Edible Garden. These garlic pull-apart rolls are probably the most popular bread recipe in the site and lots of people have tried it with good success.
FOCACCIA CAPRESE RECIPE
Preparation time: 2 hours 20 minutes
Cooking time: 30 minutes
Makes 2 large loaves
Serves 4-6
Recipe source: Kitchen Whisperer, adapted by Aparna
INGREDIENTS:
3.5 cups of bread flour (see notes)
1/4 cup of olive oil + another 1 tbsp for brushing
2 tsp of instant yeast
1.5 tbsp of sugar
1 tsp of salt
1 cup of warm water (you may need a bit more)
For the topping:
4 large tomatoes, sliced thin
One 7″ ball of buffalo mozzarella, sliced into 1/4″ discs (see notes)
1/4 cup of packed basil leaves, cut into strips
For the herb oil:
1/4 cup of olive oil
1.5 tsp of mixed herbs like basil, oregano, etc
1/2 tsp of red chilli flakes
4 cloves of garlic, minced
1/2 tsp of salt
INSTRUCTIONS:
1. Add all ingredients for dough except water into the bowl of a stand mixer and using the dough hook on slow speed, mix until combined.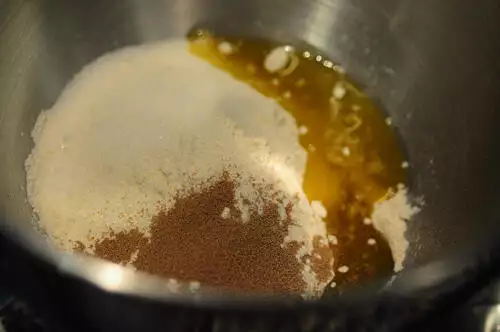 With the machine running, add the warm water until the dough comes together into a ball just short of sticky. Knead for about 3 mins. You can add more water if needed, I only needed this much.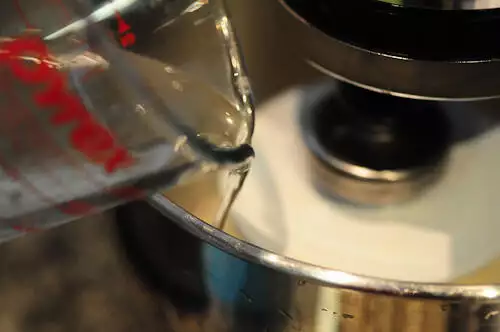 You can definitely do this step by hand too. Just make sure to knead well for about 5 mins. The dough will be a bit sticky and that's perfect.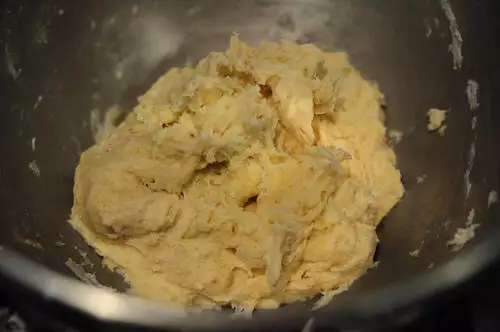 2. Lightly oil a bowl and shape the dough into a ball with your hands before transferring it to the bowl. Turn it around until all sides are lightly coated with the oil. Cover with cling wrap or a plastic bag and leave in a warm place until almost doubled in size.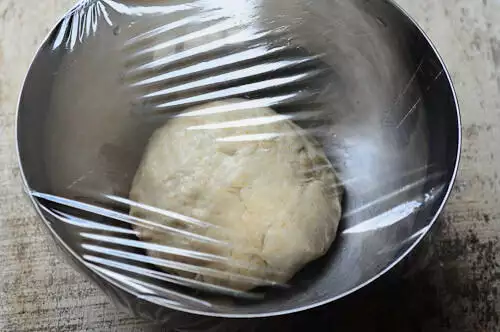 Like so. This took me one hour but if you live in a warmer place, it may take lesser.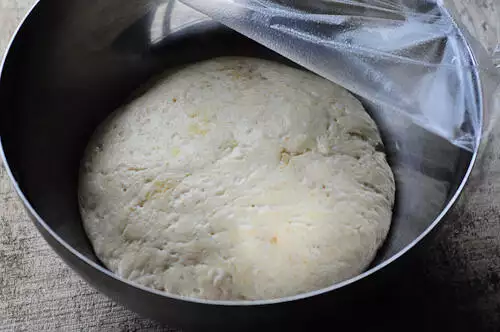 3. Punch the dough down gently and transfer to a lined baking tray. You can use greasing paper (parchment paper) or baking sheets like I have to line the tray. Gently shape into an oblong shape, oval ore rectangular (whatever you prefer) by pressing down with your fingertips. Make sure the thickness is uniformly about 1/2″. Then, using your fingertips, dig holes into the dough all over.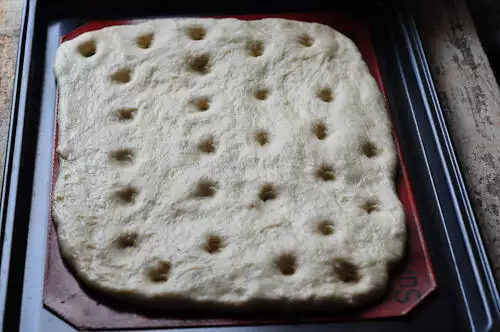 4. Brush with olive oil and let this rise loosely covered for another 20-30 mins. The dough will puff up just a bit but won't rise much due to the holes we dug.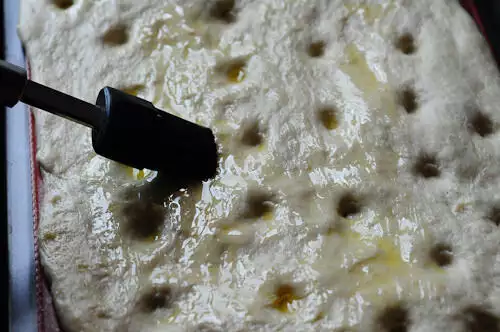 5. Pre-heat oven to 200C (400F) and bake this for about 15-20 mins or until lightly browned.
Meanwhile, make the herb oil and set aside by combining all ingredients.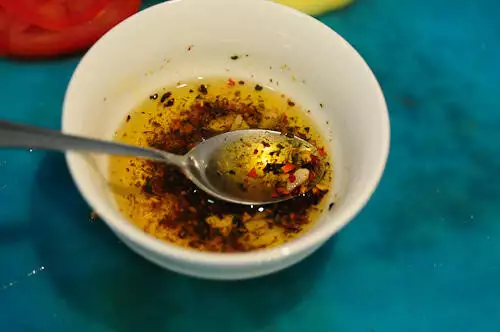 6. Once the first round of baking is down and the focaccia is lightly browned, remove from oven and drizzle half the herb oil all over it uniformly.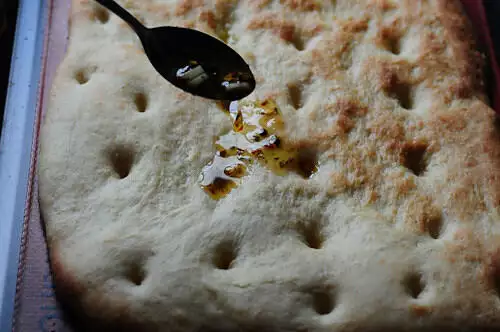 7. Layer the cheese over this as uniformly as possible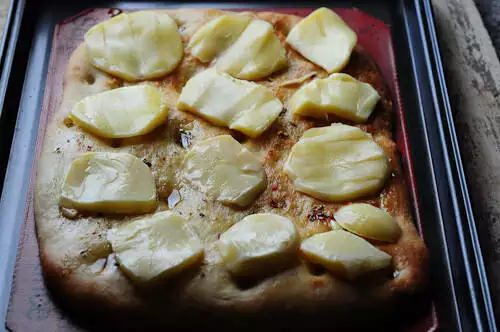 followed by the tomato slices. You can layer them up thicker by overlapping them or just distribute them evenly. Either ways, make sure to cover the surface of the bread as much as possible.
Add the chopped basil leaves on top and drizzle the remaining oil over this. Bake again (same temperature as above) for about 8-10 mins or until the cheese has melted and the basil has crisped up.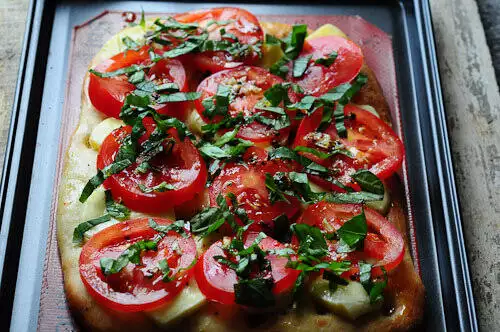 Slice with a pizza cutter and serve warm.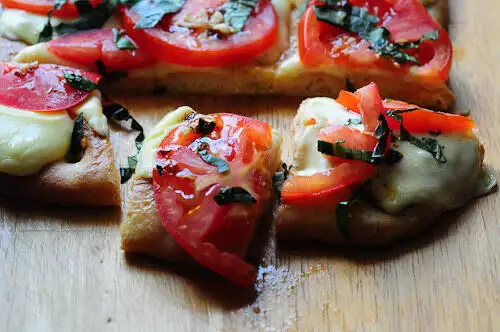 Notes:
If you cannot find bread flour, you can add 1 tbsp of Vital Wheat Gluten to 3 1/2 cups of all-purpose flour and mix together well. Otherwise just use 3 1/2 cups all-purpose flour which is what I did
If you are unable to find fresh mozzarella, use the sliced version or any pizza cheese that's available. Taste will be different but delicious, I am sure
I halved the recipe above and got enough to serve 2 as a light meal
This Focaccia Caprese is bread #1 for 2014 being baked by the We Knead to Bake group on Facebook. Huge thanks to Aparna for managing the group and for the detailed recipe