Aviyal is a very popular dish prepared in Kerala especially during the Onam festival. I have shared the
authentic Kerala aviyal recipe
already, a dish that's known to have originated while trying to use up leftover vegetables that won't suffice to make a dish of their own. Most food created in this manner are a personal favourite of mine, I feel, and avial is no exception. This cashew nut avial, however, is definitely not one born out of leftovers. Raw cashew nuts are expensive and treated with utmost care at home, and this dish is definitely a special one, not that shows up often on our dining table.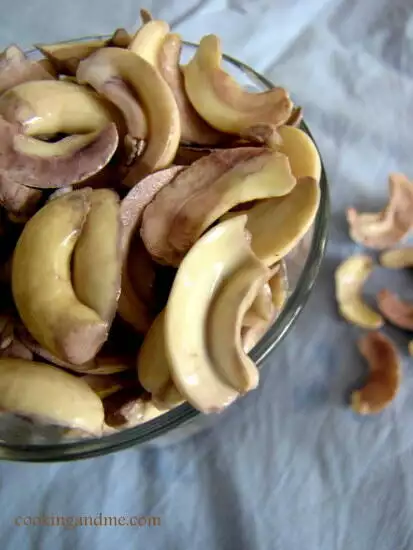 Pacha andi, or raw cashewnuts are not easily available and from what I know, are seasonal, in addition to being quite expensive. We have a man who delivers this to all our relatives' houses in Kerala, he has a thick moustache and a gruff voice. Last time I asked amma, she said he is getting old and obviously his son doesn't want to get into the "family business". When I was a kid, raw cashew nuts used to be 200 rupees for one kilo. Now they are more than double the price.
They are quite nice to eat as is, crunchy and fresh. When cooked, they turn a bit mushy and pasty (in a good way).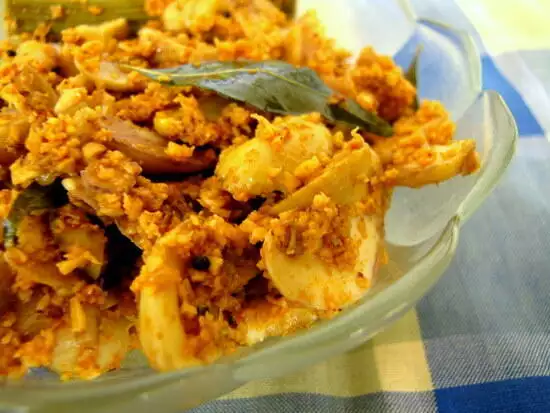 The only thing we ever make with raw cashew nuts is this aviyal. The recipe is exactly same as amma's
Chakkakkuru Aviyal Recipe
. The two changes you need to make are, since the cashew nuts cook quicker, you may only need about 5 mins boiling time. Also, add an extra 1/2 tsp red chilli powder since these are slightly sweet.
Oh and also, if you are unable to get your hands on some raw cashew nuts, soak some dried ones in water for at least 2 hours and follow the same recipe 🙂
Cashew Nut Aviyal Recipe
Cooking time: 30 mins
Serves: 4 as a side dish
Ingredients:
4 cups cashew nuts
1 drumstick, cut into 3″ pieces
1 cup grated coconut
8-10 small onions/shallots sliced long
2 cloves garli, crushed
1 tsp red chilli powder (adjust if you like your food less spicy)
1/4 tsp turmeric powder
1/4 tsp jeera/cumin powder
To temper:
2 tbsp coconut oil
1/4 tsp mustard seeds
A few curry leaves
Instructions:
1. If using dried cashew nuts, soak in warm water (enough to cover it) for at least 2 hours.
2. Place the drumsticks, half the sliced shallots, turmeric powder, chilli powder and jeera powder in a pan with 1 cup water. Cook on medium-low heat until the drumsticks turn soft (not mushy). Then add the cashew nuts and cook for another 5 mins or so. Add more water if needed.
3. Once this gets cooked, add the coconut and garlic and cook on low heat for another 5 mins until well combined. Add salt. At this time, the aviyal should be quite dry. If not, cook longer.
4. Heat oil in a pan and add the ingredients for tempering. Once the mustard seeds pop, add to the aviyal, mix well and serve hot with rice and onion pulusu.