My mom has a green thumb. She loves plants and plants love her. I remember the days we used to have dinner on the terrace of our old house and her picking out the leeches from the orchid plants with her bare fingers and dropping them into the coconut shell with rock salt in it. Did I mention with her bare fingers? Yeah, that's how she rolls. While we never had a large edible garden in our balcony, she always had some herbs, okra, brinjal, curry leaves, and green chillies sown somewhere around.
Now we have very little space around our house in Kottayam but she still manages to squeeze in maximum stuff. The plot is only 8 cents (that's how we measure in Kerala) including the area the house is on, half of which is tiled, so there's very little soil area.
Yet, she has green chillies..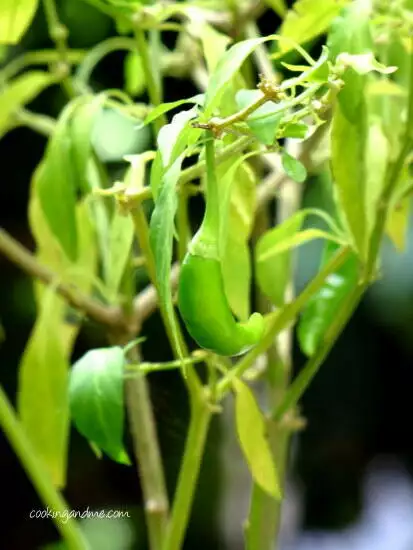 PinThere's nothing like the flavour of fresh green chillies. Nothing! Ok, except fresh coriander leaves. But that's the only exception, really.
She has tomatoes. Whenever she makes sambar, she just steps out of the house and comes back with a fresh tomato in her hand to drop it in. Oh man! Check out her
fenugreek leaves sambar
in which she used freshly picked cherry tomatoes from her garden.
Psstt.. this is our neighbour's tree. But they share. In fact they insist we share. True story.
Happy weekend y'all 😉