These brownies are gooey, fudgy, and extremely chocolate-y. I am going to pretend I am posting a step by step brownie recipe as my first recipe this year not because I am out of anything else to post, but because its auspicious to start with sweet stuff. You play along, ok?
I am going to be honest with you and admit these brownies are not going to cooperate if you have weight loss resolutions. What they will do is transport you to chocolate heaven and back with each bite, this I promise.
Here's a sneak preview of the final product.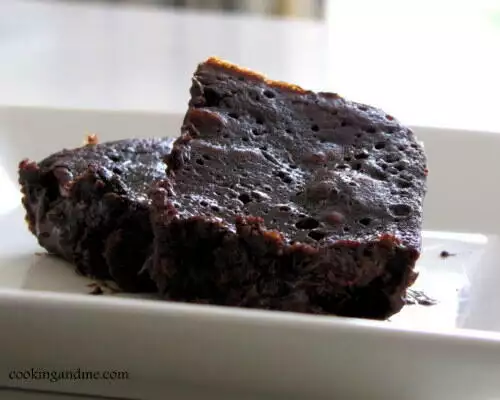 Now, let's get started with 1/2 cup unsweetened cocoa powder. I use Cadbury's which I brought from India. I am weird that way. I take back Hershey's for my relatives and bring back Cadbury's cocoa powder.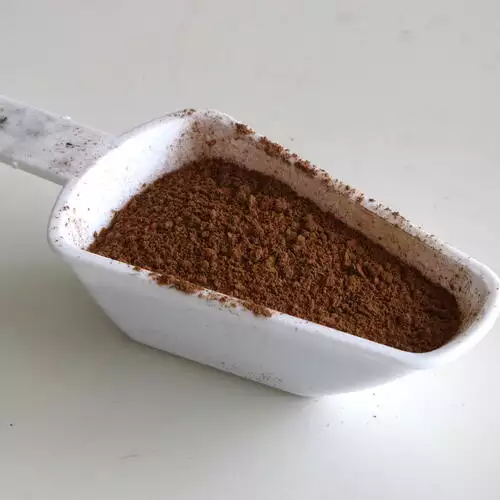 Pin
I can't find the picture of the butter I took so imagine 1/2 cup butter here. At room temperature please.
Now, to get what you see below, bring a pan of water to boil, place another heat proof bowl in it and add the butter. When it melts, add the cocoa powder and 1 tsp instant coffee powder. Don't worry, your brownies won't taste like coffee, its just to enhance the chocolate flavour.
Set aside to cool.
Add 1/2 tsp salt to this and mix well in a bowl. You can add a pinch of powdered cinnamon to this if you wish (I didn't).
We need 1/2 cup (4oz) bittersweet chocolate, chopped into small pieces and 1/2 cup walnuts. I am not a huge fan of walnuts so I added lesser than what the recipe calls for. You can add up to 1 cup.
Bake in a preheated 325F/approx 160C oven for 30-35 mins.
The recipe is from Dorie Greenspan's Baking from My Home to Yours, all in one place.