This is inspired by what a Konkani friend brought home one day. Although the dish looked a lot like Kerala Thoran, it tasted very different – sour, spicy and coriander-y. Some basic research online brought up so many recipes for it but I followed the one in Red Chillies.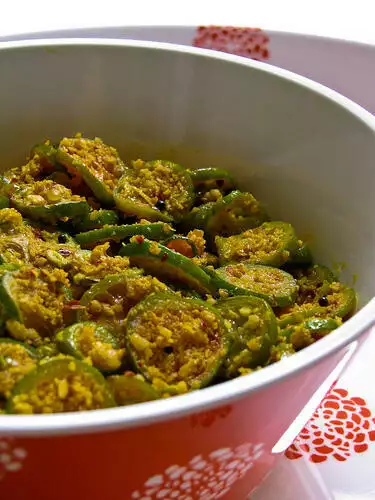 Tendli Sukke
Serves 2


Ingredients:
1.5 cups tindora / ivy gourd, cut into thin discs
1 tbsp oil
1/4 tsp mustard seeds
A few curry leaves
1/2 tsp grated jaggery / raw sugar
A small piece of tamarind / 1/4 tsp tamarind paste
Salt to taste
Dry Roast one after the other:
1/2 cup grated coconut
2 tsp coriander seeds / or just use 1tsp powder
1 tsp urad dal
3-4 dry red chillies
How I Made It:
1. Grind together the roasted ingredients with the jaggery, tamarind and salt. Do not add water.
2. Heat oil and add mustard seeds. When they pop, add the tindora pieces. Reduce flame and cook until the tindora is soft and lightly browned – about 5-10 mins. You can add a pinch of turmeric to this if you wish.
3. Next, add the ground masala to the tindora and mix well. Throw in the curry leaves and cook until they come together – another 5 mins. Adjust salt.
Serve warm with rice and any non-coconut based curry.