Andhra-style peanut chutney recipe
– A friend, Indy, has been asking for a Peanut Chutney recipe for ages now. I do make it now and then but its mostly my own version, peanuts often added to give it some texture or when I don't have enough coconut to make a plain coconut chutney. While the
peanut and mint chutney
goes really well with rice, this thicker peanut chutney goes with both rice and dosa, idli, etc.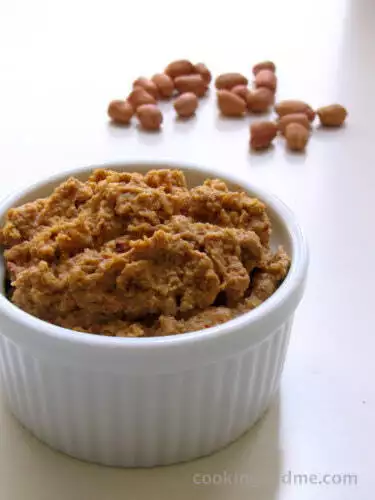 Andhra Peanut Chutney Recipe
Serves 2
INGREDIENTS:
1 cup raw, unsalted peanuts
5-6 dry red chillies (adjust to taste)
3 flakes of garlic (or 1/2 tsp garlic paste)
3 shallots, sliced (or use 1 small onion)
A marble-sized piece of tamarind (or 3/4 tsp tamarind paste)
1 tsp oil
For tempering:
1 tsp oil
1/4 tsp mustard seeds
1/4 tsp urad dal / split black gram
1/4 tsp channa dal / Bengal gram
1/4 tsp cumin seeds / jeera
A pinch of hing / asafoetida
A few curry leaves (optional)
INSTRUCTIONS:
1. Roast the peanuts in a dry skillet until brown and the skin starts to peel off – about 10 mins or so. Once cool, you can rub them between your palms and remove the skin but I kept them on.
2. Heat 1 tsp oil and roast the shallots/onions, red chillies and garlic. Once they are browned, remove and set aside to cool.
3. Once the peanuts and the shallot mixture cool completely, grind to a smooth paste with the tamarind (fresh or paste) with about 1 tbsp of water. If you want a watery chutney, soak the tamarind in 1/4 cup water (extract juice, discard pulp) and use this for grinding. Add salt. Remove and set aside in a bowl.
4. Heat oil for tempering. Add all ingredients under the list and when the mustard seeds pop and the dals turn golden brown, remove from fire and dunk into the ground chutney. Mix well.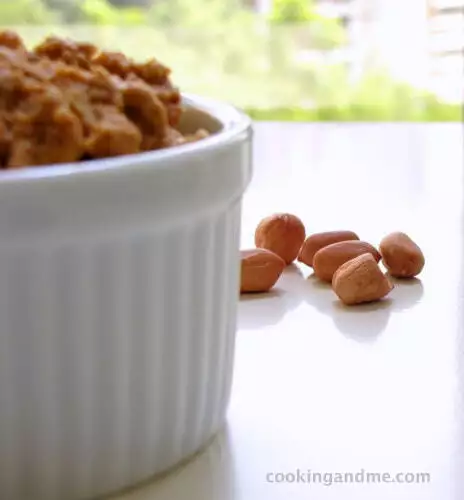 I served this with rice and
vatha kuzhambu
. If you make the watery version, it goes well with dosa and idli too.