I've come a long way from when I made those
hand-shaped baked hearts
for a Valentines Day a couple of years back. As much as I think they are cute, I'd just use a heart-shaped cookie cutter if I were to make it now.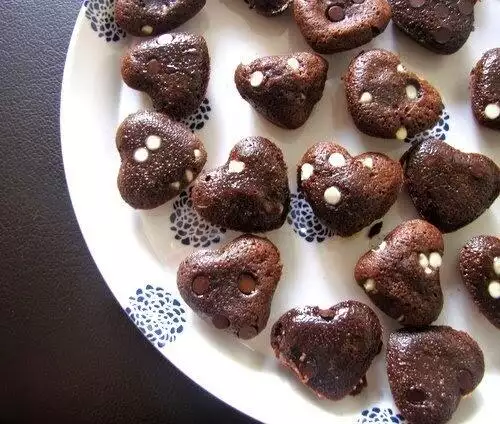 Anyway, this recipe has been flicked almost entirely from my friend Reema's blog. I made them a while back with some minor adjustments – I didn't have 4 eggs so I used the 3 I had and then added 2 tbsp yogurt to replace the missing one – but was waiting for V-day to come nearer before I post. Although TH and I don't really celebrate Valentines day, I know many out there do in case you are looking for a quick chocolate dessert to bake, here's what you may find useful, not to mention yummy!
I have tried to give cup measurements wherever possible but for this recipe, ingredients would be easier to measure out if you have a kitchen scale.
Gooey Chocolate Melting Hearts
Adapted from here.
Ingredients:
All purpose flour / maida – 1/2 cup
Bittersweet chocolate, chopped – 125 gms / 4.5 oz
Cocoa powder – 1 heaping tbsp
Powdered sugar – 75 gms or 6 tbsp
Unsalted butter – 135 gms / 1/2 cup and a bit more
Eggs – 4 large ( I used 3 eggs and 2 tbsp yogurt)
Baking powder – 1/2 tsp
A pinch of salt
Chocolate or white chocolate chips – 4 tbsp (optional but recommended)
Ghee or butter – to grease
Instructions:
1. Sieve together cocoa powder, flour, salt and the baking powder. I did it about thrice so that the three are blended well.
2. Preheat oven to 180C.
3. Place the chopped chocolate and butter in a bowl. Get another bowl that's about double the size of the first one, fill 1/4 of the way with water and bring to boil. Once the water boils, lower fire, set the first bowl in the water without touching the sides and keep stirring the choc-butter mixture until it melts.
If all of that was just too much, place the butter and chocolate in a microwave-able bowl and give it 30 second turns in the microwave, stirring well after each 30 seconds. Set aside.
4. Beat the eggs lightly with the yogurt (if you are opting for 3 eggs + yogurt) and then add the powdered sugar. Mix well until well incorporated. I used my wooden spoon for this.
5. Next, add the cooled chocolate-butter mixture and stir well to incorporate. Again, no need to beat, just mix in well.
6. Bring out the flour mixture now. Gently fold into the above mixture and mix in just enough to remove to any lumps and until you get a smooth batter.
7. Grease your heart-shaped moulds with butter or ghee. I used butter because that's my greasant (greaser?) of choice. Add the batter 3/4 of the way and top off with some chocolate chips.
8. Bake in the pre-heated oven for 8 mins. I found that for the first batch, I had to bake them for close to 10 mins before they were done. For ones after that, 8 mins was just right.
The hearts will be a bit flaky outside and soft inside. Make sure you cool well before serving. Refrigerating and using the next day is even better! Just warm up slightly before eating.