My mom only follows one kind of rasam recipe. Its watery, peppery, has no dal, and is ready in 7 mins flat. After getting married to a Tam Brahm I realized there are close to a gazillion different types of rasam and then some more. If dal or paruppu is added to rasam back home then we explicitly call it
paruppu rasam
and it resembles sambar, although taste-wise, it's quite different.
Anyway, long story short, now I am introduced to the world of rasam where every single variety has a unique taste not just on the ingredients used but also depending on who makes it. Isn't that mindbogglingly amazing?
Let's just say yes and move on shall we.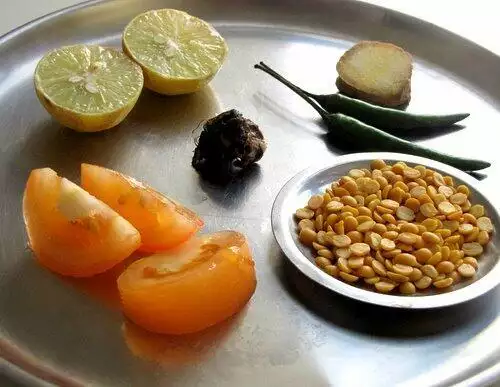 Ingredients for lemon rasam
Lemon rasam is interesting to me for two reasons. Lemon or lime totally rocks. Although I would still choose a molten chocolate cake over a lemon pie for dessert, as a fruit, I respect lemon. It really packs a lot of stuff in its small yellow self. Another reason why this lemon rasam calls out to me is addition of fresh ginger. Gotta love that.
I have tried this rasam with and without adding cooked toor dal. The lighter version makes for a quick and easy kozhambu on weeknights and the other can be made if you are serving with a light vegetable curry on the side and nothing much else.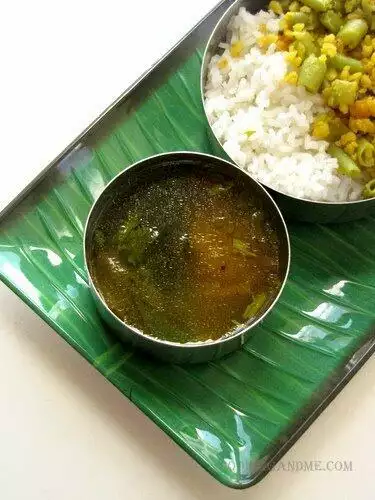 Lemon Rasam Recipe
Source: TH's mom aka repository of unending rasam recipes
Ingredients:
1 marble-sized ball of tamarind (remember the lemon will make the rasam more sour)
Half a lemon
1/2 cup cooked and mashed toor dal / thuvaram paruppu / pigeon peas (optional)
1 small tomato, chopped
A 1″ piece of ginger, cut into small pieces
2 green chillies, or to taste
2 tsp rasam powder
A pinch of turmeric powder
Salt to taste
For tempering:
1 tsp ghee or oil
Some mustard seeds
A pinch of asafoetida / hing / perungaayam
Curry leaves
Coriander leaves (for garnish)
How to Make Lemon Rasam:
1. Soak the tamarind in 1 cup warm water for 10 minutes. Kneading with your fingertips, extract juice and discard pulp.
2. Take the tamarind extract in a bowl and add the chopped tomatoes, dal if using, slit green chillies, ginger, sambar cum rasam powder, turmeric powder and some salt. Bring to boil and simmer on low fire for 10 mins. Mash up the tomato well once its cooked and soft.
3. Next add another cup of water. Bring to boil. Test salt and tanginess. Remove from fire and while hot, add the juice from half a lemon.
4. Heat a small kadai and add the ghee or oil for tempering. Add all other ingredients and when the mustard seeds start popping, dunk into the rasam.
Serve hot with white rice and paruppu usili.