Making Gobi Manchurian at home is easy if you have some patience and some good soya and chilli sauce in hand. Learn how to make my version of Gobi Machurian at home following this easy and tasty recipe.
You are away from home for an extended period of time. You have tasted most of what the local cuisine has to offer you. Your mind wanders back to the dosa and sambar, chaat, dal chaawal, rasmalai, aloo paratha.. all those things you took so much for granted back home.
Me? I crave Gobi Manchurian. One evening, I drove TH nuts saying I want gobi manchurian and I want it now. Its easy to find Indian food in Singapore, especially North Indian, but Indo-Chinese, not so much unless you are ready to go the extra mile to Little India, literally.
That evening we went, and I was happy only after I polished off an entire plate of gobi manchurian all by myself. The next day, I made it at home. Yes, the very next day, why do you ask?
I really wish I had step by step pictures for making Gobi Manchurian, especially to show the batter consistency, but I have measured out the ingredients quite accurately so this should come out well for you.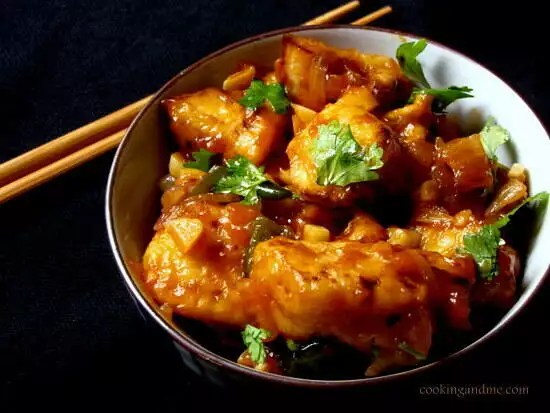 Ingredients:

2 cups cauliflower, cut into florets

Oil to deep fry

For the batter:

5 tbsp maida / plain flour

3 tbsp cornflour

1/2 tsp red chilli powder (optional, depending on heat level preferred)

1/4 tsp pepper powder

1 garlic clove, minced

A pinch of salt

About 1/4 cup water

For the sauce:

1 small onion, chopped fine

1/4 cup capsicum, chopped fine

4 cloves garlic, minced

2 green chillies, slit midways (use to taste)

2 tbsp tomato ketchup

1 tsp green chilli sauce

2 tsp soy sauce

2 tsp vinegar

2 tsp cornflour mixed with 4 tbsp water

Salt, check before adding

How to Make Gobi Manchurian

1. Let's start with the sauce. Heat oil and fry the onions, capsicum, green chillies, if using, and garlic until the onions turn golden brown.

2. Add the ketchup and the green chilli sauce to the onions and mix well. Fry for 30 seconds.

3. Turn the heat to high and add the soy sauce and vinegar. Mix well for 5 seconds and lower heat back down. Fry for 30 more seconds.

4. Now add the cornflour-water mixture and mix until the sauce thickens. Check salt and add more only if necessary, since the soy sauce and chilly sauce may have salt. Set sauce aside.

5. Mix ingredients for the batter until you get a slightly loose batter of pouring consistency. Heat oil until its just short of smoking hot, coat each cauliflower with the batter and drop it into the hot oil. Fry until golden brown and drain on kitchen towels. Repeat.

6. Once all the cauliflower florets have been fried, add to the sauce and mix well. Serve hot garnished with coriander leaves or green onions.
Note: this recipe is for the dry version of gobi manchurian that's usually served as an appetizer. You can stick toothpicks into the florets and serve as an appetizer or add more water-cornflour mixture and make the sauce looser to serve with fried rice.