I have been keeping a secret for a while. Yep, I have. And that is, my love for sweet potatoes. There you go, now you all know me inside out. That's all there is to me – I love sweet potatoes, chocolate, brinjal and step by step recipe pictures. I am a very simple person.
Back to sweet potatoes. What does that have to do with this poriyal podi recipe you ask? Well, I usually have sweet potatoes just boiled and very lightly salted. It makes my troubles go away like nothing else can.
But the other day, I was going through Chandra Padmanabhan's Southern Spice, for the umpteenth time, and saw this recipe called chakkaravalli kizhangu poriyal recipe. I had no clue chakkaravalli kizhangu is sweet potato. All this time I thought sweet ptoato is cheeni kizhangu in tamil although I have no clue how I came to that conclusion.
I tried it and let me just tell you this much – it beats slightly salted sweet potatoes to the door and back, any day!
To make this poriyal, you need poriyal podi. It can be made in a jiffy so don't let that intimidate you. You can make a bit of this and store it for future use too.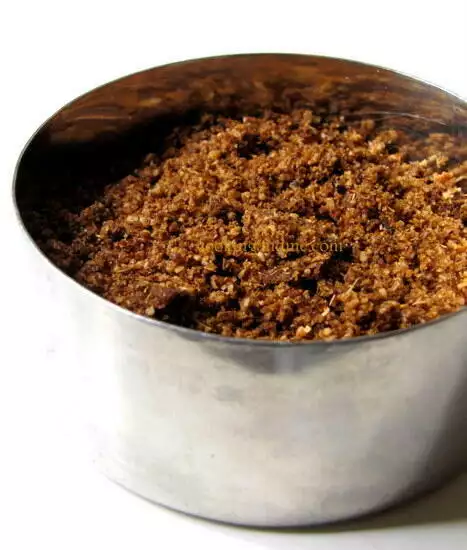 Pin
Poriyal Masala Podi Recipe

Source: Southern Spice by Chandra Padmanabhan

What I Used:

1 cup coriander seeds/kothamalli

1/2 cup urad dal/uluntham paruppu/husked black gram

1/2 cup grated coconut

2 generous pinches of hing/asafoetida/perungaayam

10 dried red chillies

2 tsp oil

How I Made It:

1. Dry roast the coriander seeds in a skillet/kadai until the seeds turn a darker shade of brown (about 4-5 mins). Set aside.

2. In the same pan, dry roast the dal until golden brown, taking care not to burn it. Set aside.

3. In the same pan, dry roast the coconut until just short of burnt. I made mine turn a dark brown taking care not to burn. Set aside.

4. Add the oil to the pan, let it heat through and throw in the red chillies. Fry them until they are short of burning, throw in the hing, stir through for 10 seconds and remove from fire.

5. Cool, combine and grind the ingredients to a powder.
The smell of this freshly made poriyal podi is a-m-a-z-i-n-g and I am not even exaggerating this time. So let's quickly go make this sweet potato poriyal, shall we? Store the leftover poriyal podi in an air tight container.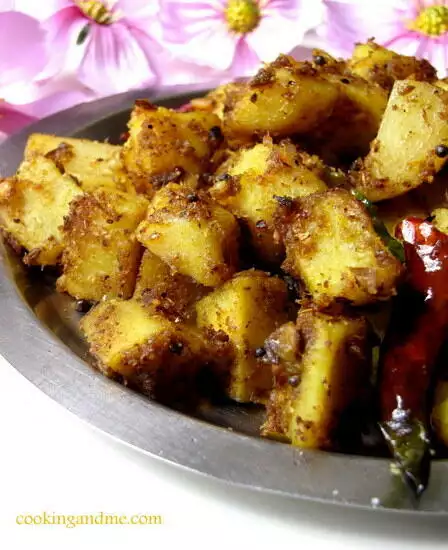 Chakkaravalli Kizhangu / Sweet Potato Poriyal Recipe

Source: Southern Spice by Chandra Padmanabhan

Serves: 2

What I Used:

2 cups sweet potatoes, cut into small cubes

2 green chillies

1/4 tsp turmeric powder

1.5 tbsp poriyal masala podi

For tempering:

2 tsp oil

1/4 tsp mustard seeds

1/4 tsp jeera/cumin seeds

1 red chilli, halved

A pinch of hing (optional)

A few curry leaves

How I Made It:

1. Heat oil for tempering in a pan and add all the ingredients. When the mustard seeds beging to pop, add the turmeric, green chillies and sweet potatoes with some salt and 1/3 cup water. Mix well.

2. Cook closed for 10-12 mins until the sweet potatoes are soft and cooked. If there is extra water, leave the pan open and let it evaporate. Once the mixture is dry, add the poriyal podi and stir well.

3. Serve hot with steamed rice.