Dry Garlic chutney recipe: learn how to make dry garlic chutney with red chillies, a popular accompaniment to vada pav.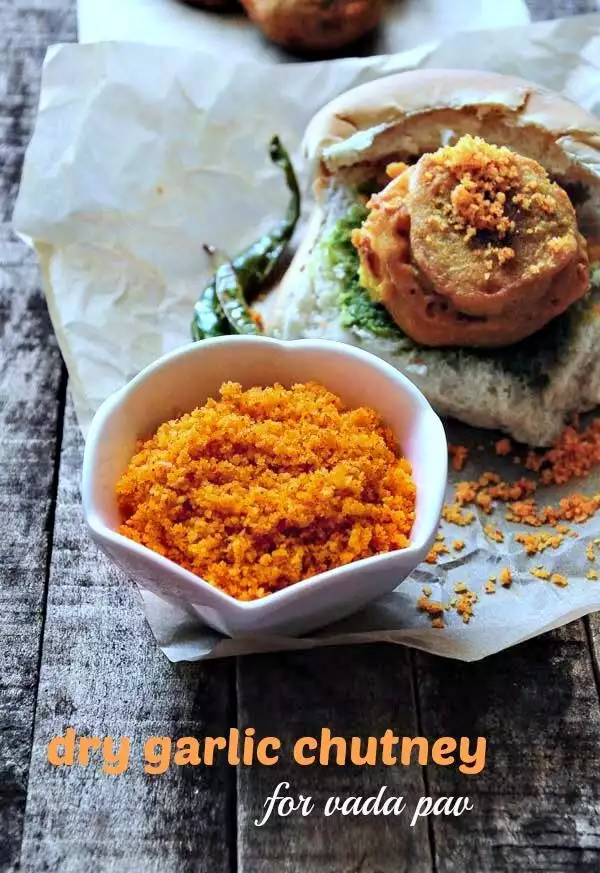 There are a few variations to make a good garlic chutney but this dry spicy red garlic chutney is a Maharashtrian special specifically made to serve with vada pav, a popular street food from Mumbai that involves a potato bonda stuffed between two pav or burger buns and adored with this garlic chutney and green chutney. Also called teeka chutney or lasoon chutney, this dry garlic chutney is very easy to make and is a necessary ingredient when putting together a homemade vada pav recipe.
Typically, copra or dried coconut meat is used to make this garlic chutney. Dried coconut gives the chutney a deeper coconut flavour, drier texture, and also a longer shelf life. Since copra is not something that's available everywhere in Sydney, I went with what I thought is a great substitute – desiccated coconut. Desiccated coconut is drier than copra so I made up for it by adding some coconut oil to the chutney after grinding.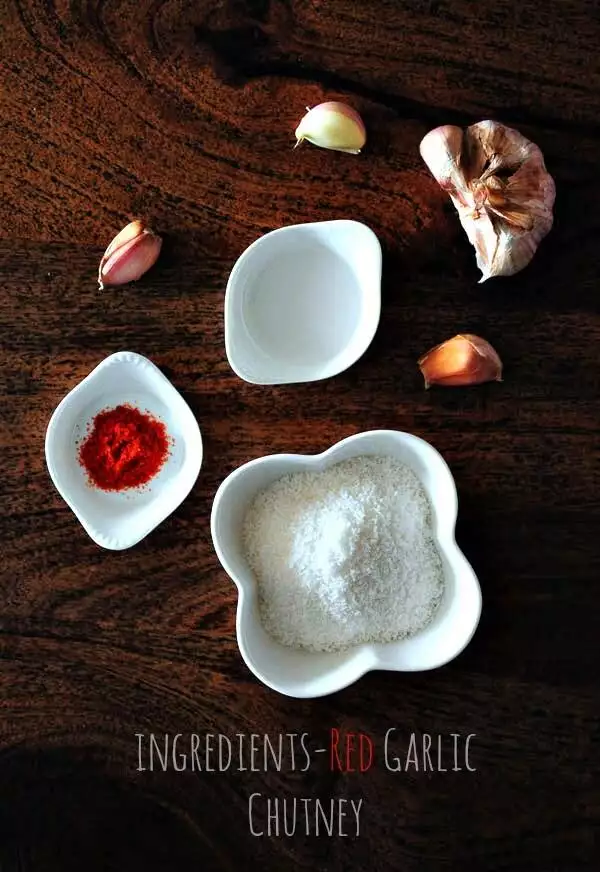 The resultant garlic chutney was perfectly dry, red, and had a deep coconut-garlic flavour that went so well with my homemade vada pav. In fact, this chutney is very similar to a dry coconut chutney my mom makes (it was my paternal grandfather's favourite) called thekkaya podi or coconut podi, the only addition being fresh curry leaves to the chutney. That goes really well with plain dosa or wheat dosa. But, I digress. now, we are focused on making the perfect spicy red dry garlic chutney for vada pav so on to it.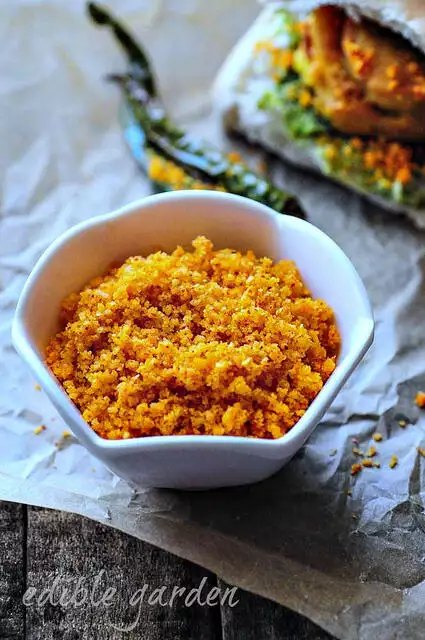 I have a number of chutney recipes in the site and you can find the entire list here. Here are my top three favourites.
1. Coconut Chutney for Idli Dosa
2. Onion Tomato Chutney
3. Hotel-Style Coconut Chutney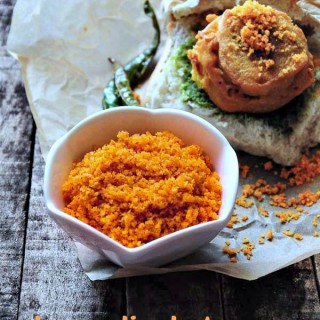 Dry Garlic Chutney Recipe
Dry garlic chutney recipe, a necessary accompaniment with vada pav
Ingredients
1/2

cup

desiccated coconut

1/4

tsp

red chilli powder

adjust to taste

1

tsp

coconut oil

2

cloves

of garlic

more if using the smaller variety

Salt to taste
Instructions
Grind the coconut, garlic, salt, and chilli powder together to a coarse powder.

Add coconut oil and mix well.

Adjust salt and chilli powder to your liking.

This garlic chutney is best served with vada pav but if you add a fistful of fresh curry leaves to this, it goes fabulous with dosa and idli too.
Now, go check out how to make vada pav!