Cabbage kootu is a simple South Indian recipe with cabbage, dal, and some roasted spices and coconut that's blended and cooked with the rest of the ingredients.
Since cabbage has a stronger flavour than other vegetables typically used to make kootu – like chow chow kootu – the coconut paste has some roasted ingredients which adds a lovely flavour to the final dish.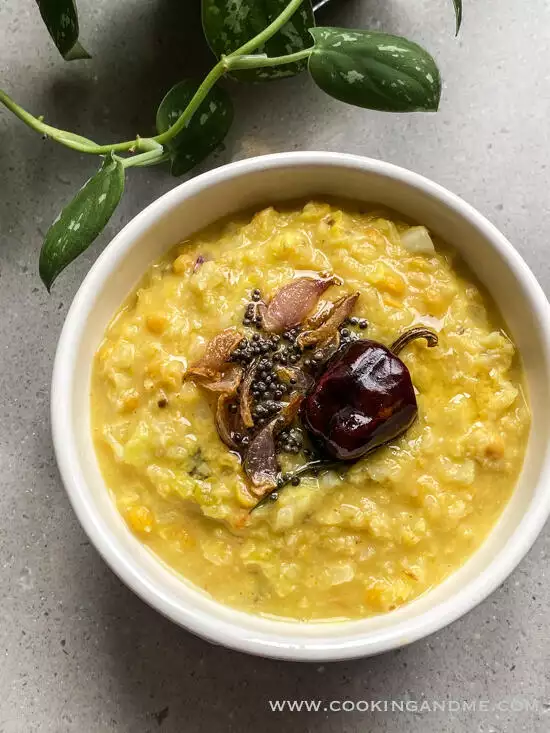 My only gripe with this cabbage kootu recipe is that it does require 3-4 pans to make it. There are ways to consolidate some of the steps but I have found that there's a fine light between getting this kootu just right and overcooking it terribly so how I explain it here is how I make it usually.
I will give the shortcut tips below the recipe in notes so you can decide how you want to get it done. Having lesser vessels to wash at the end of cooking is definitely understandable.
Alright, let's make some delicious cabbage kootu, folks!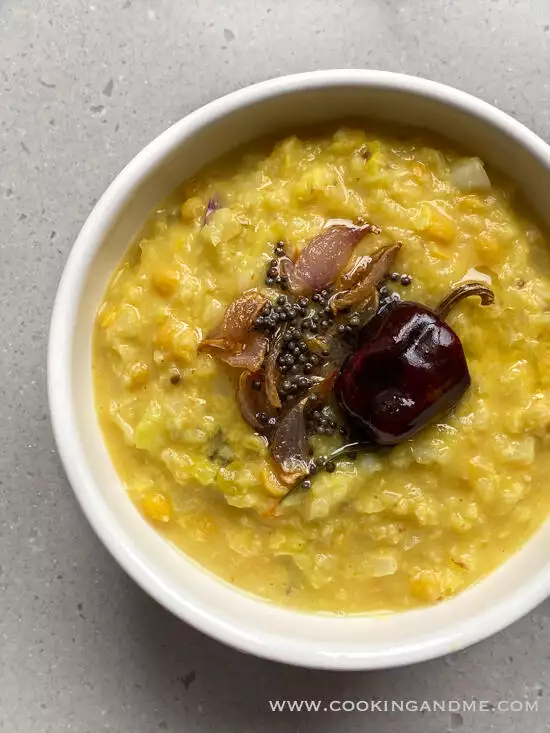 If you are a kootu lover, do check out:
If you are a cabbage lover, then here you go with some easy cabbage recipes: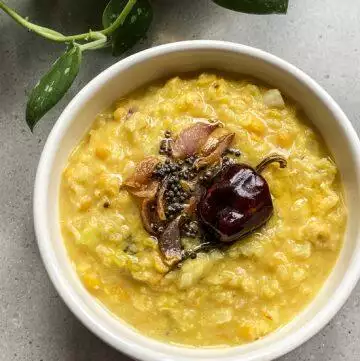 Cabbage Kootu Recipe
Cabbage kootu with a simple coconut spice paste to make it delicious and healthy. Perfect with rice and rasam.
Ingredients
4

cups

cabbage

chopped fine

1/4

cup

yellow moong dal

1/4

cup

chana dal

1/4

teaspoon

turmeric powder

A few curry leaves

For roasting and grinding

1

teaspoon

oil

1/4

teaspoon

cumin seeds

1/4

teaspoon

coriander seeds

optional

1/4

cup

sliced shallots

chinna vengayam, ulli or onions

2

green chillies

adjust to taste

1

small tomato

cubed

1/2

cup

grated coconut

thawed if frozen
For tempering:
2

teaspoons

oil

1/4

teaspoons

mustard seeds

4

shallots

sliced thin

2

dried red chillies

A pinch of hing / asafoetida
Instructions
Wash and drain 1/4 cup yellow moong dal and 1/4 cup chana dal together

Add 3 cups of water and pressure cook for 15 minutes (2 whistles)

Set aside and let the pressure release naturally

In the meantime, place 4 cups of chopped cabbage in a pan and add 1/4 cups of water

Cook on low heat until the cabbage is half cooked

Remove from heat and set aside

In a pan, heat 1 tablespoon oil and add 1/4 teaspoon cumin seeds and 1/4 teaspoon coriander seeds (if using)

Let them brown a bit and then add 1/4 cup sliced shallots (or onions) and 2 chopped green chillies

Saute until golden brown

Then add 1 small tomato cubed and sprinkle some water

Cook until the tomato is soft

Turn off the heat and add 1/2 cup grated coconut

Mix everything well and cool completely

Grind with water to a coarse paste and set aside

On low flame, return the cabbage back to the stove and add 1/4 teaspoon turmeric powder and a few curry leaves along with salt

Mix well and add the cooked dal

Top this up with the roasted and ground coconut spice paste 

Add some water if the consistency is too thick

Bring to boil and turn off heat

In a pan, heat 2 teaspoons oil for tempering

Add 1/4 teaspoons mustard seeds and when they pop, add the sliced shallots and red chillies along with the hing

Fry until the shallots are golden brown

Dunk into the kootu and mix well

Cabbage kootu is ready!
Notes
It's important to make sure the cabbage doesn't cook to a mush so when you cook it, just do it halfway and leave a bit of bite in it
I use a mix of two dal - chana dal and moong dal - because I like my kootu to have some texture. You can definitely choose one over the other. Remember that moong dal will cook to a mush and chana dal will be soft yet whole so go with what you prefer
Adjust the amount of chilli to your taste. A blend of green chilli (in the coconut paste) and red chilli (in the tempering) tastes fabulous
Serve cabbage kootu with steamed white rice and a dollop of ghee. This is also a great dish to feed your babies and toddlers with adjusted spice levels
Temper your cabbage kootu in ghee for an extra special flavour. I normally use coconut oil which we love!
Step by Step Images for Cabbage Kootu Recipe
Wash moong dal and chana dal and pressure cook with enough water for 15 minutes or 2 whistles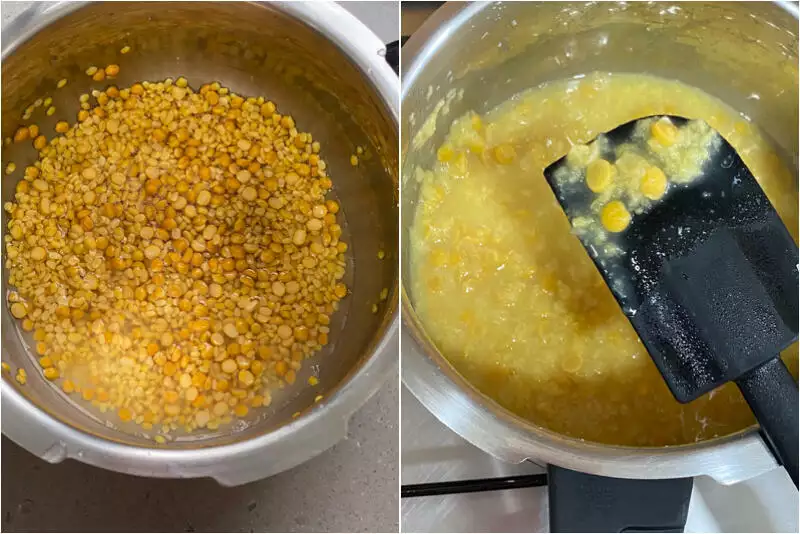 Chop cabbage finely and cook with some water until half done. Leave a bit of crunch in the cabbage, don't make it too mushy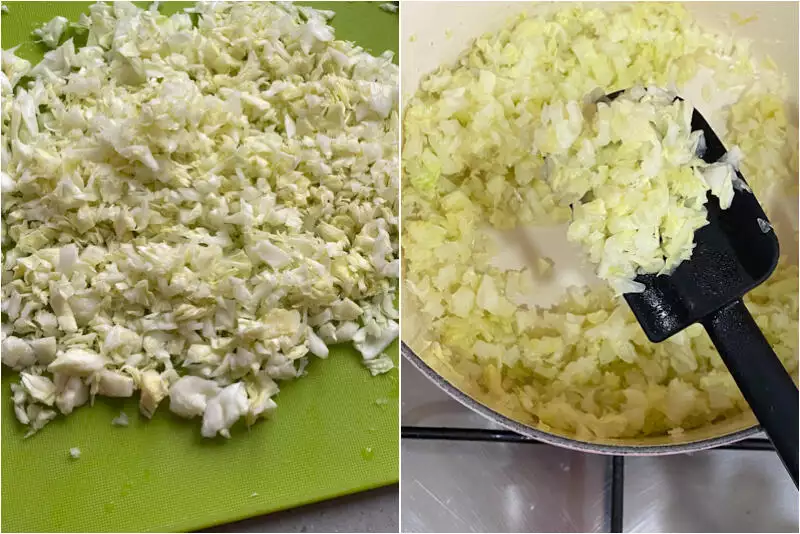 To prepare the coconut spice paste for this kootu, heat oil in a pan and roast cumin seeds and coriander seeds. The coriander seeds are optional but I highly recommend them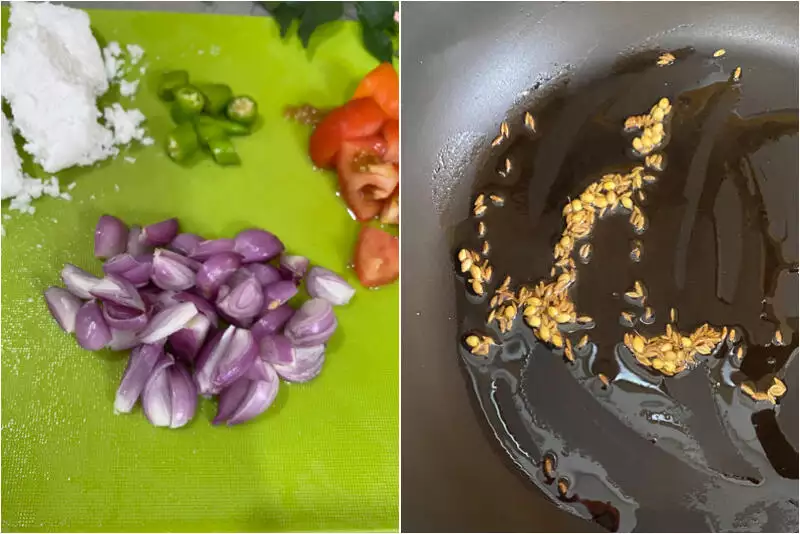 When the cumin turns golden brown, add sliced shallots (or onions) and green chillies. Fry until the shallots turn golden brown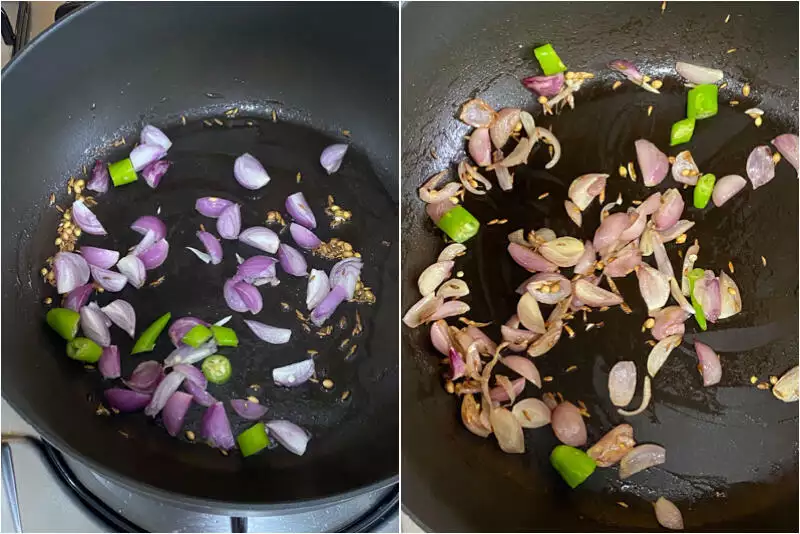 Then add chopped tomato and sprinkle some water. Cook until the tomato is soft. Turn off heat and add coconut. Mix well and let it cool completely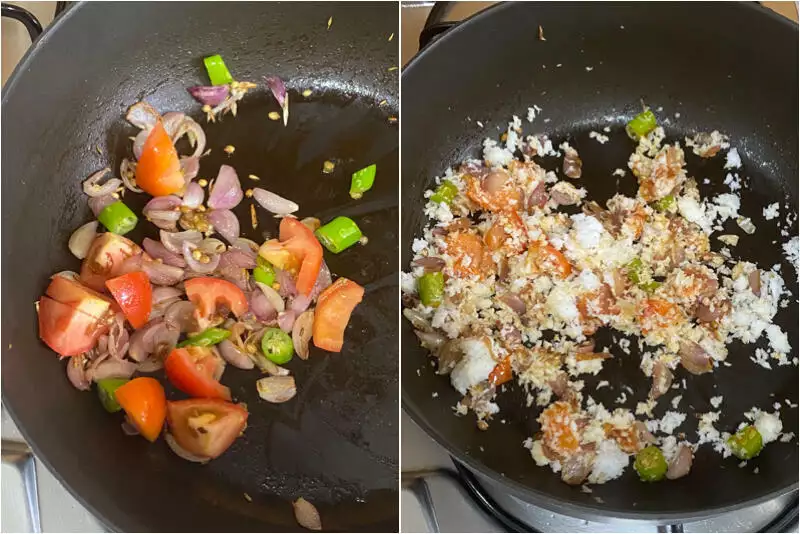 When the coconut mixture has cooled, add some water and grind to a coarse paste. Set aside.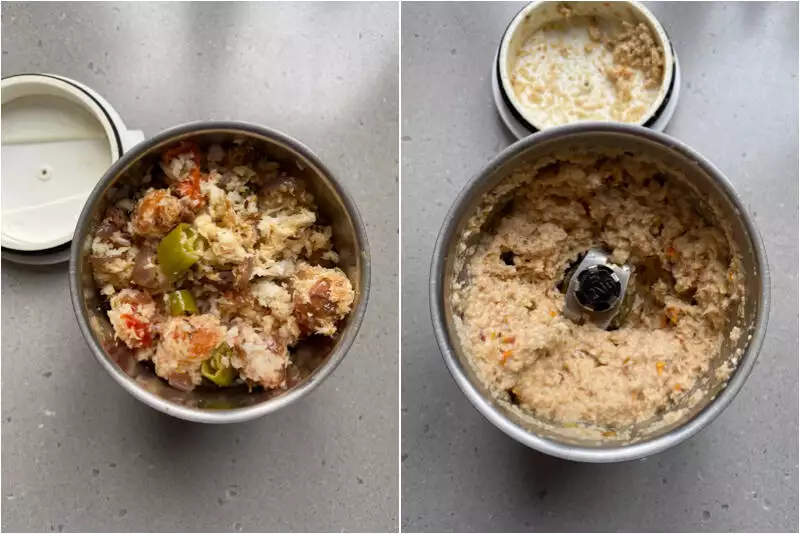 Now back to our semi-cooked cabbage. Turn on the heat to low and add some turmeric powder, salt, and curry leaves to it. Give everything a mix and add the cooked dal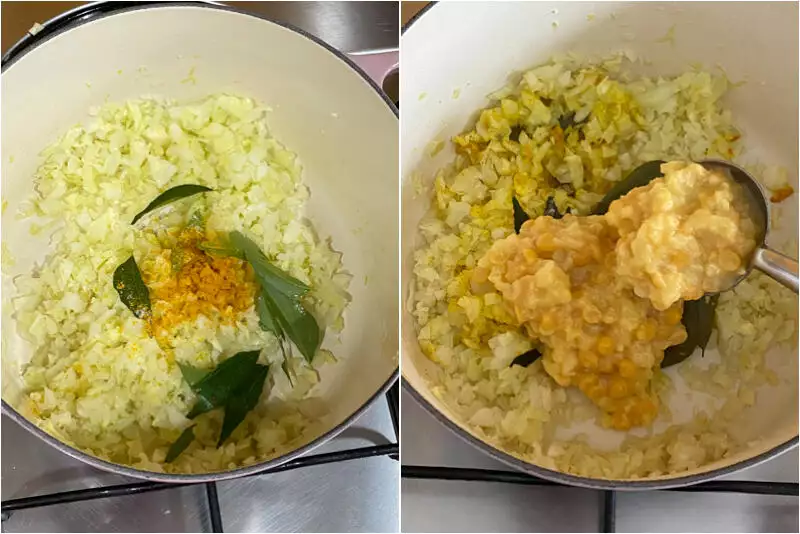 Then add the ground coconut paste and mix together. If the mixture is too thick, add some water. Bring to boil and turn off heat.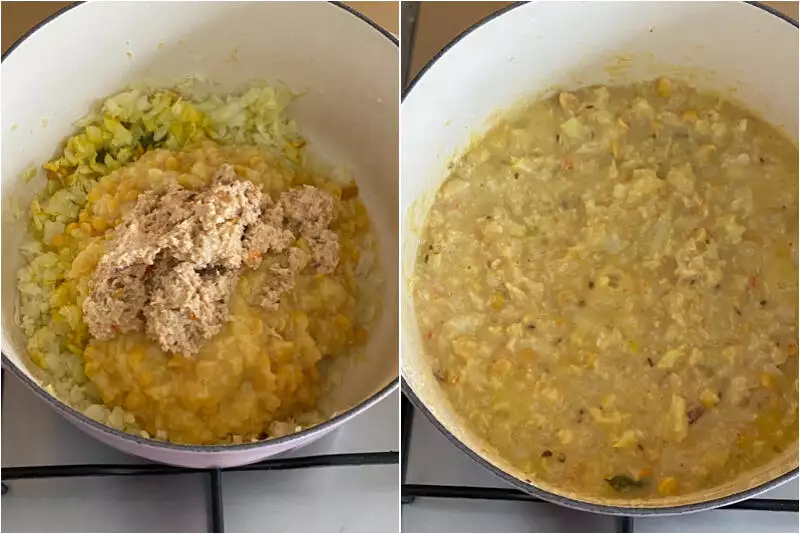 For tempering, heat some oil and add mustard seeds. When they pop, add some sliced shallots, red chillies, and a pinch of hing. When the shallots are golden brown, remove from heat and dunk into the kootu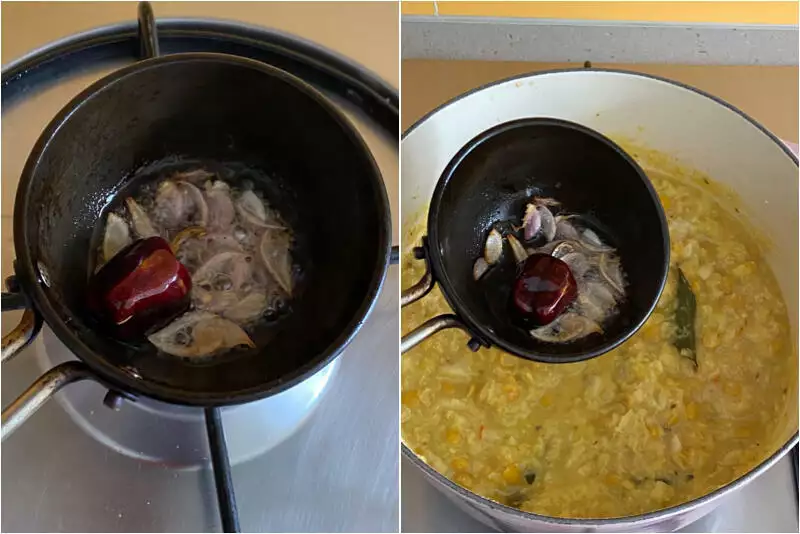 Mix together and cabbage kootu is ready! Serve with white rice.