Ellu chutney or sesame coconut chutney is a healthy and delicious chutney recipe, or thogayal really, that is usually served with rice. During summer breaks, we would go to Salem to my aunt's house. That train ride with aunts and cousins and nieces and nephews was one of my happiest memories and of course, no train ride in India is complete without the mention of food.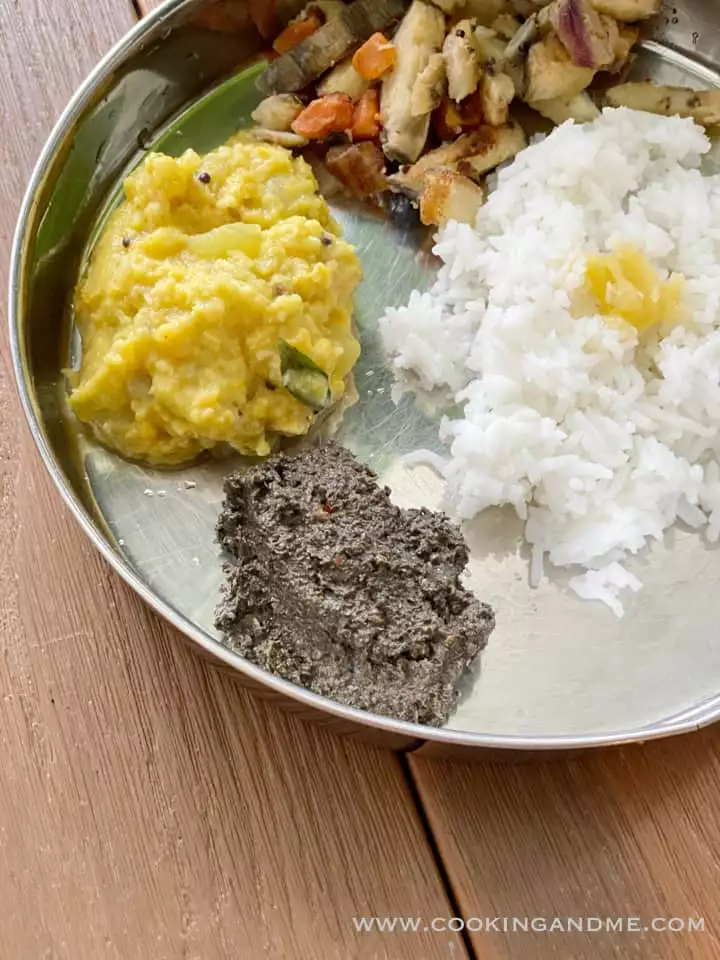 Lemon rice packs really well and when it's placed in warmed banana leaves with this ellu chutney on the side, that's pure deliciousness right there. Ellu or black sesame contains healthy omega 3 fatty acids and also fibre that helps in digestion. The nutty aroma when it's roasted is perfect when combined with raw coconut.
A few things to remember when preparing to make this ellu chutney at home
Use black sesame or black ellu for the chutney
Fresh coconut works best but frozen coconut works just fine too
If you would like ellu chutney without coconut, it's definitely possible too. Omit the coconut in the recipe below and half all other ingredients
Roasting the ellu or sesame is an important step. Since the seeds are black, it's hard to tell when it's done. Look out for a nutty aroma and to be doubly sure, rub a few seeds between your palms to see if the inner white seed has turned a light brown (see picture below)
Since we want the flavour of ellu to dominate, no curry leaves, coriander leaves or other spices are used in this recipe. Keep it simple!
The proportion of ellu to coconut can be altered. Keep ellu on the higher side, again, for the true flavour of the sesame to come through
Ellu chutney tastes best with rice more than dosa or idli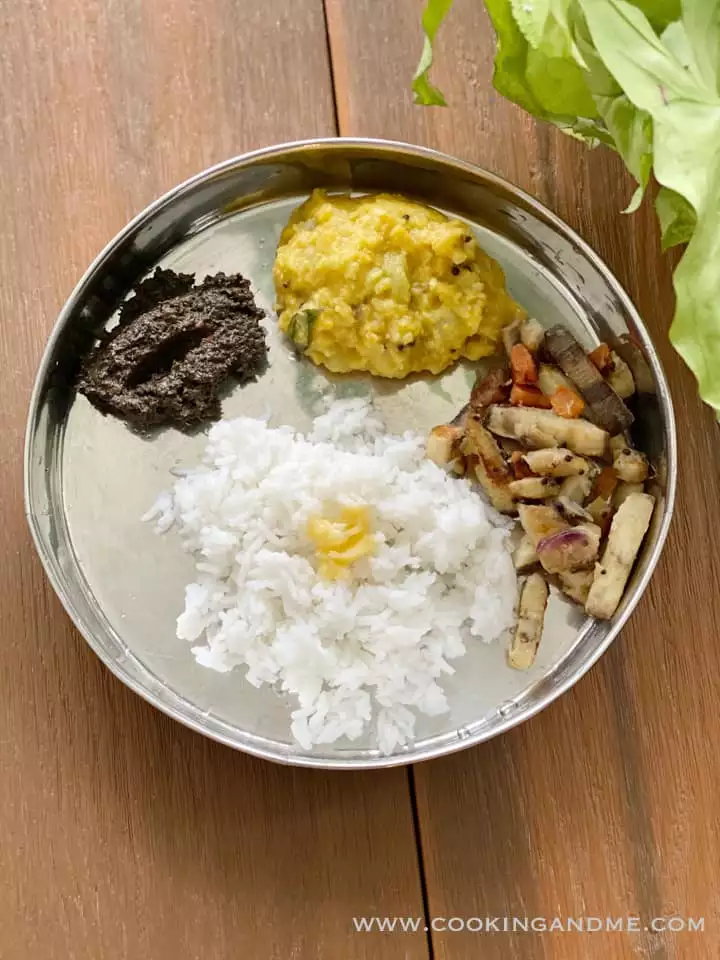 You may also like this ellu sadam recipe (sesame rice).
Ok, now on to the ellu chutney recipe.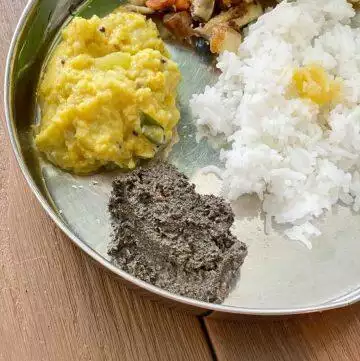 Ellu Chutney, Sesame Coconut Chutney
Ellu chutney or sesame chutney is a delicious and healthy chutney recipe using black sesame seeds and coconut. Goes perfectly with rice
Ingredients
1/4

cup

black sesame seeds

black ellu

2

tablespoons

grated coconut

thawed if frozen

2-3

flakes of garlic

crushed

2-4

dry red chillies

adjust to taste

A marble-sized ball of tamarind

Salt to taste
Instructions
In a dry pan without oil, roast the sesame seeds on medium flame

The goal here is to get all the moisture out of the seeds first and roast it to a golden colour inside. This is tough to see since the seeds are very dark coloured so I have a tip below to check that

Keep stirring the seeds as they roast and adjust the heat to make sure they don't burn

After about 3-4 minutes, add the red chillies and continue roasting on low-medium flame

The seeds may pop and scatter a bit similar to mustard seeds. This doesn't mean they are done. Keep stirring and roasting

After about 5-6 minutes, take 2-3 sesame between your fingers and gently rub them open. The white parts inside should be a light golden brown. This means they are done. If it still looks white, continue roasting for another few minutes

When the sesame seeds are nicely roasted, turn off the heat and add the crushed garlic, coconut, salt, and tamarind to the same pan and give everything a good mix

Cool completely and grind to a coarse chutney with minimal water. Ellu chutney is meant to be thick so be cautious not to add more water than is needed. It's also important not to grind the chutney very smooth. Ellu chutney should be a bit coarse in texture

All done! Enjoy with some rice and ghee or any flavoured rice like lemon rice
Notes
Why is my ellu chutney bitter?
If you burn the sesame seeds while roasting, it can turn bitter. Keep a close eye on the heat used as you roast them and take my timings above as just a guideline. Stoves and pans and definition of low heat will differ from kitchen to kitchen. Adding some more coconut can salvage a bitter ellu chutney somewhat
Can I make ellu chutney without coconut?
Yes you can! Omit coconut in this recipe and halve all other ingredients. Taste as you go when grinding. However, I must say that this chutney tastes bet with some coconut so consider adding at least one tablespoon if you can
What can I do if my chutney becomes too spicy?
I have given a range of 2-4 chillies in the ingredients list. My mother adds 6 because our food back home is usually more spicy than how I cook in my kitchen. Start with 2 chillies, it's much better to have chutney that's less spicy than it be too spicy to eat! Adding more coconut can help salvage a chutney that is too spicy
Can I make ellu chutney with white ellu or white sesame seeds?
Technically you can but the flavour just won't be the same. It's the bran on the black sesame seeds that gives this chutney it's unique nutty flavour and texture. Definitely worth getting the right type of sesame seeds to make this!
Step by Step Ellu Chutney Recipe
Dry roast 1/4 cup sesame seeds in a pan for 3-4 minutes in medium heat, stirring frequently. Add 2-4 red chillies (adjust per your spice tolerance and preference) and continue roasting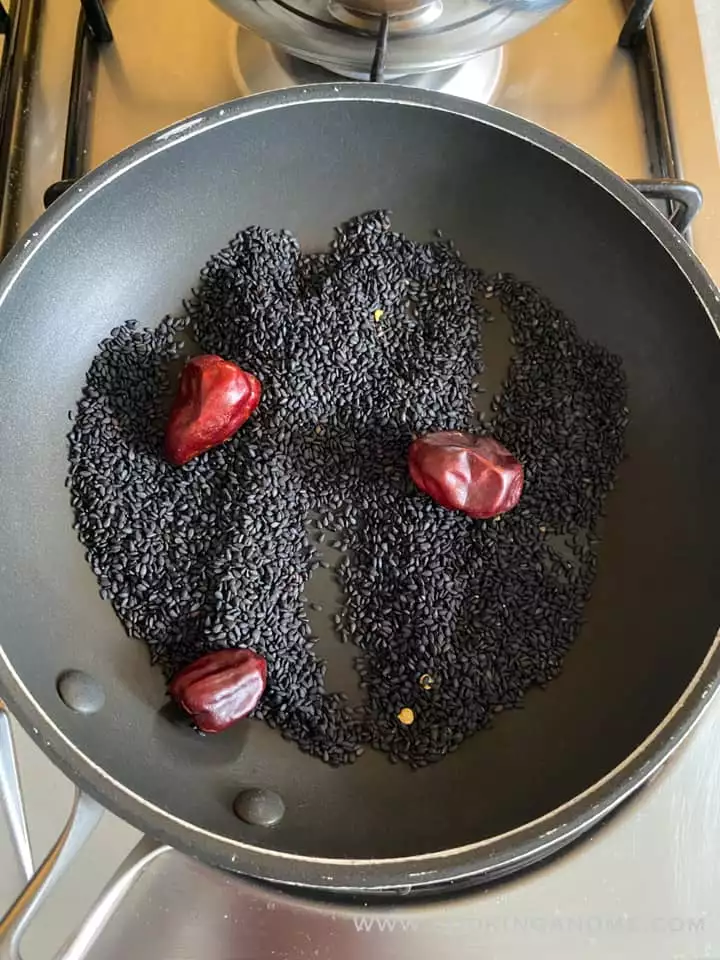 Do not worry if the sesame seeds start spluttering. They are still not done and need to be roasted until the insides turn light golden brown.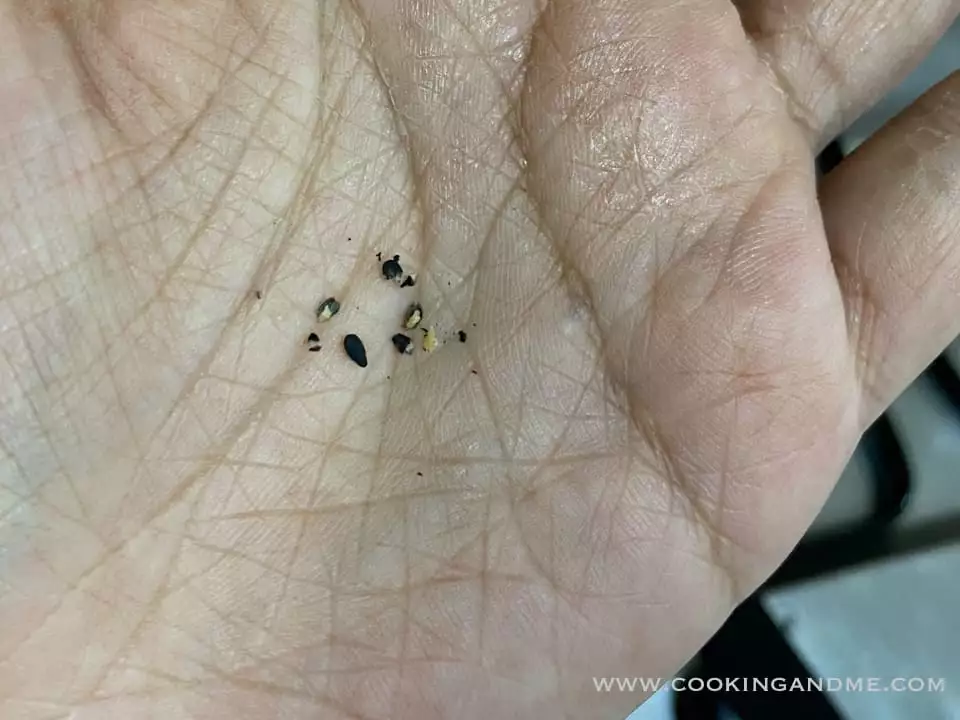 When the sesame seeds are done, turn off heat and add 2 heaping tablespoons of grated coconut, 2-3 flakes of crushed garlic, and a marble-sized ball of tamarind to the pan. Add salt too.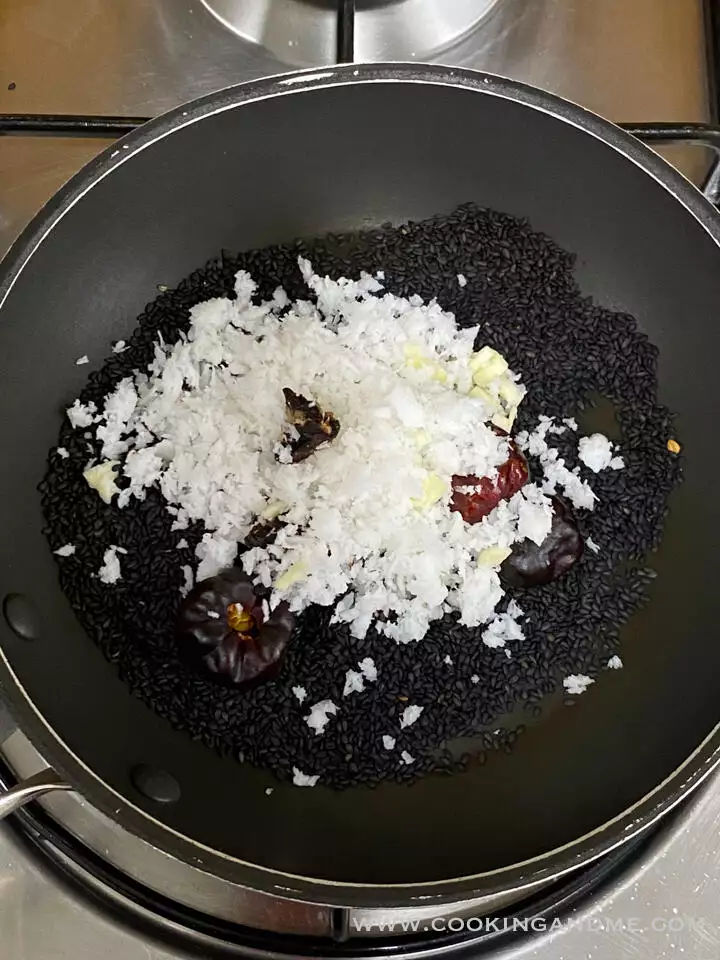 Mix everything well and let it sit in the remaining heat of the pan. Cool completely.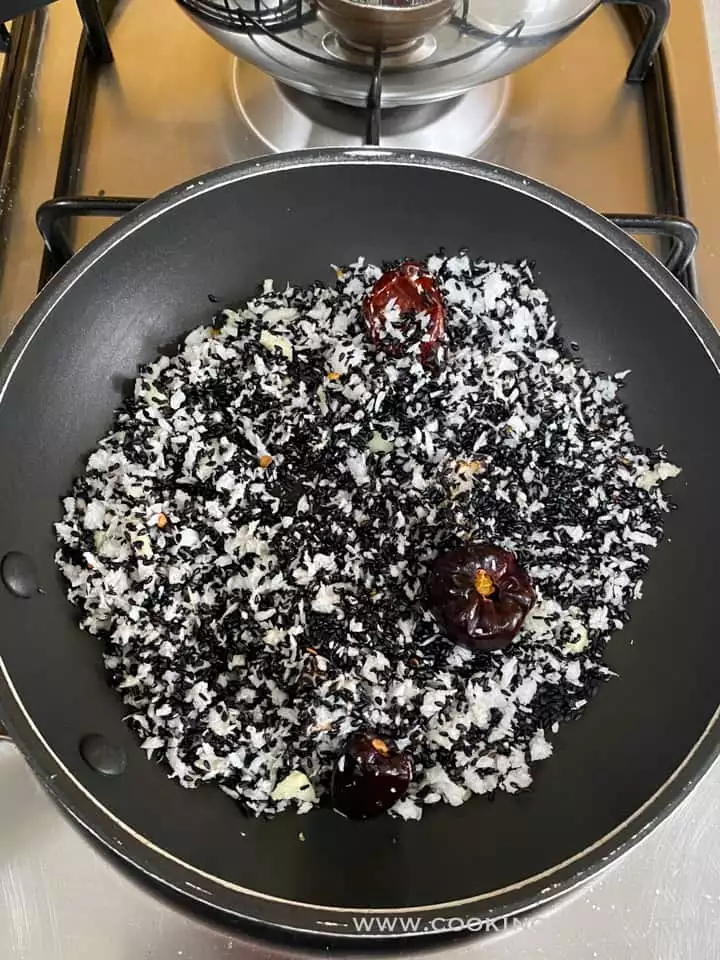 Grind with minimal water to a coarse texture. Remember that ellu chutney is not meant to be very smooth.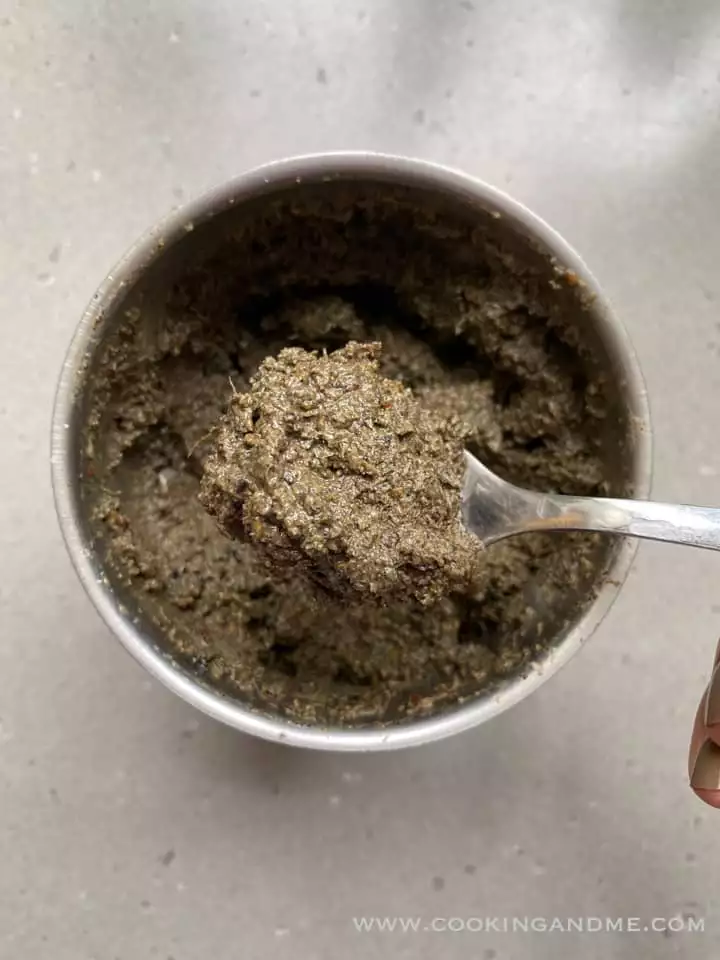 Serve with rice! Enjoy 🙂