Butter Chicken Recipe: Butter Chicken is probably one of the most popular Indian chicken recipes liked by  all for its mild flavour and deliciously rich gravy. I wouldn't be surprised if this is the most popular dish in Indian restaurants and so, this is a restaurant-style Butter Chicken Recipe.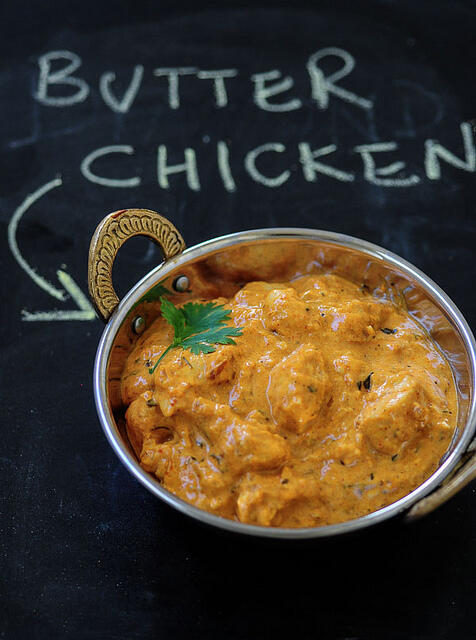 Pin
When you talk to non-Indians about Indian food, one of the few dishes they immediately recall is Butter Chicken. They always know Butter Chicken, Chicken Tikka, "Naan Bread', and Biryani. When I ask about Idli and Dosa, I mostly get blank stares back. So when my colleagues ask for good Indian restaurant recommendations in Singapore, I know not to suggest Murugan Idli Kadai because they may not even recognize that as Indian food!
 Anyway, Butter Chicken is Indian, I do accept that. However, it has never been my first option while eating out – not now and not when I was growing up. I guess I always preferred spicier versions of chicken recipes like maybe
Pepper Chicken
or
Chilli Chicken
.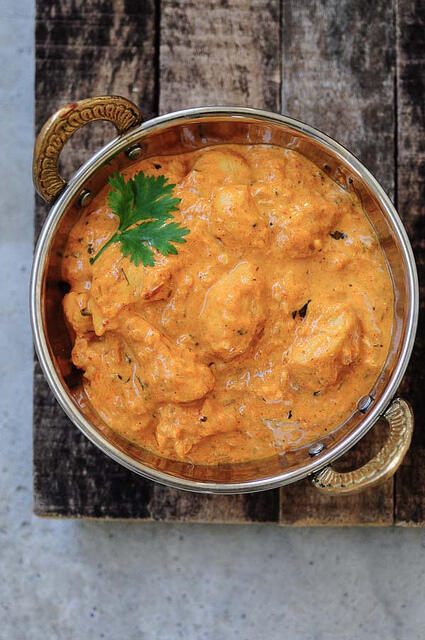 However, there's really something very comforting about a good Butter Chicken Recipe. If cooked right, it pairs fabulously with some naan made on tawa, a simple vegetable pulao, or even plain rotis or chapatis. I have used cream in the gravy for this Butter Chicken but you can just as easily substitute that with some pureed cashew paste for a different flavour.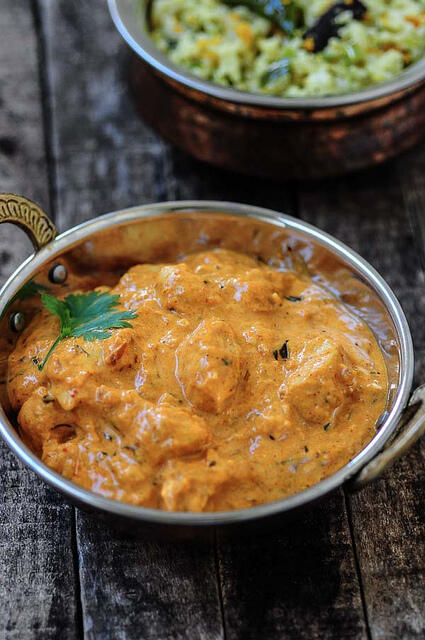 I made this for some friends who were coming over for dinner, and paired it with my vegetable pulao recipe. The basic gravy is adapted from my Paneer Butter Masala Recipe. This is a restaurant-style Butter Chicken Masala Recipe – so enjoy!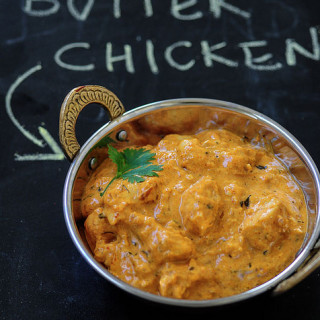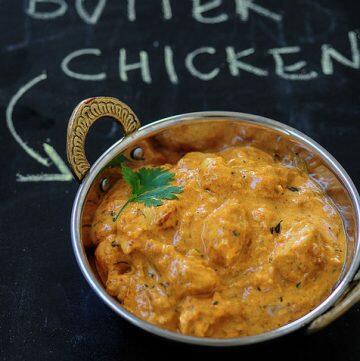 Butter Chicken Recipe
Butter chicken is one of India's most popular chicken recipes, a mild curry with a tomato-onion-cream base and boneless chicken pieces cooked in it to perfection, as the Indian restaurants would say
Ingredients
500

gm of boneless chicken

cubed

2

onions

minced

1 to

mato

pureed

1

tbsp

of tomato paste or sauce

1

tbsp

of butter

ghee, or oil

1

tsp

of minced garlic

1

tsp

of minced ginger

2

tsp

of coriander powder

1

tsp

of chilli powder

use Kashmiri chilli powder for better results

1

tsp

of garam masala or chicken masala

1

large pinch of kasuri methi / dried fenugreek leaves

1

cup

of milk

3

tbsp

of cream or pureed cashew paste

soak and grind cashew nuts

1-2

tsp

salt

adjust to taste

1/4

tsp

of turmeric powder

1

small bunch of coriander leaves / cilantro

for ganish
Instructions
Heat the butter in a pan and add the minced onions. Fry until golden brown

Add the ginger, garlic, coriander, chilli powder, turmeric, and salt. Fry for a minute until fragrant

Add the pureed tomato and tomato paste and cook for 3-4 mins until the mixture bubbles uniformly

Thrown in the kasuri methi, milk, and the cubed chicken. Cook covered for 8-10 mins until the chicken is soft. The chicken will let out more water, just check once or twice in between and give the curry a stir. Keep the flame on sim

When the chicken is cooked soft, open the lid and cook for a further minute or two. If the gravy is too thick, add some water at this stage

When done, add the garam masala or chicken masala and the cream or cashew paste. Give it a good stir, but don't boil

Adjust salt, garnish with the coriander leaves, and remove from fire

Serve hot with tawa naan, vegetable pulao, or jeera rice
Serve hot with tawa naan, vegetable pulao, or jeera rice
Note: You can slightly fry the chicken before adding it to the gravy. I haven't tried this but what I'd do is marinate the chicken pieces in ginger, garlic, turmeric, and chilli powder and lightly saute it until half-cooked. Then proceed with the rest of the recipe for Butter Chicken above.
For Butter Chicken recipe in Hindi, Tamil, Telugu, Urdu, please use the Google Translate button on the top right of this website.