Okra fry made in an air fryer, making the whole process so much less messy and easy, not to mention crispy! We were once served okra fry or kurkuri bhindi at a friend's dinner party and I got the recipe immediately, never looking back to making okra fry any other way.
Table of Contents
Ingredients
Okra or bhindi – as always, when choosing okra for frying for cooking, choose the most tender ones you can find. A technique used in India is to snap the tail to check but please don't do this in the supermarket because then the people who come to buy them after you are left with a bunch of tailless okra, and that's just rude haha. Instead, gently check how firm or flexible they are. Tender okra is also usually lighter in colour.
Spice powders – there is definitely some flexibility here and you can add or omit based on your personal preference. I like adding garam masala for the additional kick and use Kashmiri chilli powder for colour and less heat to make this child-friendly.
Oil – any oil will do and I use olive oil in a can to use in the air fryer. A couple of sprays of oil would do, that's the beauty of using an air fryer to "fry" okra. You can also brush on oil if you don't have oil spray.
Besan (Chickpea Flour) and Rice Flour – these act as binders and crispers for the okra fry so try not to omit. Besan gets cosy with the spices and coats the okra creating a nice flavourful layer and the rice flour is very effective in absorbing moisture, making it a great way to add more crispiness to the final okra fry.
Frequently Asked Questions
Q: Can you use frozen okra in an air fryer to make okra fry?
I wouldn't recommend using frozen okra for this air fryer okra fry recipe, mainly because frozen okra absorbs a lot of moisture and you would need to thaw it before using in this recipe which will result in a bad texture. However, if you are going to coat the okra in the spice powders and then freeze it to air fry later, that may work. This can cut short the preparation time for okra fry too.
Q: Can you fry breaded okra in an air fryer?
Yes! That makes for some delicious okra too. Instead of using besan and rice flour, you can use finely powdered bread crumbs in this recipe. I have tried it once with good results.
Q: How long do you need to air fry okra to get perfectly crispy kurkuri bhindi?
I tried a couple of different options and found that 11-12 minutes at 180C works best. Of course, this will depend on the size of your air fryer and also quality of okra so best to keep an eye on them as they cook. Use all air frying times as a guideline only.
Q: Can I reheat air fryer okra fry?
Yes! I find that most deep fried and air fried dishes do really well with being reheated in an airfryer. For that, choose a lower temperature like 160C and keep a watch out from 4 mins in. Around 5-6 minutes should be sufficient to get them back to hot and crispy again. Serve immediately.
We are not huge okra lovers at home but do love a good okra masala or okra potato dry masala or even a dahi bhindi recipe.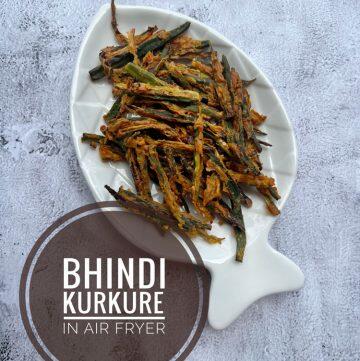 Okra Fry in Air Fryer
A crispy and delicious okra fry recipe made in an air fryer.
Ingredients
300

grams

okra

1/4

tsp

turmeric powder

3/4

tsp

Kashmiri chilli powder

add less if regular chilli powder, adjust to taste

3/4

tsp

garam masala

I use Kitchen King masala

Salt

to taste

1-2

tsp

lime juice

or 1/2 tsp amchoor or raw mango powder

2

tbsp

besan

chickpea flour

2

tbsp

rice flour

1/4

cup

water

2

tbsp

oil

+ more to spray or to brush on air fryer
Instructions
Wash and pat dry 350 grams okra or bhindi

Cut off the ends and quarter each okra lengthwise. If your okra is long, halve them midway before quartering

Transfer to a large bowl and add – salt to taste, 1/2 tsp turmeric powder, 3/4 tsp red chilli powder, 3/4 tsp garam masala (I use Kitchen King from MDH), 2 tbsp besan flour and 2 tbsp rice flour

Toss everything together until the okra is well coated

Add 1-2 tsp lime juice, 1/4 cup water (start with 3 tbsp and add more if you need), and 2 tbsp oil

Mix again until the spice paste costs the okra well

Preheat your air fryer for 5 mins, which basically means turn it on at 180c for 5 mins and leave it to warm up

Spray or brush some oil in the air fryer tray

Arrange the okra without overlapping much. You may need to do fry them in batches like I did, depending on the size of your air fryer tray

Air fry for about 10 minutes, stopping half way through to give the okra a mix

They're done when the mixture is crisp and the okra is cooked through
Notes
Remember to pre-heat the air-fryer before using. You can follow manufacturers instructions to do this or just let it run for 5 – 7 minutes at desired temperatures before adding items to air fry
Do not overcrowd the okra or let them sit on top of each other. Spread them out evenly
There will still be some sliminess on the okra before frying but should be all ok when they are done, so do not worry
Lime juice usually helps to reduce sliminess of okra so if possible, do not skip that
Add a pinch of sugar to add some extra oomph to the okra fry, if you'd like
Some chaat masala or black salt is not a bad idea either, but personally, I prefer the spice powders used above
The time to fry the okra will depend on how young they are and also how thinly you slice them. Don't slice too thin and try to keep it as uniform as possible so parts of the okra won't cook faster and burn
Step by Step Air Fryer Okra Fry
Wash and pat dry the okra. Drying the okra as much as possible is important to get crispy okra fry
Cut vertically into quarters. If the okra is long, cut into halves and then quarter each half.
Transfer to a large bowl and add – salt to taste, 1/2 tsp turmeric powder, 3/4 tsp red chilli powder, 3/4 tsp garam masala, 2 tbsp besan flour and 2 tbsp rice flour
Add lime juice or amchoor powder to this. I recommend mixing the okra well with the spice powders before you add the lime although you can do it after too
Mix everything thoroughly to combine and add oil and water
Mix again to combine
Pre-heat air fryer and spray or brush with oil. Arrange the okra in a single layer.
Air fry for 5 minutes and give them a toss. The okra should be half cooked and still soft, like below.
Continue to air fry for another 5 minutes (check after 3-4 mins to ensure the okra is not burning) and you are done!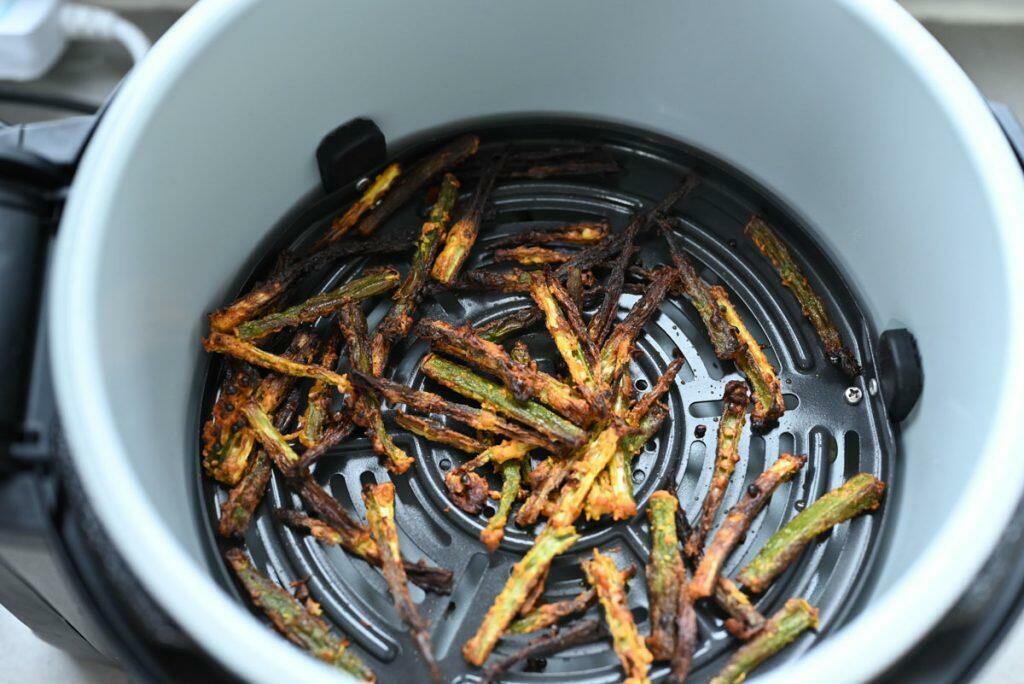 Serve hot with ketchup.