This Aloo Bhindi is a dry curry with Okra and Potatoes and some Indian spices. Bhindi or Okra is not really a favourite due to a few reasons. I have cooked with it quite a bit though simply because it's so easy to get here and quite fresh. However, a dry curry with bhindi and aloo (okra potato dry curry) is a fabulous idea and here's why:
Fact: Okra is slimy
Another fact: Potatoes are delicious
Fact 3: When delicious and slimy get together, it creates a pretty great dish.
If you want a bhindi recipe with more gravy, try the okra stew, or the dahi bhindi masala which is delicious with roti.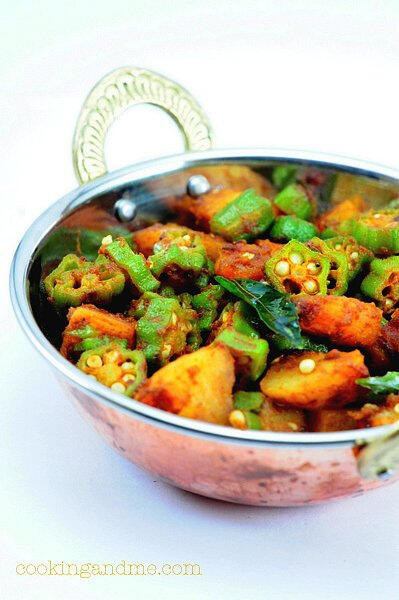 Pin
When I go to the nearby supermarket, I run out of vegetables to buy. There are about 5 rows of green leafy vegetables which I can't bother with over weeknights, and there are the usual suspects like beans and carrot and broccoli and capsicum. I just have to reach for the okra packet on those nights.

Cooking okra with aloo into a dry sabzi is a great idea especially for non-okra lovers. You can serve this aloo bhindi with rotis or rice.
Aloo Bhindi Dry Curry Recipe (Aloo Bhindi Recipe)
Serves 2
INGREDIENTS:
1 potato, cut into small cubes
10 okra, cut into 1/2″ discs
1 tbsp tamarind water (add a small piece of tamarind to 1 tbsp water. Extract juice, discard pulp)
1 tbsp oil
1/4 tsp mustard seeds
A generous pinch of hing / asafoetida / perungaayam
1/2 tsp jeera / cumin seeds
1-2 tsp dhania / malli / coriander powder
1/2 tsp red chilli powder (adjust to taste)
1/2 tsp garam masala or curry powder (whatever you have in hand)
A pinch of ginger powder (optional)
1/4 tsp turmeric powder
A few curry leaves
Salt to taste
INSTRUCTIONS:
1. Heat oil and add mustard seeds. When they pop, add the rest of the ingredients below in the order given.
2. Once the masalas have been fried for about a minute, add the cut vegetables and the tamarind water. Mix well until all the ingredients are well incorporated.
3. Cook covered, stirring frequently, until the potatoes are tender and the okra is cooked, non-slimy, and has learnt a thing or two from the potatoes.