I have a sister and a brother. I know many people do and it's not a huge deal but I like to believe my situation is a bit different. It is, actually. They are both more than 9 years older than me. So there's my brother and sister who are 1.5 years apart and then there's me, much younger than the two of them. This led to some interesting childhood events. I was bullied quite mercilessly, needless to say. But as we grew up a bit, my siblings were my almost-parents. My brother taught me how to brush my teeth and my sister and I have a TON of pictures together when she has made me up so much that I look unrecognisable. She also used to sing to me a lot and force me to scrub my face hard while bathing. Random, I know.
Anyway, this post is not so much about all that, it's more about my sister, her blog, and her lovely Blueberry Muffins. I have been especially caught up in other stuff over the past couple weeks (a work trip followed by a vacation followed by marketing classes at INSEAD for those of you who are curious) and was lamenting to the sis how I am just not able to post something in here. She immediately offered to help me out by sharing her gorgeous pics and recipe for blueberry muffins.
PS: I am Bindya to my old friends and family. You really didn't think my parents call me Nags, did you?
Over to her!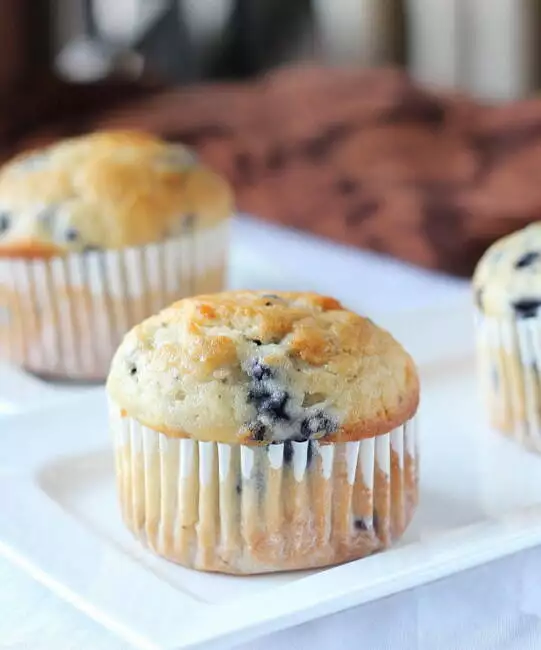 Hi, I am Bharathy of Spicy Chilly. Many of you already know that we are sisters (rocking in our own ways..as many of you had mentioned a lot of times.. ahem ;)) with our own food blogs for the past five years.
Well, after reading her 5th year post I was pleasantly surprised when I realised the hard work she'd put in and the fruits she plucked; though we started blogging at the same time she has 16 times the viewership and earnings than mine!! This definitely isn't a simple thing for anyone who works, travels, socialises, maintains home, friends, and cooks too! The word A.W.E.S.O.M.E would be an understatement here!
As already said, she was the one who introduced me to this world of blogging and when she too joined within a month or so, both of us should admit the fact that we loved every moment being here with lots of food, friends, pictures, gossips 😉 and more, ever since.
I have a few out there who (still) mail me or message me amazed at our relationship, the warmth and concern we always share. Honestly, let me tell you, we are like any other sisters…we yell at each other, we fight, we cry (mostly one of us) we pour out, we compromise blowing peace pipes dancing around the fire and see to it that ultimately nothing is taken too seriously :)..or at least amma's words ring in my ears.."Bharathy aren't you ashamed to be so immature.. she's nine years (stressing on the number!) younger than you!" which has an instantaneous impact on me 😉
The cocktail is here, if you had missed out, which had been the post that stood above all my recipe posts in 2011. I'm still overwhelmed by the love you all had showered on us!
I had never really thought of doing a guest post but recently have been wanting to do some so badly for her.
Bindya, this is for you…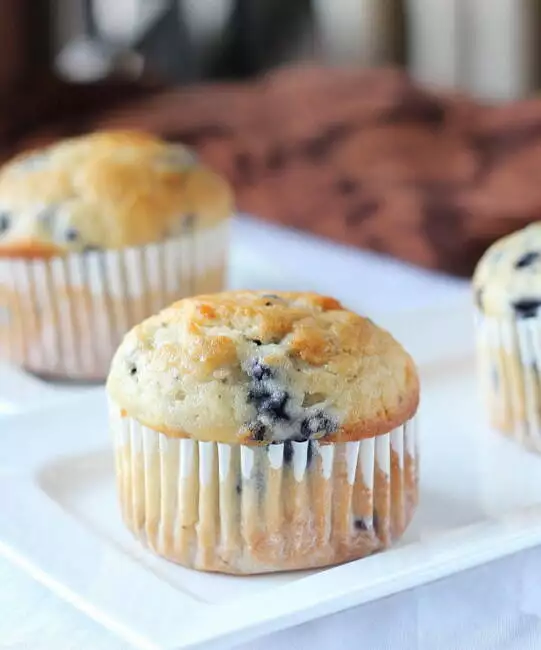 Blueberry Muffins were the ones I wanted to lay my hands upon when my sister in law got me a small can of preserved berries. I was soon in search of a good recipe for moist and soft muffins. As always the recipe from Joy of Baking didn't let me down. I wondered how quickly these Blueberry Muffins can be put together as they had suggested! The key ingredient in these blueberry muffins is yogurt. It adds a lot of moisture and gives it a bread-like texture without adding much complexity or calories.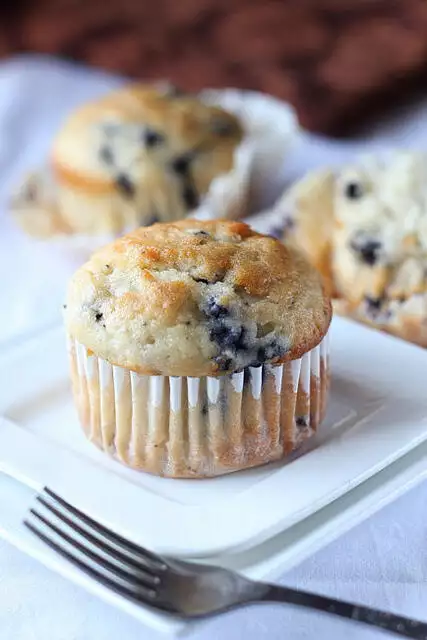 Blueberry Muffins with Yogurt
Source – Joy of Baking
Makes 12 muffins
Ingredients:
1 cup (240 ml) plain yogurt (regular or low fat)
1 large egg, lightly beaten
1/4 cup (60 ml) canola or corn oil
1/2 teaspoon pure vanilla extract
2 cups (260 grams) all-purpose flour
1/2 cup (100 grams) granulated white sugar
1 teaspoon baking powder
1/2 teaspoon baking soda
1/4 teaspoon salt
1 1/4 cups (100 grams) fresh or frozen blueberries (I used canned blueberries)
How to make Yogurt Blueberry Muffins:


1. Preheat oven to 375 degrees F (190 degrees C). Position rack in center of oven. Butter or line 12 muffin cups with paper liners.
2. In a large measuring cup or bowl whisk together the yogurt, lightly beaten egg, oil, and vanilla extract.
3. In another large bowl, whisk together the flour, sugar, baking powder, baking soda, and salt. Remove 1 tablespoon of the dry ingredients and toss it with the blueberries. If using frozen blueberries, do not thaw before adding them to the batter. With a rubber spatula fold the wet ingredients into the dry ingredients and stir only until the ingredients are combined. Gently stir in the blueberries. Do not over mix the batter or the muffins will be too tough and hard.
4. Evenly fill the muffin cups with the batter, using two spoons or an ice cream scoop. Place in the oven and bake for about 15 – 20 minutes or until a toothpick inserted in the center of a muffin comes out clean. Transfer to a wire rack and let cool for about 5 minutes before removing from pan.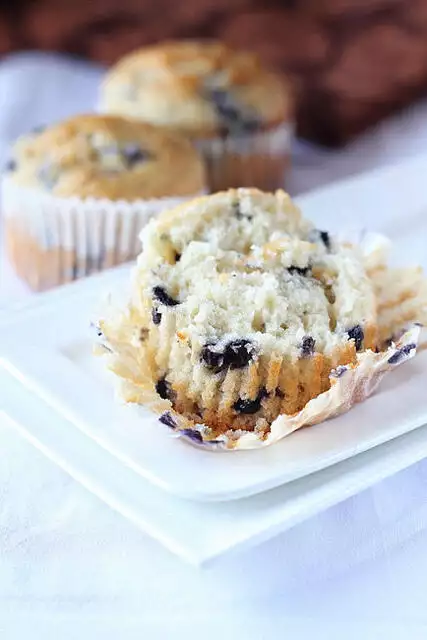 Bharathy's Note: In spite of the warning given in the recipe source that "these Blueberry Muffins are always quick to disappear", guess I'd been a little careless and had halved the recipe which yielded 6 scrumptious ones and half of them were gone in no time with my children around! The pictures are of the remaining 3.