This apple milkshake with almonds is not so much a recipe post as it is my need to take some pictures of a drink. I don't have many drinks recipes in here because I hardly ever make anything at home. Or when I do, it's something ridiculously simple like this.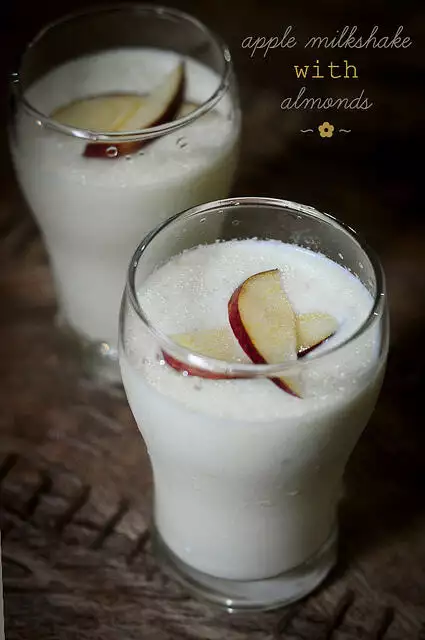 But I was in the mood to play with my camera a bit and what better way to do it than make some super simple and spend a lot more time on taking pics? It was pretty grey day so the pics are all dark toned. Also, special thanks to Sindhu for helping with the pretty text on the first picture. There are more coming guys, so stay tuned!
For more milkshake recipes, check out my mom's avocado milkshake, banana milkshake, and the popular milkshake from Kerala, Sharjah shake with dates and banana.
Apple Milkshake with Almonds
Preparation time: 10 minutes
Cooking time: 0 minutes
Makes 2 tall glasses
Ingredients:
2 apples peeled, cored, and cut into small pieces
5 almonds soaked and skinned (or 1 tbsp almond meal)
500ml of chilled milk
1-2 tbsp of sugar (adjust according to your preference)
How I Made It:
1. Transfer the chopped apples, milk, and sugar to a blender. Blend until the apple pieces break down a bit.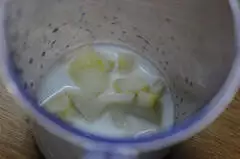 2. Add the soaked almonds or the almond meal and blend to a smooth consistency.
Serve immediately with a garnish of apple pieces or ice cubes.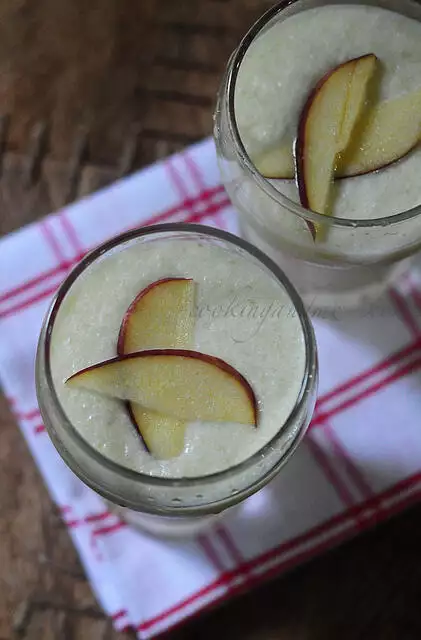 Notes:
– the milkshake will be quite thick due to the almonds. Reduce amount of almonds, increase amount of milk, or just avoid it if you want a lighter, thinner milkshake. You can get away with using low fat milk because the almonds will give the milkshake the required thickness.
– I wanted to try adding some crushed cardamom to the apple milkshake but forgot to do it in the last minute. If any f you are willing, do try and let me know how that turned out. I think it will be apple milkshake meets badam milk if you do that. Maybe also throw in some saffron!