After discovering the deliciousness that is homemade fresh basil pesto, I
had
to try a pesto pasta immediately. It was a totally delicious, healthy, and quick-fix dinner on a weeknight (and so the pictures were taken in the
light box
)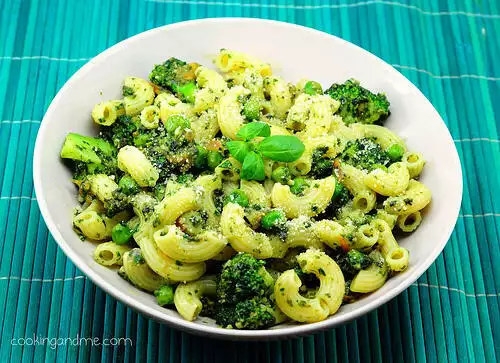 Pin
Basil Pesto Pasta
Serves 2
Ingredients:
2 cups of pasta of your choice, cooked al dente
3/4 cup basil pesto
One small broccoli, cut into florets
A handful of green peas
1 tomato, cubed
1 tsp minced garlic
2 tbsp olive oil
Freshly ground pepper, to taste
Salt, to taste
2 tbsp parmesan cheese
A few basil leaves, roughly chopped (optional)
How I Made It:
1. Heat the olive oil in a skillet and add the minced garlic. Fry for about 30 seconds until fragrant. Add the broccoli florets, tomato, and grean peas to this and stir fry for a minute. Sprinkle some water and cook for about 4-5 mins until the broccoli is cooked and soft.
2. Add the pesto and stir until it coats the vegetables. Toss in the cooked pasta, salt and pepper and mix well until all the ingredient are well incorporated.
3. Garnish with chopped basil leaves (if using) and parmesan before serving. You can serve this cold or warm.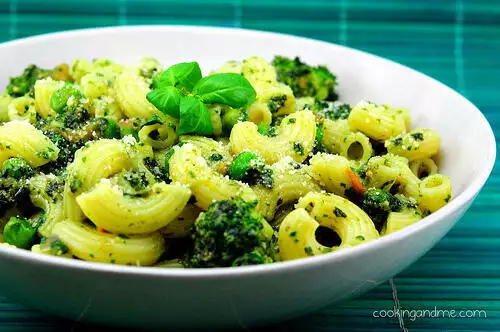 Pin
The beauty of this recipe is, you can add any vegetables of your choice and serve it as a main dish or even as a pesto pasta salad. Its absolutely delicious, try it!