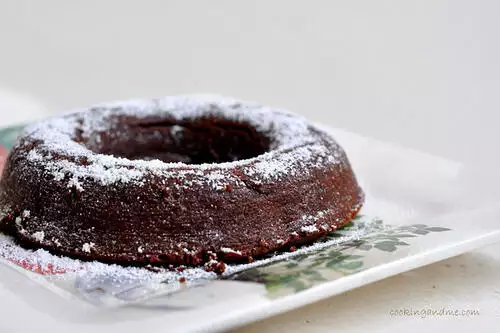 How to make chocolate fudge cake – Sometimes, you just want a chocolate cake that's dense and rich. Maybe because you want to warm it up a bit and serve it with a scoop of vanilla ice cream. Or chocolate ice cream if you are evil!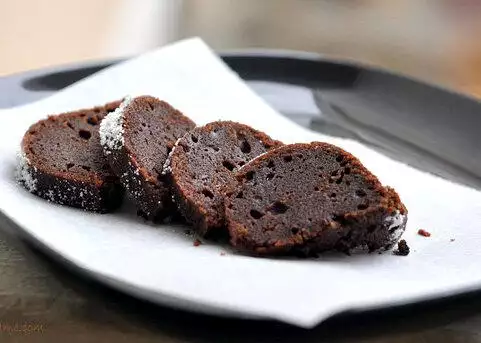 Sometimes you want to bake up something in your small ring cake mould that can only hold 1.5 cups of batter, so that you get cute pieces like these. And sometimes you want to pack them up for guests when they leave – an extra treat for taking the trouble to visit you.
This cake has lesser amount of flour and more of chocolate goodness, so it bakes up rich and dense and fudgy. You can also bake the batter into cute little gooey chocolate hearts for Valentines Day. If you love chocolate desserts, then check out this easy steamed chocolate cake, vegan chocolate avocado cupcakes, 1-minute chocolate chip cookie in microwave, and decadent chewy chocolate brownies.
Chocolate Fudge Cake
Makes 15 small pieces
Ingredients:
All purpose flour / plain flour – 1/2 cup
Bittersweet chocolate, chopped – 125 gm / 4.5 oz
Cocoa powder – 1 heaping tbsp
Powdered sugar – 75 gm or 6 tbsp
Unsalted butter – 135 gm / 1/2 cup and a bit more
Eggs – 4 large ( I used 3 eggs and 2 tbsp yogurt)
Baking powder – 1/2 tsp
A pinch of salt
Butter – to grease
Icing sugar – to dust
How to make Chocolate Fudge Cake:
1. Sieve together cocoa powder, flour, salt and the baking powder. I did it about thrice so that the three are blended well. You can also add them to a bowl and mix well with a fork, if are feeling lazy.
2. Preheat oven to 180C.
3. Place the chopped chocolate and butter in a bowl. Get another bowl that's about double the size of the first one, fill 1/4 of the way with water and bring to boil. Once the water boils, lower fire, set the first bowl in the water without touching the sides and keep stirring the choc-butter mixture until it melts.
If all of that was just too much, place the butter and chocolate in a microwave-able bowl and give it 30 second turns in the microwave, stirring well after each 30 seconds. Set aside.
4. Beat the eggs lightly with the yogurt (if you are opting for 3 eggs + yogurt) and then add the powdered sugar. Mix well until well incorporated. I used my wooden spoon for this.
5. Next, add the cooled chocolate-butter mixture and stir well to incorporate. Again, no need to beat, just mix in well.
6. Bring out the flour mixture now. Gently fold into the above mixture and mix in just enough to remove to any lumps and until you get a smooth batter.
7. Grease your cake tin or the pan that you intend to use. I used a small ring mould.
8. Bake in the pre-heated oven for about 20 mins. Do the skewer test to see if the cake is done, mine took about 20-22 minutes.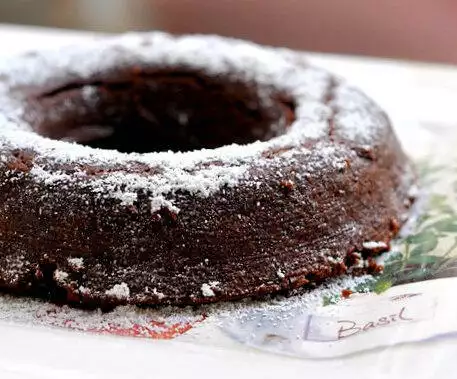 Dust the chocolate fudge cake with some icing sugar to make it look pretty! Serve warm with ice cream if you are into that sort of thing.