Baby Corn
is this wonderfully crunchy, light vegetable that both The Husband and I love and so this
Baby Corn Masala Recipe
was an instant hit. Baby Corn is available in packs of 6-7 here and I mostly add them to
fried rice
, make
baby corn manchurian
, or make a
baby corn stir-fry
. Recently, my uncle was visiting us and I wanted to cook with something that is not easily available back in Kottayam. That's how this
Baby Corn Masala
happened one weekend for lunch.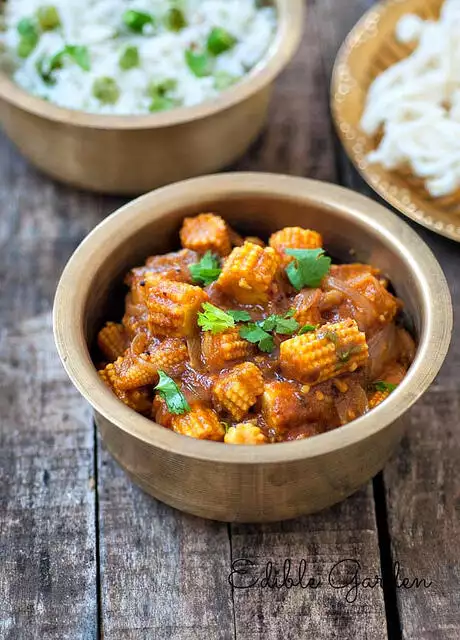 I pretty much threw in whatever masala I felt like but the end result was well-balanced and we loved it with some Peas Pulao made in my rice cooker (recipe coming soon) and homemade vadaam, courtesy The Husband's G Perima. Paired with a simple cucumber raita, this was a lovely meal that all came together in less than an hour. Baby Corn Masala is a great side dish for roti (chapati) too.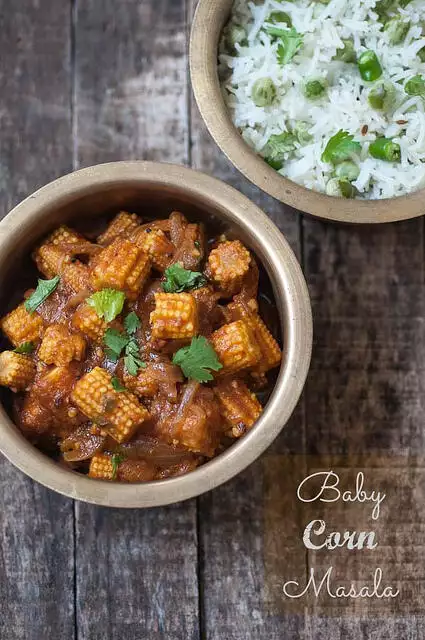 Generally, baby corn is cooked or par-boiled before using in any dish but since we love the crunch and texture, I didn't want to make it soft and soggy. Also, this makes for a quick dish rather than having to follow multiple steps. If you prefer your baby corn more cooked and softer, I'd recommend cooking it in a pot of boiling water until just soft and then proceeding with the Baby Corn Masala Recipe.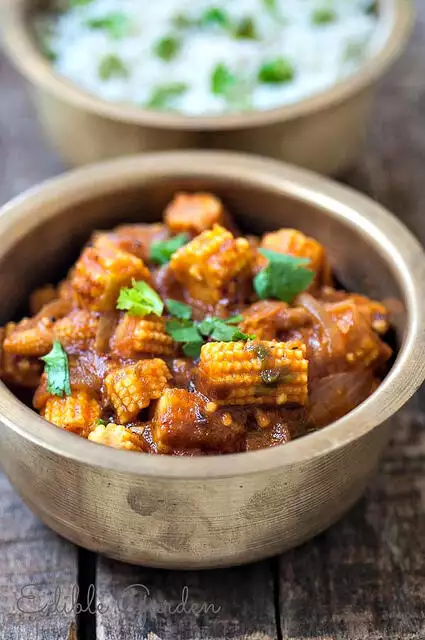 Also, I often get questions on the colour of my dishes and how some people who try my recipes get the taste pat down but sometimes not the colour. A few reasons for this could be that I almost exclusively use Kashmiri Chilli Powder for my cooking. It is much more vibrant and has less heat then regular chilli powder. Also, I use canned tomato paste to substitute a tomato or two in some of my cooking. This gives the dish a deep red colour which fresh tomatoes won't give. I don't enhance or change the colour in my pictures except to make it brighter in some cases, and I most definitely don't add any food colour to my regular dishes – not even to this restaurant-style paneer butter masala. Hope this helps! 🙂
INDIAN-STYLE BABY CORN MASALA RECIPE
Preparation time: 10 minutes
Cooking time: 15 minutes
Serves 4
Ingredients:
20 spears of baby corn, cut into 1″ pieces
2 onions, sliced thin
1 large tomato, chopped or 1 tbsp tomato paste
1 tsp of minced garlic
1/2 tsp of minced ginger
2-3 green chillies, slit
1/2 tsp of red chilli powder
1/2 tsp of jeera powder (cumin powder)
2 tsp of coriander powder
1/4 tsp of turmeric powder
1/2 cup of milk or coconut milk
1 tsp of garam masala powder (optional)
1 tsp of salt (adjust to taste)
1 small bunch of coriander leaves, for garnish (cilantro)
1 tbsp of oil
1/2 tsp of black mustard seeds
How to Make Baby Corn Masala:
1. Heat oil in a pan and add the mustard seeds. When they pop, add the onions and fry until golden brown. Add the green chillies, ginger, garlic, chilli powder, cumin, coriander, turmeric and some salt and saute for a few seconds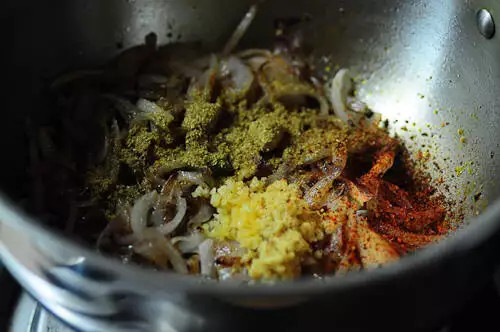 2. Then add the tomato paste or chopped tomato and cook until it turns soft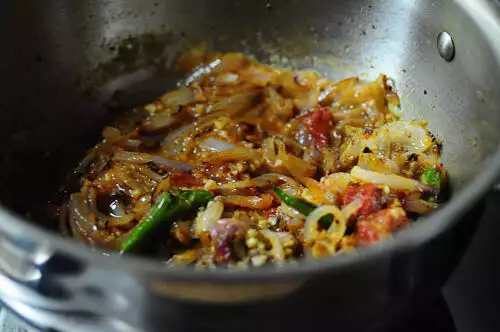 3. Add the baby corn and milk (or thin coconut milk) and more water and bring to boil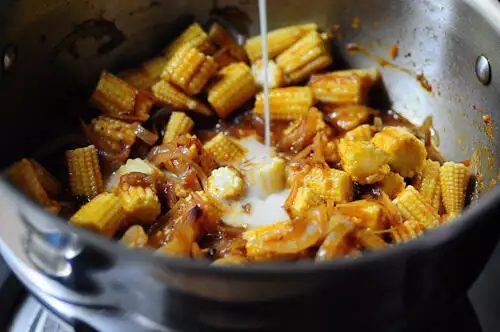 4. Cook covered for about 5 mins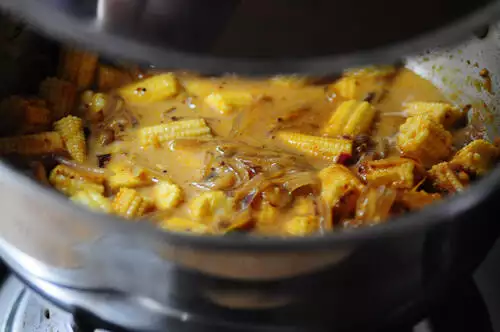 5. Uncover, stir well and switch off flame. Add garam masala and chopped coriander leaves. Adjust salt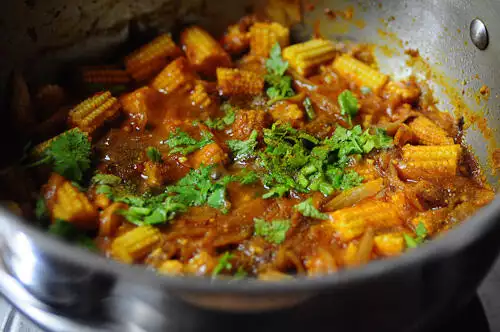 Serve hot with jeera rice, peas pulao, or chapati.
Notes:
I kept the gravy a bit thick and added more baby corn. If you want a looser gravy, either lessen the amount of baby corn or puree the tomato-onion gravy after step 2 and add more water/milk for the gravy
You can use the same base for any vegetable you prefer
I also add a pinch of sugar to the gravy but this is totally optional