An
Indian-style Omelette
is probably my favourite breakfasts on a weekend morning. I usually have all the required ingredients and whipping up a sizzling hot omelet in 10 mins beats having to eat cereal and toast for yet another day. Needless to say, the omelette has many forms in India and every household makes it differently. Even I have a few variations of the humble omelette depending on what I have in the pantry and vegetable tray.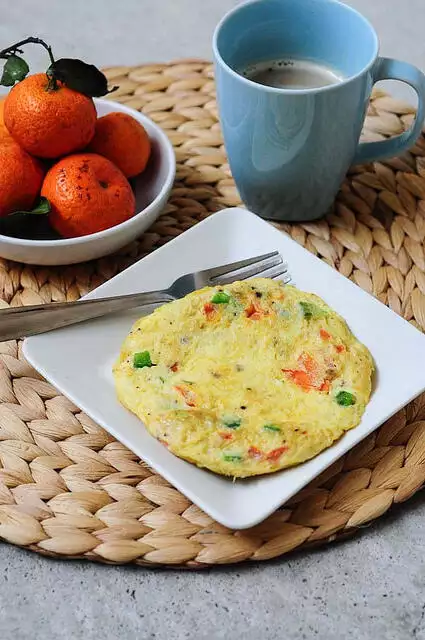 I have tried making an omelette in various thicknesses, just to see what works best, and while I really enjoy the lacy thin omelets that are darker, these spongy, soft ones that are just cooked really hit the spot. While I am not a huge fan of almost-raw tomatoes (even on tomato uthappam, yes), The Husband loves them so I add some in.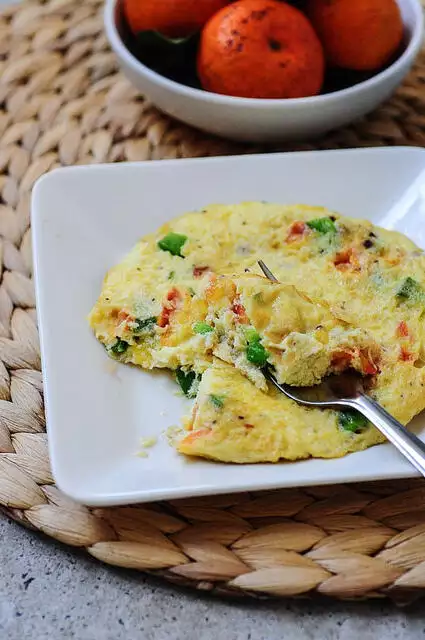 Paired with hot coffee / tea and some fruit, this is the quickest breakfast I can rustle up and still feel like I can laze around. This masala omelette recipe is very versatile and you can choose which way you want to go with it. I have given a few options below that I generally rotate through.
You may also like these scrambled eggs with mushrooms
INDIAN MASALA OMELETTE RECIPE
Preparation time: 5 minutes
Cooking time: 10 minutes
Makes 2 omelettes
Ingredients:
4 eggs
3 tbsp of shallots or minced onions
3 tbsp of finely chopped tomatoes
3 tbsp of finely chopped capsicum (bell pepper)
1 green chilli, deseeded and chopped (see notes)
3 tbsp of finely chopped coriander (cilantro) leaves
1/2 tsp of freshly ground pepper
1/2 tsp of curry powder or garam masala
1/2 tsp of salt (adjust to taste)
2 tsp of oil
How to Make Masala Omelet:
Break the eggs into a large bowl and beat lightly with a fork
Add all other ingredients (except oil) and beat again
Heat the oil in a small pan and swirl around so it coats it completely
Pour half the egg mixture in the pan and cook until the edges curl over and the centre bubbles up. I lightly scramble the centre without breaking the shape so it cooks evenly
Gently flip the omelette over and cook for another minute (the centre may be jiggly but the edges would have cooked)
The omelette will rise a bit and then fall, making it fluffy and soft
Add more pepper powder on top if you prefer
Serve hot with toast / ketchup or eat on its own
Notes:
I deseed the green chillies since biting into them can be very unpleasantly spicy. I like their flavour so I take the trouble to remove the seeds and them in. You can just skip this and add red chilli flakes or only pepper for spice
Add some grated cheese just before removing the omelette from the pan and fold in half. Awesome cheese masala omelette ready. I have used both cheddar cheese and pizza cheese with great results
You can add other vegetables like shredded carrots, mushroom, cabbage, etc. When I was about 10, I used to make this omelete called "stuffed omelette" with these vegetables – will share the recipe soon
You can saute the vegetables lightly before adding to the omelette, just takes extra time which I don't like spending on an omelette
You can also cook the omelette by covering it with a lid after pouring the mixture into the pan. I personally prefer the flipping method