Vendakka thayir pachadi or vendakka pachadi for Kerala Onam sadya
. I had forgotten how easy and quick it is to put together a thayir pachadi and call it a side dish. Now that summer has officially set in in Singapore (it's technically summer here throughout the year!), our consumption of buttermilk and curd has gone up significantly – as if TH wasn't guzzling down enough of it already. So a refreshing and cooling pachadi is exactly what we need to beat the weather.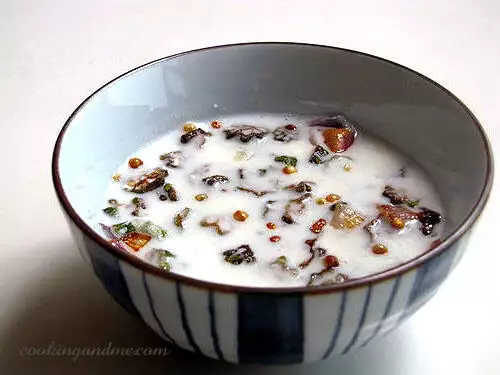 Pachadi, especially vendakka pachadi, is a very common part of a Kerala sadya or wedding meal. Its simplicity balances out the heat of the other curries and side dishes that are seen as more important. I have always had a soft corner for the simple pachadi. Unlike my beetroot pachadi recipe, this vendakka pachadi doesn't use any coconut. It's more like an okra raita with some basic ingredients you will most likely have in your pantry.
For more recipes with okra or vendakka, check out:
Bhindi masala recipe
Aloo bhindi
Okra fry
Okra stew
Vendakka avial
Vendakka Pachadi Recipe
Ingredients:
10 vendakka / okra
1 small onion
1 tsp oil
1/4 tsp mustard seeds
1/4 tsp roasted jeera / cumin powder
1 green chilli (or to taste)
1 cup thick plain yogurt
1/4 to 1/2 cup water
Salt to taste
Instructions:
To prepare the okra: Wash the okra and lay them out to dry without overlapping. If you want to proceed without waiting, pat dry thoroughly with kitchen napkins and proceed to chop. This is how I make okra less slimy when cooking.
Cut the okra into thin rounds. Chop the onion finely and the green chilli into small pieces (or crush using a pestle and mortar).
Heat oil, add mustard seeds and when they pop, add the onions, green chilli and okra. Fry for 8-10 mins until the onions are golden and the okra is fried and crisp. Drain and leave aside to cool.
Beat yogurt with salt and cumin powder. Dunk in the fried okra mixture and mix well.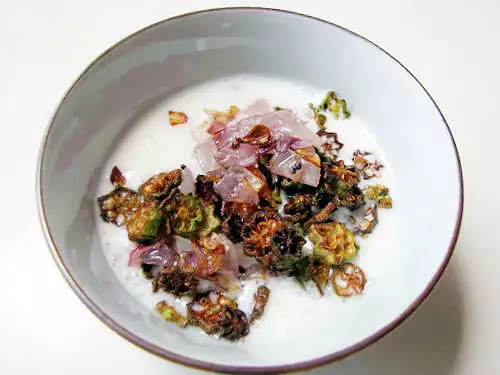 Serve with rice and side dish / kuzhambu.