Thella pulusu and vatti pulusu are the two most popular Reddiar curries (kozhambu / pulusu). While growing up, I definitely liked the milder thella pulusu but now, home food means a good thoran with vatti pulusu. Ah yumm. My aatha (amma's amma) used to make the best vatti pulusu (the recipe of which my sis has shared
here
).
This recipe is actually very similar to Arch's tomato saar recipe that I had posted pics of the other day. But there are some minor differences that make them taste significantly different.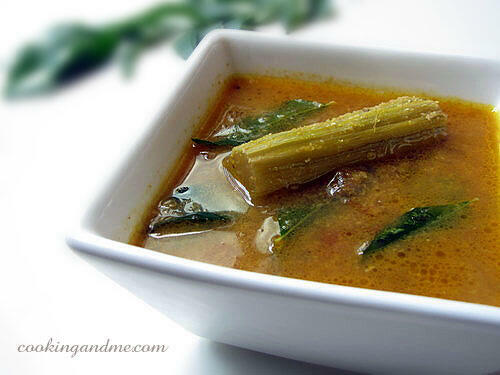 Considering Reddiars are kinda going extinct, I really should have posted this long back but here goes anyway. I couldn't ask aatha for her exact recipe before she passed away but amma has a pretty good approximation of the recipe so sharing that here.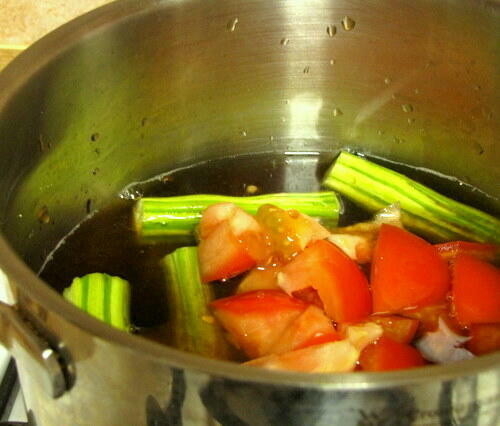 You can add any vegetable of your choice, the most popular ones being tomatoes, drumsticks, brinjal, etc. I made my favourite, the tomato version with drumsticks.
Thakkali Thella Pulusu
Serves 4
What I Used:
1 big tomato, cubed
1 drumstick, cut into 4″ pieces
1 cup tamarind water (from a small lime-sized ball of tamarind)
Salt to taste
Grind to a paste:
1/2 cup grated coconut
4-5 shallots / ulli
1/2 tsp jeera
2 dry red chillies
A pinch of turmeric
1 clove of garlic
For tempering:
2 tsp oil
A few fenugreek seeds / uluva / menthayam
1/4 tsp mustard seeds
A few curry leaves
4-5 sliced shallots
How to Make Thakkali Kuzhambu
1. Take the tamarind water in a kadai and add the tomatoes and drumsticks to it along with salt. Bring to boil.
2. Add the ground masala paste to this and continue to boil on sim until the drumsticks are soft. This should take about 12-15mins. Add water as necessary to keep the consistency right (same consistency as sambar). Remove and set aside.
3. Heat oil and add all the ingredients for tempering. Once the mustard seeds have popped and the fenugreek seeds are roasted (take care not to burn them!), dunk them into the gravy. Mix well, adjust salt.
Serve hot with rice, mezhukkupuratti and pappadom.