Modakam or Vella Kozhukattai
will always have a special place in our family not just because of how important it is for
Vinayaka Chaturthi
, but also because of the countless evenings of making modakam and how it's usually a family project. While
ammini kozhukattai
is cuter and
arisi upma kozhukattai
is more practical for a meal, we are all huge lovers of this vella kozhukattai.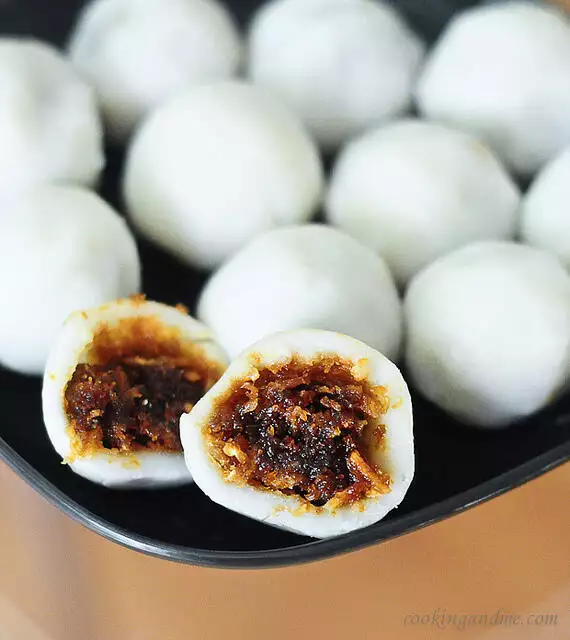 My grandmom was an expert at modakam making and did it with gusto since her grandson (my brother) loved it so much. I remember many evenings of me eating the raw outer covering with the coconut filling as the rest of womenfolk sat around shaping the mothagam for steaming.
Vella Kozhukattai Recipe
Preparation time: 15 minutes
Cooking time: 15 minutes
Makes 12
INGREDIENTS:
3/4 cup of raw rice powder
1 1/4 cup of water, more or less
1/4 tsp of salt
1/2 cup of jaggery
1/2 cup of grated coconut
2 tsp of ghee
1/4 tsp of cardamom powder
INSTRUCTIONS: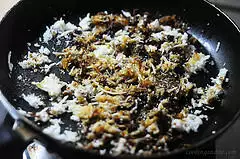 1. First we have to make the filling or the pooranam. Heat a pan with 1 tsp ghee. Add the grated coconut and the grated jaggery and mix well until it begins to roast a bit and starts to turn a bit drier.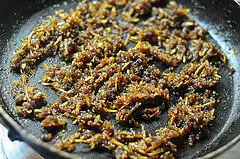 It will take about 8-10 mins for it to reach the stage we require. Keep mixing now and then and add cardamom powder before removing from fire. Set aside and allow to cool.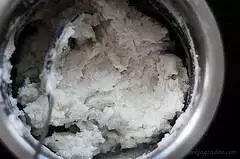 2. Meanwhile, bring 1 cup water to boil with the 1/4 salt also added in. Once it boils, remove from fire and add the 3/4 cup rice flour in, mixing as you do so. Make sure no lumps are formed and mix well until you get a soft dough that's similar in consistency to chapati dough (it won't be stretchy though). Start with 1 cup water and keep adding a few drops as you mix until you get the desired consistency. Depending on the type of rice flour and humidity, etc, you will need different amounts of water. Let this mixture cool down a bit until you can handle it. Don't let it cool completely, or else the rice dough will become dry.
This is the toughest part of making vella kozhukkattai or modak. Depending on how this comes out, your modaks can turn hard or soft or crack while they are steamed.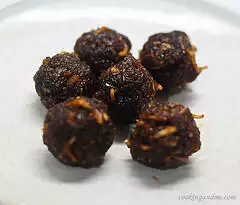 3. Roll the pooranam into small balls and set aside. The coconut I used had long strands in it that's why my filling is all rough. Use normal grated coconut and you should be fine.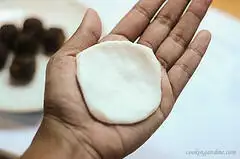 4. With wet hands, take a lime-sized portion of the rice dough, form a ball by greasing your hands with the ghee, and flatten on your palm like so. Make sure its not too thin. I like there to be more filling than outer covering so I use lesser dough. Adjust according to your preference.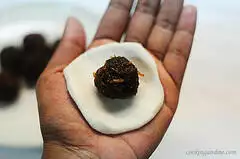 5. Place the filling in the centre…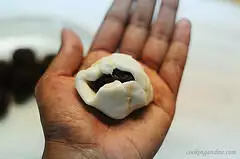 …and cover the filling with it as uniformly as you can. It's the same technique used for aloo paratha. Once covered, make a smooth ball (just using the fingertips of one hand and rolling-rotating).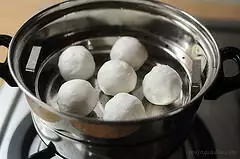 6. Place on your steamer plate (greased with some ghee if you like, I didn't do it)…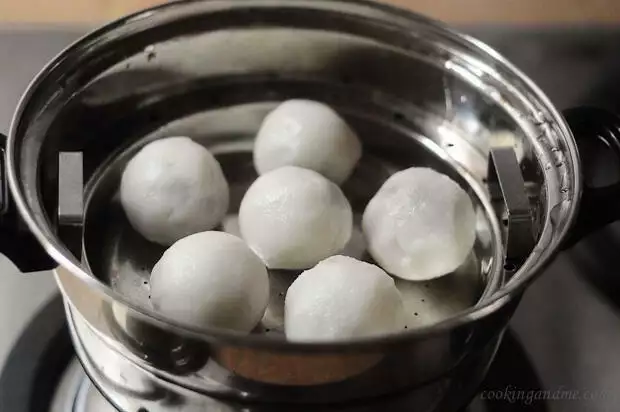 …and steam for about 10-15 mins until the covering glistens. It will still be sticky to touch but don't steam for more than 15 minutes or they will harden.
Let cool and use the sweet modaks to please Lord Ganesha into giving you whatever you wish for 😉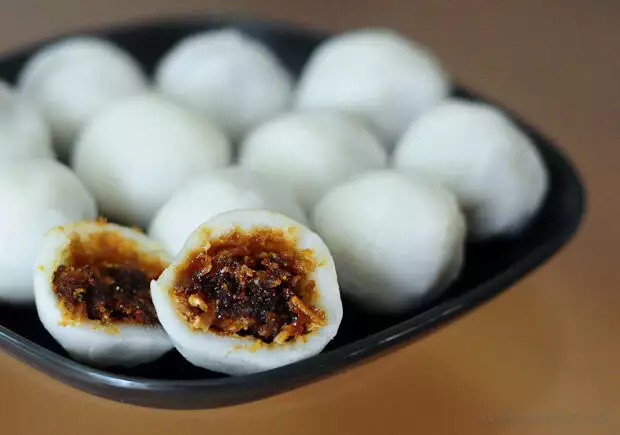 Notes:
– instead of jaggery, you can also use brown sugar. The flavour will definitely be compromised a bit but the taste will be just fine. The reason why my filling looks extra dark is because the jaggery we get in Kerala is super unrefined (and unsalted) and very dark in colour and I always bring back jaggery when I go home. Use whatever jaggery is available where you live.
– The filling or pooranam for vella kozhukkattai can be made in advance and stored in the fridge for up to a day.
– When working with the rice dough, make sure you work quickly before the heat leaves the dough. Even if you can't steam all modaks together, make the balls and keep ready for steaming in the next batch. Don't let the dough sit as is for too long or else it will dry out.
– Aatha, my grandmom, used to make her own rice powder. If you'd like to try the same, soak 1 cup raw rice in water for 5-6 hours. Drain and let it dry spread out on a tea towel. Once dry, grind to a fine powder. She used to get it done in the mill, in bulk, but using your mixie should work too. I haven't tried it this way.
– The rice layer can turn hard and rubbery if you keep this for over a day. Re-heating or re-steaming will make it soft again but only for a short while so serve fresh and finish it off as soon as you can! Also, the rice layer consistency can vary depending on the type of rice or rice flour you are using. Experiment a bit to see which brand or method works best for you.
For Modak recipe in Hindi, Vella Kozhukattai recipe in Tamil, Telugu, Gujarati, please use the Google Translate tool on the right sidebar of the website.