This besan ladoo will always remind me of my friend Prathibha who I lived with in Hyderabad. Every time we pass by a sweet shop, she would buy atleast 2 of these besan ladoos, eat one, and leave the other in the fridge for later. The ladoos were safe from me because I was never a huge fan of them, preferring milk-based sweets to these besan ladoos. I have wanted to try making them for a long time though, and what pushed me to it finally was the sudden desire to post more festival sweets recipes and a bag of besan almost threatening to go bad on me.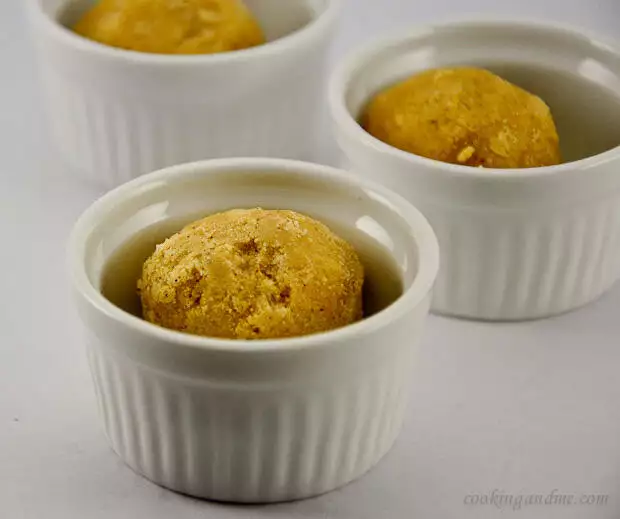 Pin
Besan Ladoo / Besan ka Laddu Recipe
Makes 12-15 ladoos depending on size
Source: Simply South by Chandra Padmanabhan
Ingredients:
3/4 cup ghee (I used slightly less than this, don't skimp too much though)
1 cup gram flour or besan (kadalaimavu)
1/2 cup milk
1/2 cup powdered sugar
6 almonds, chopped coarsely
6 raisins (I didn't add this)
6 cardamoms, powdered
Instructions:
1. Heat ghee in a pan over low heat. Don't bring to boil or anything, just heat it up well. Add the besan and cook for 4-5 mins stirring continuously till the raw aroma disappears and it turns a golden brown.
2. Remove from heat and add milk, stirring vigorously to avoid lumps. I let the milk trickle in to avoid this. Once mixed well, set aside to cool a little.
3. Then mix in the almonds, sugar, raisins, and cardamom powder.
4. When its warm enough to handle, shape into lime-sized balls. At this stage, you can add a bit more ghee if you want. I started with a little less than 3/4 cup and added more while shaping them.
Notes:
– These besan ladoos are very delicate (which is why you shouldn't skimp on the ghee, because it acts as a binding agent and holds it together) so handle carefully and store in an airtight container at room temperature.
– You can add about 2-3 tbsp of rava (semolina) to the mixture if you want some added texture. I avoided this because I wanted a smooth besan ladoo.
What's cooking in your kitchens for Vinayaka Chaturthi this year?