Vegetable spring rolls are a classic Indo-Chinese Recipe that's also popular in Thailand, served in restaurants and coffee shops. A cooked vegetable mixture is rolled into a spring roll casing and either deep fried or baked to get a crunchy, delicious, and addictive snack or appetizer (below pic updated on Dec 9th, '13). If you want to make baked vegetable spring rolls instead of fried, that's quite easy too. Please check notes below.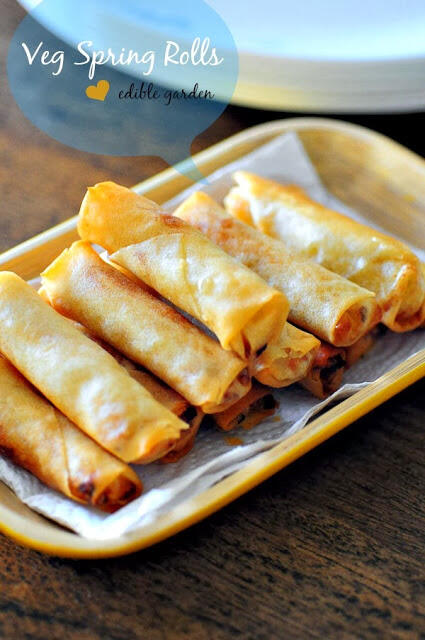 This Vegetable Spring Roll recipe has been in my drafts for the longest time. I had a few people email me asking me for the recipe for spring rolls and that's when I realised how long it has been since I made them. In fact, after marriage, though I have tried many other snacks, spring rolls never featured anywhere.
If you want to make a quick and easy snack with a twist, try this spring roll dosa recipe.
I became lazy and bought the spring roll sheets from the supermarket which is probably not a bad thing after all. I have made these from scratch before, and while that's not hard to do, it is a bit more time-consuming. In fact, if you buy spring roll sheets, the whole process of making vegetable spring rolls at home is very quick.
Also check 10 quick and easy snacks under 15 mins.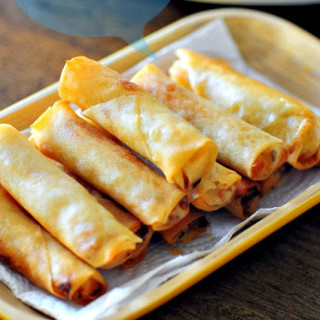 Vegetable Spring Rolls
Vegetable Spring Rolls Recipe, a quick and easy snack if you have pre-made spring roll wrappers. The filling is a breeze to make and highly customisable.
Ingredients
Mixed vegetables - 2 cups

Onions - 1/2 cup

sliced

Ginger garlic paste - 1 teaspoon

Soya sauce - 1 tablespoon

Chopped green chillies - 1

Salt and pepper - to taste

Oil - 1 tablespoon

A fistful of coriander leaves

cilantro
Instructions
Slice the vegetables into long pieces. I used carrots, beans, cabbage, peas, corn and capsicum

Heat the oil in a pan and fry the onions until transparent and pink.

Add the ginger garlic paste and fry for a few more seconds

Next, add the vegetables and green chillies, sprinkle some water and cook closed until soft yet crunchy.

Turn heat to high and add the soya sauce.

Mix well for a minute on high.

Lower heat. Mix in salt and pepper.

Garnish with chopped coriander leaves (cilantro)

Remove from heat and set aside to cool

Thaw your pastry sheets per package instructions

Add 2-3 tablespoons of the filling per sheet and roll them (see pictures below)

Deep fry until golden brown

Serve hot with ketchup or chilli sauce
Notes
Make sure the vegetables don't get overcooked and soggy. They should still be crunchy
Don't add too much water to the vegetables, this will make the mixture too watery and soggy making it harder to roll
You can use any mix of vegetables for the filling you want. However, cabbage and capsicum really enhance the taste
TO MAKE BAKED SPRING ROLLS: if you are using store-bought spring roll pastry, this will get you results that are almost identical to deep frying. You do have to eat them hot and fresh though. I usually bake them for about 15-20 mins on a baking tray lined with aluminium foil at 180C. Just keep an eye on them and remove from oven when golden brown
Step by Step Vegetable Spring Rolls Recipe
First, get the filling ready.
Heat oil, cook the onions and ginger garlic paste. Then add vegetables with some sprinkled water and cook covered until vegetables are done yet crunchy.
Add soya sauce and cook on high heat, then add salt, pepper and coriander leaves.
Remove from heat and set aside to cool.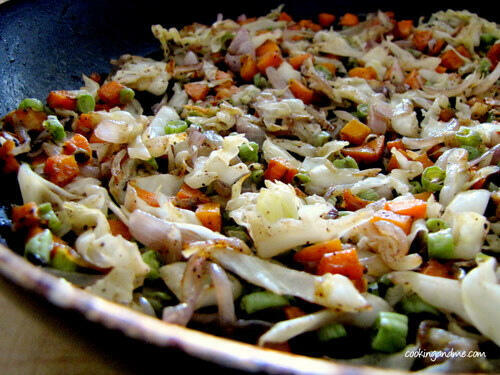 Prepare your spring roll sheets per package instructions. I had to leave mine out to thaw to room temperature and then separate them.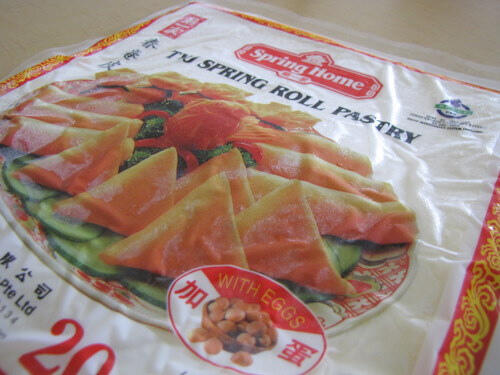 Place one sheet on a clean surface with one corner facing you. Add about 2 tablespoons of the filling near the corner closest to you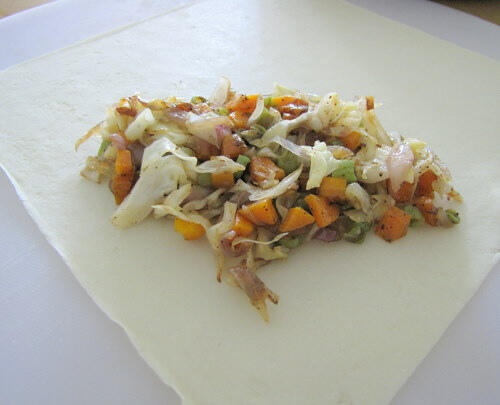 Fold in the corner upwards and then bring in the side corners from right and left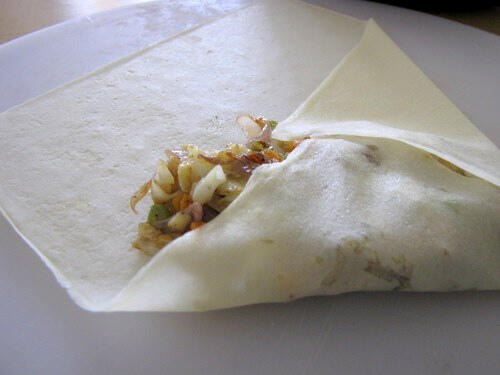 Continue to roll up with a firm hand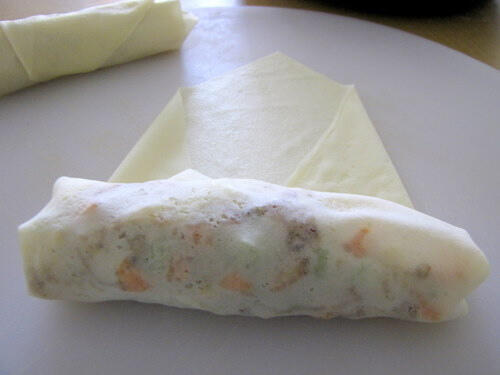 Make sure the end is "stuck" to the pastry sheet firmly after you are done rolling. A drop of water may help.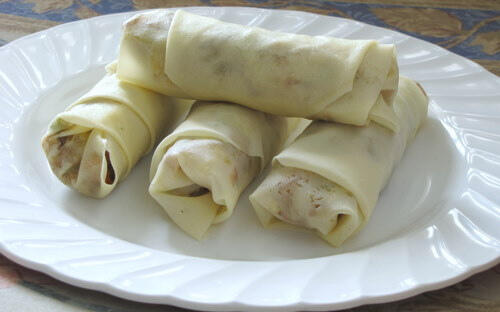 Continue until all the filling is used up. Deep fry in hot oil until golden brown.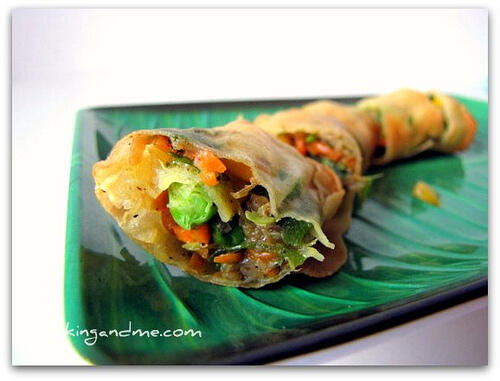 Cut them up and serve hot with some tomato sauce. They make an excellent and quick appetiser.