I tried
potato saagu
a while back and loved it. However, I never knew it was a Karnataka / Mangalore dish. Ever since Sia announced her RCI event, its been nagging at the back of my head, constantly coming back during the weekend when I try to decide what to make. Finally, last weekend, I took the plunge and browsed through the blogs she had listed in her event announcement. The first one itself did not disappoint me. Ramya's Mane Adige is a chock full of awesome Karnataka recipes and I found just the one! I tweaked the recipe a little bit depending on the ingredients I had in hand.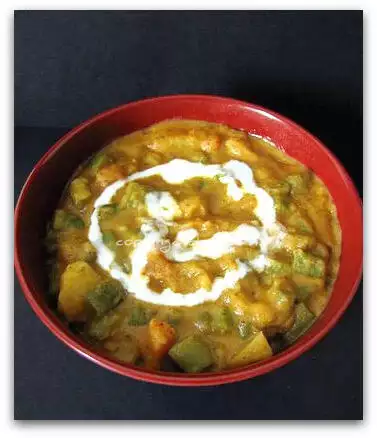 Mixed Vegetable Saagu Recipe

Serves: 2




What I Used:

1 cup chopped mixed vegetables (I used beans, carrots, peas and potatoes)

4 tbsp thick coconut milk

4 shallots, finely chopped (or use 1 small onion)

A generous pinch of hing /asafoetida / perungaayam

A pinch of turmeric

Salt to taste taste

For Masala:

2 tbsp grated coconut (fresh or frozen)

A 1″ cinnamon stick

3 cloves

4 black peppercorn (or 1/2 tsp crushed pepper/pepper powder)

1 tsp grated ginger

2 shallots / small onions

2 tsp Pottukadalai / chana dahlia / split chickpeas

2 green chilies (adjust to taste)

For Tempering:

1 tbsp oil

1/4 tsp mustard seeds

A few curry leaves

How I Made It:

1. Cook the vegetables in a closed pan until soft with very little water. Don't cook them too mushy.

2. Grind the ingredients listed under 'For Masala'.

3. Heat oil in a pan and add the ingredients listed under 'For Tempering'. When the mustard seed start spluttering, add the chopped shallots or onion. Fry until golden brown. Add turmeric powder and hing to this.

4. Next add the ground masala and fry for another minute or so before adding the cooked vegetables.

5. Add 1 cup water and let the curry simmer for about 5 mins. You can adjust the consistency at this stage by adjusting the water. Add salt.

6. Turn off heat and pour the coconut milk over the curry. Mix well.
Serve hot with poori, chapati, roti or rice.

Also check out: